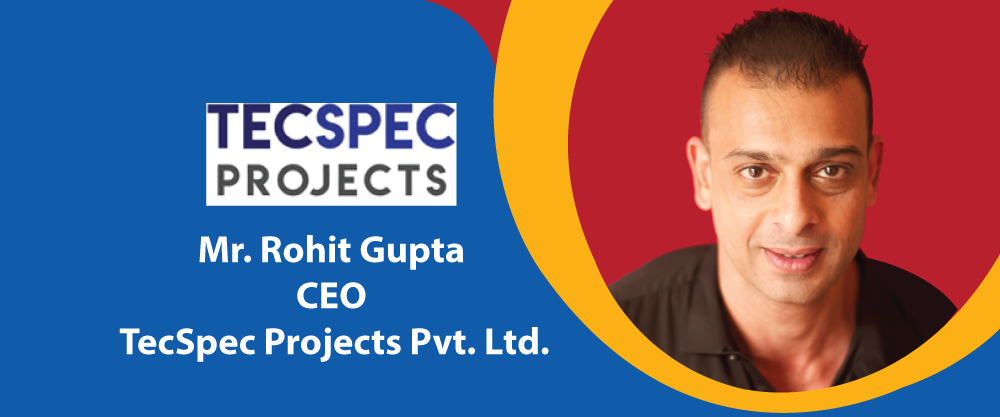 MR. ROHIT GUPTA, CEO OF TECSPEC PROJECTS PVT. LTD. GRAIN FEED & MILLING MAGAZINE (GFMM) RECENTLY INTERVIEWED HIM. THE MAGNETIC PART OF THAT INTERVIEW WAS REVEALED TO THE READERS OF GRAIN FEED & MILLING MAGAZINE
​​TecSpec Projects Pvt. Ltd. is a family owned and family run business. It is a turnkey solution provider for different industries like grain, glass, fertilizers and chemical. Providing consultation and equipment supply for all your needs. With over 50 years of engineering excellence giving top-notch equipment but at the same time economically viable solutions.
GFMM : What is the history of TecSpec Projects Pvt. Ltd.?
Mr. Rohit : The business was first started in 1967 as a humble engineering company manufacturing, dust collection control solutions, mechanical and pneumatic conveyors.
The manufacturing unit was located in India. By 1980, the company was involved in Ducon Projects Pvt. Ltd. In doing stand-alone machinery to provide comprehensive turnkey solutions in the cement, food, chemical, and grain industry.
Parallelly, the company also had a sister concern Nu-Wave Technology Pvt. Ltd. Used for getting Western companies into South East Asian Markets.
At the onset of the year 2000, Ducon Projects strategized its business into two verticals as "Grain Based Business" and "Non-Grain Business".
For the Grain-based business focus was put on Storage Solution's Conveying, Conditioning, Weighing, and other processes. Projects were completed in collaboration with world-renowned manufacturers such as Westeel, AGI, FRAME, PTM, and SKANDIA.
By 2018, the company was restricted with the new management, and all business was collectively carried out under the name of TecSpec Projects Pvt. Ltd.
In 2020, a subsidy company called GCM Ventures Pvt. Ltd. was formed to assist in financing options for Grain Infra-Structure Projects for Silos and Material Handling Equipment's.
GFMM : Tell us about the current range of products and business of TecSpec Projects Pvt. Ltd.?
Mr. Rohit : Within Grain related vertical TecSpec Projects Pvt. Ltd. is a one-stop solution providing complete engineering, design, supply, installation, and commissioning of Grain storage complexes.
Within supply, we provide a turnkey solution that includes the TecSpec brand silos of Flat Bottom, Hopper Bottom, and Welded Silos.
Flat Bottom Silos can be from 500 MT – 20,000 MT.
Hopper Bottom Silos can be from 30 MT – 1000 MT.
Welded Silos can be from 10 MT – 200 MT.
A wide array of conveying equipment is manufactured such as conveyors, Bucket Elevators, Chain conveyors, Screw conveyors, and Special Application Conveyors.
Capacities of all conveyors range from 5 Tph – 1200 Tph.
Cleaning Equipment such as Gravity Cleaner, Drum Cleaner, Fine Cleaners (Double – Deck Cleaner, Triple Deck Cleaners), Dryers, Bulk Weighers and Bagging Machine complete plant automation including PLC, SCADA, Project PMC.
Civils in selected locations.
Commissioning and Installations all our products carry the TecSpec brand name and warranty and are manufactured in our factories in India, China, Turkey, and Ukraine.

GFMM : What is the current Network of TecSpec Projects Pvt. Ltd.?
Mr. Rohit : TecSpec Projects Pvt. Ltd. has its registered offices in India and Canada with branch offices in UK and UAE. We are currently expanding our growth platform to countries like Bangladesh, Nepal and numerous countries in East and West Africa.
GFMM : What are the expansion plans for TecSpec Projects Pvt. Ltd.?
Mr. Rohit We are working on a strategized plan called "Vision – 2025" by when we would have expanded our footprints. Currently most of our projects are concentrated in the India region. However, we have started expanding into East and West Countries Like Uganda, Kenya, Tanzania.
"By 2025" we are hopeful that we would be established in these regions.
GFMM: Thank you on behalf of 'Grain Feed & Milling Magazine'.
|Source: Email/MA