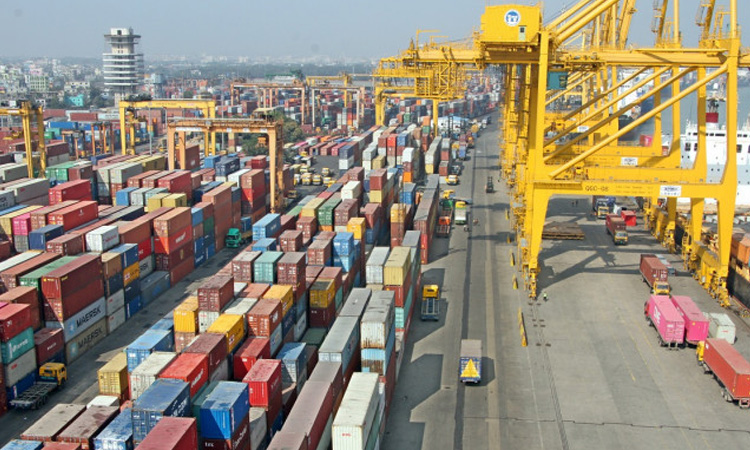 The Chittagong port is facing a container jam. Container delivery from the port has come to a standstill due to the closure of Eid-ul-Adha and severe lockdown across the country. According to the previous schedule, containers carrying imported goods are coming to Chittagong port every day. But as all the factories including garments are completely closed, the unloading of raw materials and other imported containers from the port is closed. As a result, containers are piled up at the port jetty every day. As a result, the space for keeping containers in the jetties of the port is shrinking. The carrying capacity of Chittagong port has reached a tipping point.
According to statistics, last Saturday (July 24, 2021) 42 thousand 571 containers were deposited in Chittagong port. According to port sources, it is possible for them to hold a maximum of 48,000 to 50,000 containers. But the normal activities of Chittagong port will be stopped. At the normal level of Chittagong port there are 30,000 to 35,000 containers. The concerned officials of Chittagong port think that the speed of unloading of cargo containers arriving at Chittagong port is not likely to increase as there is a severe lockdown across the country till August 5.
Last year too, the Chittagong port was in such a state due to severe lockdown across the country. At that time Chittagong Port gave some concessions to the importers for unloading containers with various incentives. Even at the last stage it was decided to keep all types of imported cargo containers in private container depots or Offdocks outside the port. Generally, only 38 containers of imported goods are delivered to private depots. After unloading from the ship, those containers go directly to certain Offdocks. Importers take their containers from Offdock to their own destination.
It is known that the Chittagong Port Authority has already taken the initiative of container management in the light of last year's experience. Chittagong Port Authority Chairman Rear Admiral M Shahjahan said all preparations have been made to get rid of the container clutter. The port has written to the National Board of Revenue, including the Ministry of Shipping, to take immediate action. There has been a request from the port to take a decision to take off all containers carrying imported goods for at least two months.
Meanwhile, it is known that the private container depot owners association is also preparing to accept the container in the situation that has arisen. In Chittagong city and surrounding areas, there are 18 private container depots with a maximum capacity of 77,000 containers. As of last Saturday, their depots had a total of 54,000 containers.
Mr. Nurul Qayyum Khan, president of private depot owners, said the export containers would leave in the next two to three days. In that case it will be possible to keep 30 to 35 thousand containers in their 18 depots. He said they have already been contacted by the concerned department of the port. They are ready to accept all types of containers. He further said that not only the containers have to be deposited, but also steps have to be taken to speed up the unloading process. Otherwise, it will not be possible to keep containers in ports and private depots for a while.
Source: Online/SZK