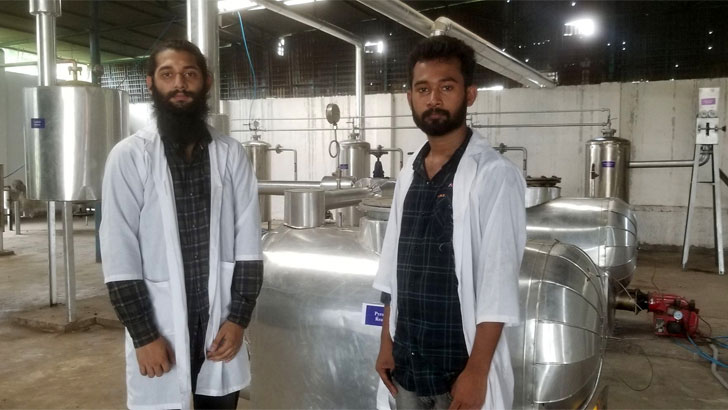 Two students of Dhaka University (DU) have come up with a new design of technology to produce seven products including fuel oil, biofuel and organic fertilizer in an environmentally friendly way at low cost from household waste.
The two young innovators are HM Ranju and Pijush Dutta of the Department of Applied Chemistry and Chemical Engineering at the university.
When you go out of your house in different areas of Dhaka city, you can see garbage in the streets. Banana's shells, paper, plastic bags or bottles, there are very few roads or neighborhoods in Dhaka that cannot be seen. Pedestrians have to walk on the road with the concern of whether they will pass the rubbish of the open container on the way with their hands or something will fall on the garbage truck. In a word, the people of the big cities of the country, including the capital, are in trouble with these filth. Beneficial products like fuel oil, organic fertilizer, biofuel, activated carbon, petroleum gas can be produced in an environmentally friendly way by processing the waste at low cost using the new designs invented by them.
After a long three-year study, they started producing oil and gas on March 27 from their plant on a seven-katha land in the snow-covered area of ​​Matuail in the capital. They also said that it is possible to produce seven more types of products. Besides, electricity can also be generated through their technology by adding necessary materials. It will cost 5 to 5.75 Tk. per unit.
They are currently working with the help of financial aid company ABC Construction Chemical Company Limited. Every product made in their plant is valuable and the government imports it from abroad. So the inventors are also hopeful that this unique design will save the country's foreign exchange. Associate Professor Taslim-ur-Rashid of Dhaka University's Department of Applied Chemistry and Chemical Engineering, Lecturer Sajidul Islam and Chief Executive Officer (CEO) of Bangladesh Advanced Robotics Research Center Jimmy Majumder are their advisors in this work.
Lecturer Sajidul Islam said that the technology they are working on is exiting. However, their design is new. They designed it themselves. We just gave advice on how to do it from the beginning. Besides, I have visited them there several times. I have provided some technical assistance.
Talking about starting his own research, HM Ranju said, "On our way back from campus in February 2018, we were talking to two friends. At one point in our story we started talking about waste management in Dhaka city. And I lived in Azimpur then and on my way to Curzon I had to cross piles of dirt in a few places. Also my village home is Rajbari, from there I have to cross Aminbazar to reach Dhaka. It would not be wrong to call Amin Bazar the biggest waste pile in Bangladesh. While passing Aminbazar, even a sleeping person can understand that I am entering Dhaka now It's really sad. All in all, I was a little more interested in waste management.
He added that Pijush had been thinking for a long time about how to increase the efficiency of biofuels. All in all, the two of us had almost the same thoughts. In the meantime, we saw some documents for the benefit of YouTube. It was about the waste and the damage it was doing to the fauna. Considering all this, we both decided to do a successful research on this waste management. The beginning of our path is against the current.
Speaking on the occasion, HM Ranju said, "Our biggest motivation was to give some presents to the country on this golden jubilee of 50 years of independence and to build a state-of-the-art waste management plant at Bangabandhu's birthplace in Tungipara on the occasion of Bangabandhu's birth centenary." We have moved forward with that goal and the work of the latest research plant was completed on March 17, 2021. Couldn't inaugurate for Corona. But we have a strong desire to open our dream plant when the lockdown is over and the Corona situation is normal. For this I have sent a letter to the Mayor of Dhaka South City Corporation Fazle Nur Taposh.
Regarding the process of producing fuel oil and gas from the waste, he said, first the household waste will be collected and separated directly from the separating system of our plant. And in this part the waste is separated into two parts. One, in the indigestible part comes the fuel oil activated carbon and petroleum gas from the plastic; The metal type ones will be separated by magnetic belts; And if there is anything like wood or soil here, they can be broken down by chemical processing. Two, organic manure, biofuel and dry ice can be obtained from the biodegradable wastes.
HM Ranju further said, "So far we have built 3 prototypes and 2 pilot plants. The last built pilot plant has brought us success. Our use of this technology will save a lot of foreign exchange in the country as well as solve the problem of unemployment. And you don't have to look at the piles of garbage everywhere. I never expected how much the two of us would benefit from this research in the future. But if we evaluate it properly, we will all benefit a lot.
Source: Online/SZK