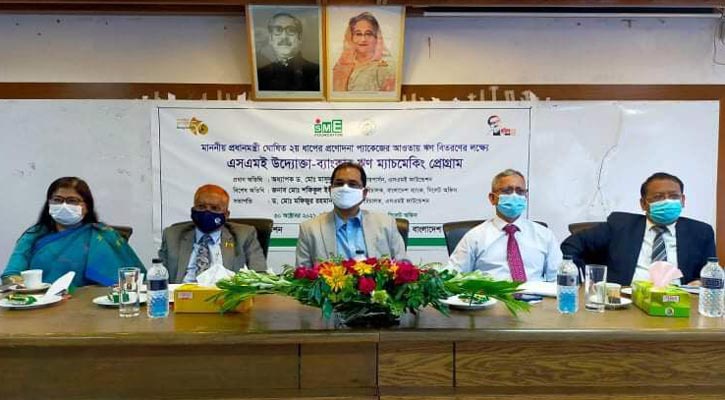 To make up for the loss of Coronavirus, the SME Foundation has waived off loans of around Tk 100 crore for distribution to small and medium enterprises through 19 banks and financial institutions. So far, Tk 42 crore has been released for 316 entrepreneurs. Tk 42 crore has been sanctioned for 230 entrepreneurs and loans of Tk 54 crore for 268 more entrepreneurs are in the process of approval.
The SME Foundation organized an Entrepreneur-Banker-Matchmaking event in Sylhet on Saturday (October 30th, 2021) to extend government incentive package loans to SME entrepreneurs in the marginalized areas who have suffered in the Covid-19 situation.
Prof. Dr. Md. Masudur Rahman, Chairperson of SME Foundation was the chief guest at the function with the support of Bangladesh Bank Sylhet Office. Executive Director of Bangladesh Bank Md. Shafiqul Ilam was the special guest.
Prof. Dr. Md. Masudur Rahman, Chairperson, SME Foundation, said that entrepreneurial organizations can play an important role in bridging the gap between bankers and SME entrepreneurs.
Although the process of disbursement of loans to small entrepreneurs is more expensive than that of big entrepreneurs, he thanked the banks and financial institutions for coming forward to disburse loans with government incentives.
Bangladesh Bank Executive Director Mohammad Shafiqul Ilam said a hotline could be set up to ensure smooth disbursement of government incentive package loans.
Dr. Mofizur Rahman, managing director of the SME Foundation, said there was no precedent for small entrepreneurs not repaying their loans. He urged the bankers to simplify the rules for lending to SME entrepreneurs. He also advised the entrepreneurs to prepare the necessary documents to get the loan easily. The managing director of the SME Foundation also expressed hope that it would be possible to complete the disbursement of loans worth Tk 200 crore by December 31 of the current financial year.
The SME Foundation signed agreements with 19 banks and financial institutions in September 2021 to disburse loans worth Tk 200 crore to small and medium entrepreneurs in the current financial year under the government's second phase incentive package to offset the loss of Coronavirus. The interest rate on the loan will be only 4 percent. An entrepreneur will get a loan from a minimum of Tk 1 lakh to a maximum of Tk 50 lakh and unsecured loan up to Tk 25 lakh.
Banks and financial institutions are: Brac Bank, Bank Asia, Basic Bank, The City Bank, Mutual Trust Bank, Dhaka Bank, NRB Commercial Bank, Premier Bank, Social Islami Bank, One Bank, Prime Bank, Karmasangsthan Bank, United Commercial Bank, Eastern Bank, Southeast Bank, Rajshahi Krishi Unnayan Bank, IPDC Finance, IDLC Finance and Lankabangla Finance.
As per the terms of the agreement, these banks and financial institutions will have around 100 SME clusters, chambers, association member entrepreneurs as well as women entrepreneurs and SME foundations across the country, various government NGOs and associations for SME sub-sectors, tradebodies and SMEs. Under the first phase incentive package announced by the government, loans will be given to rural and marginal entrepreneurs who have not received loans. The target is to distribute 30 percent of the total loan to women entrepreneurs.
Dr. Mohammad Mofizur Rahman, Managing Director, SME Foundation presided over the function while AKM Ehsan, General Manager, Bangladesh Bank and Farzana Khan, General Manager, SME Foundation were present on the occasion.
|Source: Online/TA