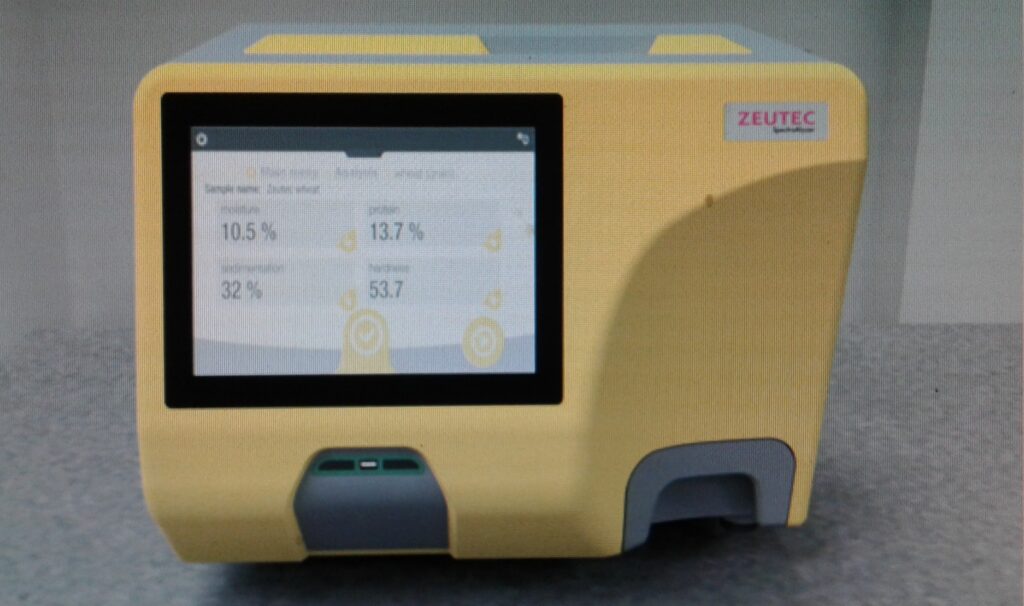 In the end, the world returns to grain—DejanStojanovic
Cereals are one of the most important food crops in the world, and have economic importance in local and international trade, with significant political and social implications. The main grains of the world includes wheat, rice, corn, rye, oats, barley etc. All cereals need to maintain some specific parameters to satisfy the consumers. Best quality comes with 10-14% moisture content, 58-72% carbohydrate, 8-13 % protein, 2-5 % fat and 2-11% indigestible fiber. Properly ripened and dried grain should maintain these parameters to retain the quality.
Various trade markets, managed by Agricultural Produce Market Committee (APMC), are set up by the respective State Government for facilitating trade of agricultural produce between farmers and retailers. Farmers receive payment for their produce based on these important quality parameters. In the past, different types of scientific/non-scientific procedures have been employed for determining the quality of products. With advent of e-NAM (National Agriculture Market: pan-India electronic trading portal – a brain child of Government of India), there was need of an easy and rapid way of analyzing the quality of produce to ensure transparency during buying, timely online payment to the farmers and streamlining of procedures across the integrated markets. For fulfilling the vision of government, it was decided to have a scientific and smart way of quality analysis which could be a benchmark across various platforms and ultimately leads to consistent pricing.
NIR technology presents an easy, accurate and fast way of analysis of all major quality parameters in grains, cereals, oilseeds without sample destruction. Owing to these advantages, it was decided to have such instrument installed at various APMCs for quality testing of agricultural produce. Amidst competition from the market players, SpectraAlyzerGrain emerged as the preferred instrument for presenting analytical solution of trading parameters of agricultural commodities under Gujarat Agricultural Marketing Board of India. Total of 122 instruments are being placed in multiple agricultural markets spread across the state. This order is a very valuable recognition of the state of the art technology and service ZEUTEC offers in India. ZEUTEC manufactures the instruments in Germany according to the highest quality standards.
SpectraAlyzerGrain NEO
SpectraAlyzerGrain NEO is the new age technology in grain measurement. It comes with unique features,modern design, better performance and with the aim of bringing a new perspective to grain testing. The SpectraAlyzerGRAIN NEO is built to provide Grain quality assessment and assurance to farmers, traders and processors.
A greater variety of material can be handled with the all-new screw conveyor for sample feeding and automatic discharge. There is no need for grinding or other sample preparation at all, with an increased optical path-length, for a multitude of whole grain and oilseeds. It is optimized for placement at the direct buying platform (grain receivals and grain labs) in agriculture markets as it can withstand harsh environments and rough handling.
How it works?
The SpectraAlyzerGrain NEO uses the reliable "Near Infrared Analysis" Wavelength range from 570 – 1100 nm for diagnosing different peaks of several parameter selected. It is an all grain analyser and quality check instrument designed for the analysis of solid bulk materials in diffuse transmittance. It is shipped with pre-installed standard calibration models for many products, parameters, and countries where typical applications are:
Grain trading/reception/malting
Flour milling
Oilseed crushing
Benefits no doubt
Traditional wet chemistry techniques need a lot of time. Those are destructive methods and need a lot of manpower and reagents. Without leaving any waste, this intelligent spectrometer can deduce multiple chemical properties of a sample from its spectrum.  Several parameters can be analyzed simultaneously at a time. Each grain analyzer can be (retro) – fitted with a test weight module (aka Bushel weight, hectoliter weight, or specific weight) to determine the volume to weight ratio of the samples analyzed. Digital images of the analyzed samples can be captured, processed and directly visualized with the optional integrated image processing unit.
All this making the SpectraAlyzerGRAIN NEO the ideal choice for fast and accurate whole grain testing.
For more information, please visit http://www.spectraalyzer.com/