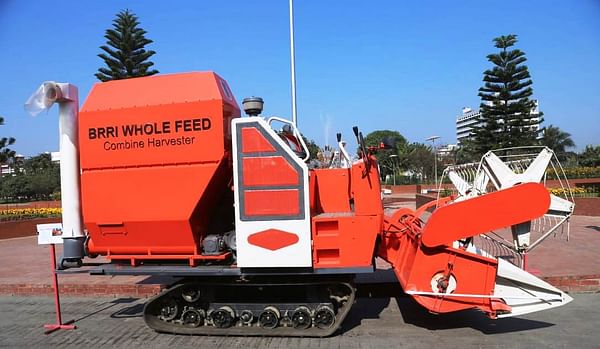 Scientists from Bangladesh Rice Research Institute (BRRI) have developed paddy harvesting machines in the country. The machine is named 'BRRI Whole Feed Combine Harvester'. It will cost Tk 12-13 lakh.
A team of seven to eight people led by Md. Ashraful Alam, senior scientific officer of BRRI, researched and made the machines in six months effort. Ashraful Alam said that this machine has more capacity to cut paddy than similar foreign machine. It is suitable for use in small size lands of the country. The harvesting capacity is also comparatively higher. They expect the machine to run for 20 years.
Talking to some of the research team, it is known that the engine of BRRI Whole Feed Combine Harvester was brought from abroad. Other equipment is locally made. Its engine power is 87 horsepower. The machine can cut three to four bighas of paddy per hour. Fuel consumption is three and a half to four liters per hour. The rate of crop loss after harvesting of paddy is less than one percent. The cost of various combine harvesters including Yanmar of foreign machine is Tk 25-30 lakh, while the price of this machine is 12 to 13 Tk lakh.
Kamruzzaman Milon, one of the members of the research team, said that the machines used for harvesting rice from abroad are mainly for the field. Lands of Bangladesh are fragmented. This machine is made with this in mind. Besides, initiatives were also taken to reduce the import dependence of agricultural machinery.
Last Friday (December 31, 2021) morning, Agriculture Minister Dr. Mohammad Abdur Razzak inspected the activities of the combine harvester at BRRI Chattar in Gazipur. At the time, he said, BRRI's scientists had researched and developed the rice-cutting machine themselves. This is a remarkable achievement.
|Source: Online/TA