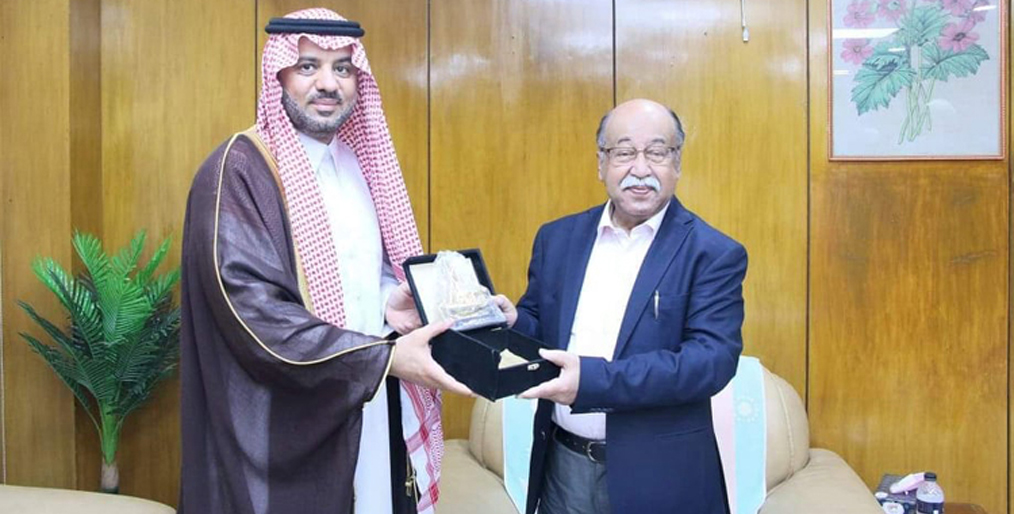 Industries Minister Mr. Nurul Majid Mahmud Humayun said Saudi Arabia's investment in five sectors has already been finalized in Bangladesh through three state-owned enterprises, Steel Engineering Corporation, Chemical Corporation and Sugar Corporation. The sectors are solar power, electricity, medicine, fertilizer and cement. It will be possible to implement investment activities in these areas within the stipulated time.
He made the remarks during a courtesy call on Saudi Arabia's Ambassador to Bangladesh Mr. Issa Youssef Issa Al Duhaalan with the Industries Minister at the Ministry on Wednesday (March 31, 2021). Additional Secretary of the Ministry of Industries Selim Uddin and Private Secretary to the Minister were present at the occasion.
He also called on the Saudi government to invest in Bangladesh's new shipbuilding, light engineering, automobile and agro food processing industries.
The Industries Minister said Bangladesh is sincere to expand industrial factories and strengthen trade and commerce relations with Saudi Arabia. He drew the attention of the Ambassador to identify specific areas of bilateral cooperation in the industrial sector and make specific proposals. If a specific proposal is received, the Bangladesh government will consider it with due importance.
The Industries Minister further said that domestic and foreign investment should be increased in setting up industrial factories to create more employment in the country. He suggested that its activities should be continued throughout the year to make the state-owned industries profitable as well as increase employment. He called for new investments to make non-profit industries profitable.
On the other hand, the Saudi ambassador said that there is a conducive environment for investment in Bangladesh, including setting up of industrial factories and trade and commerce. As a developing country, Bangladesh is one of the leading countries in South Asia in terms of industrial expansion and trade.
The Saudi ambassador praised the participation and work of Bangladeshi workers engaged in development activities in Saudi Arabia.
The meeting also discussed the latest developments in the Saudi government's investment in corporations under the Ministry of Industry and the need to expedite the finalization of investment activities.
Source: Online/SZK