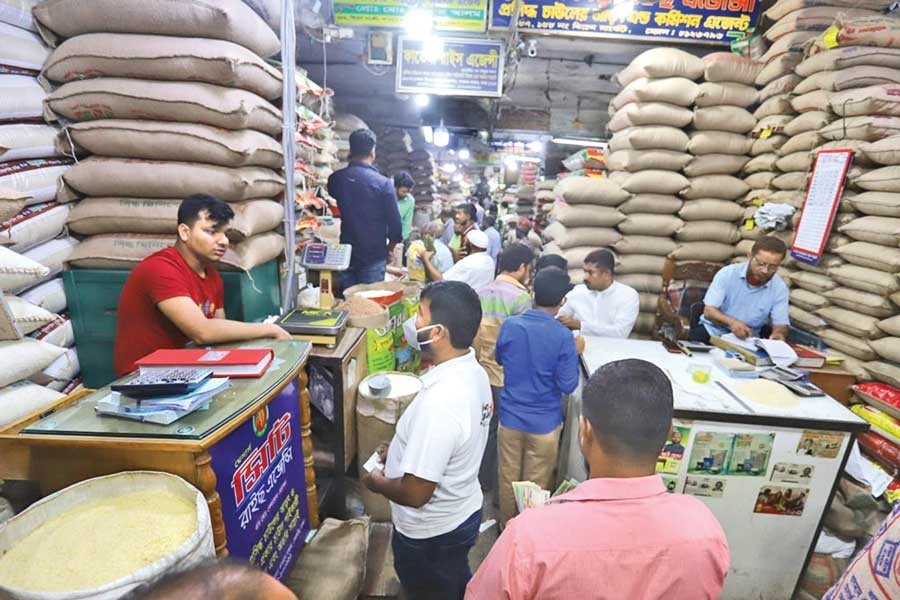 Despite bumper yields of boro paddy in the just-concluded season, rice prices are rising in the country. This is putting increasing pressure on low-income people. Many of them are suffering from loss of income due to lockdown and recession in epidemic-economic activities.
As government agencies have demanded an increase in production of staple crops in Aus, Aman and Boro during the last three crop seasons, questions have been raised as to why the price of rice has gone up.
Market players linked the hike to a slow release by farmers from holdings and stocking by a section of middlemen and millers as uncertainty over the Covid-19 crisis lingers.
Estimates by the Bangladesh Bureau of Statistics (BBS) and Department of Agricultural Extension (DAE) showed that Bangladesh produced 6 percent more rice year-on-year to 3.86 crore tonnes in fiscal 2020-21.
Of the output last fiscal year, the DAE estimates Boro production to be at over 2 crore tonnes. On the other hand, the Directorate General of Food is sitting on 15.50 lakh tonnes of food grains thanks to imports and increased procurement from domestic production.
Overall imports of rice also soared to 13.56 lakh tonnes in fiscal 2020-21, up from a meagre 4,000 tonnes the previous year.
Yet prices of Boro rice increased.
Coarse grain was traded at Tk 45.86 per kilogramme (kg) in Dhaka in June, up 2 per cent from a month ago, said data of the Department of Agriculture Marketing (DAM), which is used by the Food and Agriculture Organization.
The June prices of coarse grain were the highest since October 2017.
"It costs at least Tk 50 to buy one kg of coarse rice. As there is no income during the lockdown, it is not possible to bear all the expenses of my five-member family," said Abdus Salam, a driver of a CNG-run three-wheeler, yesterday (July 13, 2021).
He drives the three-wheeler between Mohammadpur, Nababganj and Dohar route.
Staple food marks a price spike at a time when queues of people behind mobile trucks and stores for subsidized rice and essential foods provided by Directorate General of Food are getting longer.
The countrywide lockdown since the beginning of the month destroyed income opportunities for a large number of the population, including micro and small businesses, hawkers, transport workers, rickshaw pullers, daily labourers and restaurant workers.
Salam said there was always long lines in front of the TCB's vehicles.
"If you are behind in line, you may find stocks of commodities run out by the time your turn comes. To whom should I go and share my despair," said Salam, who also stood in a queue to buy commodities including edible oil at less than market rates from the TCB's mobile truck.
Abdul Mutaleb, a consumer, said it was very unfortunate that the price of rice was skyrocketing when millions of pandemic-hit low-income and marginal people were struggling to make ends meet.
Sonahar Ali, a paddy trader, said the paddy price of this year was around 20 per cent higher than that of last year.
As of Saturday, the medium-high quality varieties of paddy, such as BRRI Dhan 28 and BRRI Dhan 29, were being sold at Tk 1,050 to Tk 1,150 per maund.
Meanwhile the paddy varieties from which high-quality minicut rice is produced was at around Tk 1,350 per maund at local markets, according to traders.
Due to uncertainty amid the Covid-19 pandemic, farmers are unwilling to sell paddy right now, unless they are being compelled to do it, said multiple farmers. See details.
Source: Online/KSU