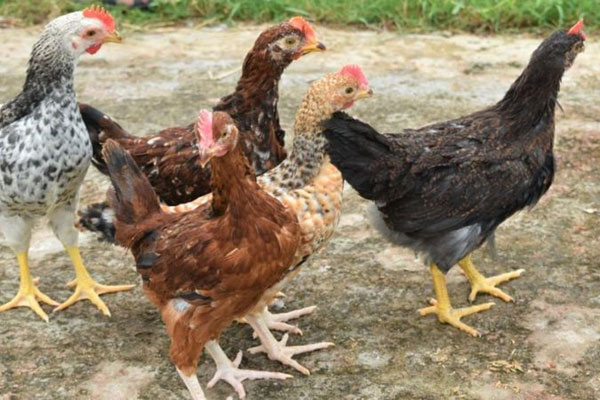 In Bangladesh, the Livestock Research Institute has developed a new domestic breed of chicken, which has now begun to be marketed experimentally. Developed in the laboratory, the chicken's feathers are multi-colored, hence the name 'Multicolor Table Chicken.'
Shakila Farooq, chief scientific officer of the poultry production department at the Livestock Research Institute, said the new breed was essentially a meat breed. It quickly attains full size i.e. is edible.  She said, "It has been developed keeping in mind the demand for chicken meat in the country. This chicken will be ready to eat in eight weeks, which means 56 days. "
Features of multicolor table chicken
Shakila Farooq of the Livestock Research Institute said the chicken was originally developed to meet the demand for meat in the country.
"Multicolor table chicken grows very fast. It will be produced for eating meat, not used for eggs. In eight weeks, it weighs from nine hundred and fifty grams to one kilogram. "
But its taste and quality of meat is similar to that of native chicken. The body structure of the chicken, lips and crests like the native chicken, its feathers are also of many colors.
This chicken looks like a native breed of chicken. Some people call this chicken a native broiler.
The Livestock Research Institute started research on the first new breed of chicken in 2014. After the success of the laboratory in 2018, experimental production was started at the field level.
Initially, it was produced and marketed experimentally in Khulna, Barisal and Pabna. Multicolor table chicken is now being produced on a very small scale.
According to Shakila Farooq, the new breed is currently being produced on four government and two private farms.
The Livestock Research Institute has signed a memorandum of understanding with Aftab Multipurpose Farms for commercial production and experimental marketing. The Livestock Research Institute is still conducting joint research with this institute.
In the development of new breeds, foreign breeds and some domestic breeds of chickens have been combined with germplasm.
Multicolor Table Chicken is compatible with the climate of Bangladesh and the mortality rate of this chicken is much less.
Shakila Farooq said research so far has shown that the mortality rate of multicolored table chickens up to eight weeks of age is below 2 percent.
The difference with broilers and other chickens
The demand and consumption of chicken in Bangladesh has increased manifold in the last one decade. These include broiler chickens, domestic chickens, golden chickens, also known as Pakistani chickens.
There are several differences between these chickens. Broiler chickens are ready to be eaten in 28-32 days, i.e. during that period the weight of broiler chickens is one to one and half kg.
It takes 70-80 days for a golden chicken to reach one kg weight. But it will take at least eight weeks to market multi-color table chicken.
The meat and bones of broiler chickens are soft, but the meat and bones of multicolored table chicken are as hard as those of native chickens.
Raising broiler chickens requires large space, controlled temperature and light and air, but these chickens can be reared in open space like native breeds.
According to the Livestock Research Institute, these chickens are easy to raise, making them easier for marginal farmers and more likely to benefit financially.
The Livestock Research Institute is working on the innovation of several breeds of chickens in Bangladesh. Among them are two new breeds of laying hens — Swarna and Shuvra, developed by the Livestock Research Institute.
At the moment, work is underway to develop three breeds of common desi, gala chila and hilli or hill breeds.
Source: Online/KSU