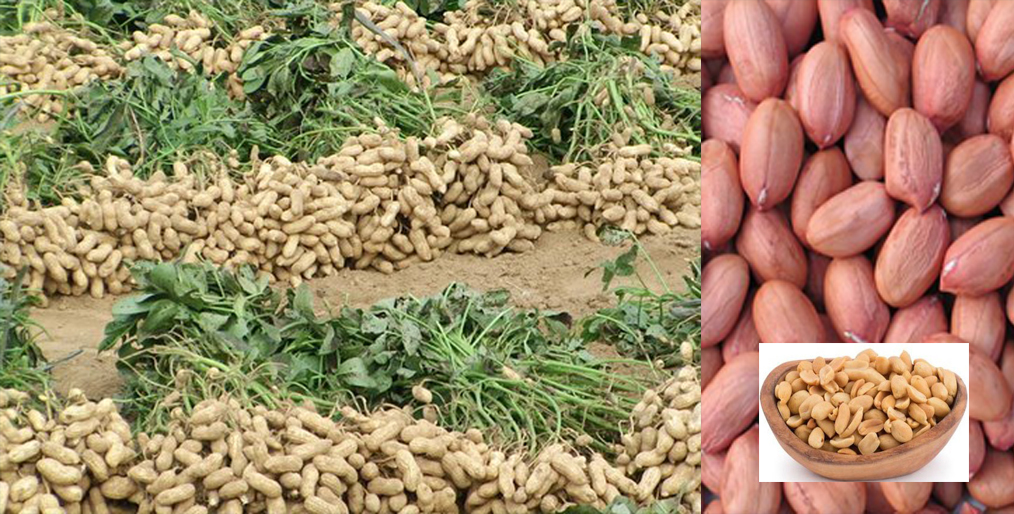 On July 11, 2021, Mokhlesur Rahman, a peanuts/groundnut trader in Rangpur City Bazar, said that farmers in the local market were getting their new cut peanuts at Tk 3,000 to 3,200 per mound (40 kg), which is profitable.
Officials of the Department of Agricultural Extension (DAE) predicted a bumper production of groundnut as its harvesting continues in full swing during the current Kharif-1 season in Rangpur agriculture region.
Earlier, the DAE had fixed a target of producing 8,359 tons of groundnut from 4,880 hectares of land for all five districts of Rangpur, Gaibandha, Kurigram, Nilphamari and Lalmonirhat in the region during this Kharif-1 season.
Farmers have finally cultivated groundnut on 4,400 hectares of land, less by 480 hectares of land against the fixed farming target, in the region.
They have already harvested groundnut on 3,186 hectares of land producing 5,929 tons of the crop at the average yield rate of 1.86 tons per hectare of land by Saturday (July 10, 2021).
Talking to BSS, farmers of different villages, including char and riverside areas, of the region expressed happiness over yield rate amid favourable climatic conditions this season.
Farmer Sayeduzzman of Char Biswanath village in Kawnia upazila of Rangpur said groundnut cultivation on sandy barren char lands has changed his fortune though he had no land of his own two decades ago.
He has purchased 18 acres of land in the last 20 years and is leading a solvent life now with his family members.
Farmer Rajibul Islam of the same village has also changed his fortune through groundnut cultivation on sandy char lands and already purchased 12 acres land along with bringing solvency to his family in last 17 years.
Farmer Noor Ali of Char Biswanath village in the same upazila said he has cultivated groundnut on one acre of land during this Kharip-1 season spending Tk16,000 including all costs.
"I have started harvesting groundnuts now. I expect to get a production of 25 mounds of the cash crop," he said, hoping that he would earn a net profit of Taka 32,000 this time.
Talking to BSS, Agriculturist Bidhu Bhusan Ray, Additional Director of the DAE, Rangpur region, said farmers are expanding cultivation of high yielding varieties of groundnut evolved by Bangladesh Agriculture Research Institute (BARI) in the region.
With the increasing demand of groundnut in the country's food industries, farmers are showing more interest in groundnut farming on the main land and char areas after getting repeated bumper production with lucrative prices in recent years.
Because of lower farming cost and excellent market price with huge demand in the local market, char people and common farmers are reaping huge profits from groundnut cultivation in the region in the last 12 consecutive years.
Senior Coordinator (Agriculture and Environment) of RDRS Bangladesh Agriculturist Mamunur Rashid said farmers can earn Taka 40,000 by producing 24 to 27 mounds of groundnut per acre of land spending Taka 20,000 as farming costs per acre.
Hundreds of farmers, mainly of the riverine char areas, have achieved self-reliance by cultivating groundnut twice annually during the Rabi and Kharif-1 seasons every year in the region.
"Cultivation of groundnut is increasing every year as a profitable venture following a huge boost of the confectionary and Bakery industries increasing demand of the agro-commodity in the last twelve years," Rashid added.
Source: Online/SZK