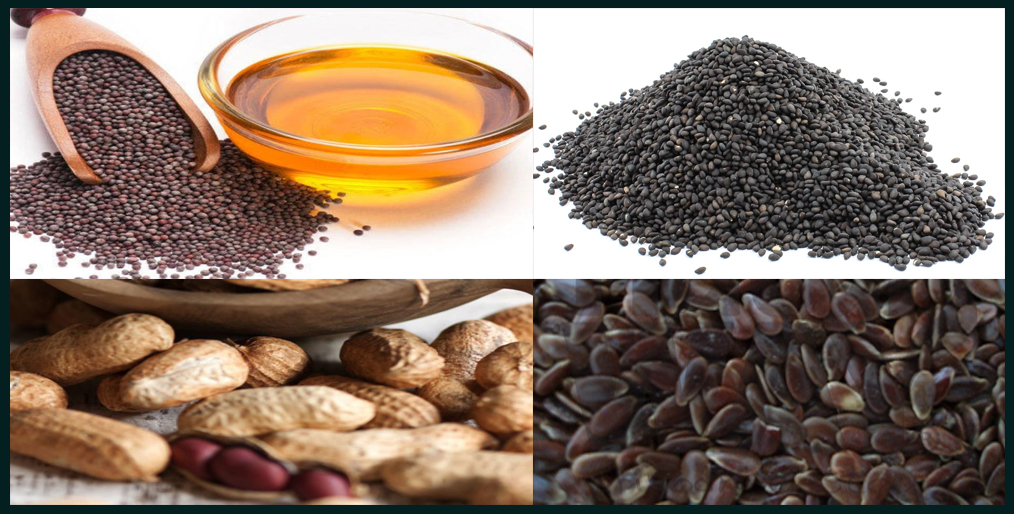 Sardar Zahidul Kabir: Mustard, almond, palm oil, sesame or ((roaring sesame), linseed, soybean, sunflower, etc. are the oilseeds that have been cultivated in Bangladesh from ancient times to the present.
Mustard
Mustard is the main edible oil crop of Bangladesh. At present it is cultivated in about 3.5 lakh hectares of land and about 2.5 lakh tons of oil is available. Different varieties of mustard seeds contain about 40-44% oil. Khaile contains about 40% protein. So khail is a very nutritious food for cows and buffaloes. 3 types of mustard are cultivated in Bangladesh. These are Tory, Sheth and Rye. However, several varieties of mustard invented by the Bangladesh Agricultural Research Institute (BARI) are being cultivated in Bangladesh. These are;
Tori-7, Sonali Mustard (SS-75), Kalyania (TS-72), Daulat (RS-81), BARI Mustard-6 (Dhali), BARI Mustard-7 (Napas-3142), BARI Mustard-8 (Napas-8509), Rye-5, BARI Mustard-9, BARI Mustard-10, BARI Mustard-11, BARI Mustard – 12, BARI mustard-13, BARI mustard-14, BARI mustard-15, BARI mustard-16, BARI mustard-17, Bina mustard-4, Bina mustard-7, Bina mustard-8, Bina mustard-9, Bina mustard-10 . These varieties have different types of advantages or qualities.
Nuts
The char lands of Bangladesh are very suitable for nuts/almond cultivation. There is an opportunity to cultivate almonds every year. With good yield, it is possible to produce 22-24 mound nuts per acre. Need to provide government sponsorship, funding and training. Because, Chinese nuts are an important among the oil crops. In addition to peanut mustard oil in terms of quality. Almonds are a lucrative cash crop. The climate and soil of this country are quite suitable for groundnut cultivation. The average production of groundnut in Bangladesh is 12.5 mound per acre. Peanuts contain 48-50 percent oil and 24-25 percent meat. Although peanut oil is prepared, a large part of it is eaten directly in different countries of the world.
Soybean
Soybean cultivation is developing day by day in Bangladesh. At present about 70% of the national production of soybean is being produced in Laxmipur district. Soybean was first cultivated experimentally in 1982 in Ramgati upazila of the district on a mere 1 hectare of land. Then in 1992, two private development agencies encouraged farmers to grow soybeans. Since then, soybean cultivation has been gradually increasing along with other rabi crops. Due to low production cost, good price and yield, farmers are now interested in growing soybean instead of other rabi crops. Although soybean is oil seed, oil is not produced from soybean produced in our country. Soybeans of this country are mainly used for making poultry food, fish food, cyanagate, soy biscuit, soybean, soap, milk, baby food and 61 other nutritious foods and diets. According to nutritionists, the reason for the widespread use of soybeans as food is that they contain more than 40 percent meat and 20-22 percent oil.
Palmoil
The palmoil tree is an annual plant. Yield begins within 3-4 years of planting. It bears fruit continuously for 60-70 years. 8-10 bunches can be extracted in a year. A cane weighs up to 40-80 kg. These trees are not easily damaged by storm surges. Palmoil fruit gives 10 times more oxygen than other trees. Oil can be collected by hand and machine. When the fruits are boiled in water and chipped, oil comes out. The first palmoil cultivation was started in Tangail about a decade ago. Mills have already been set up at Majukhan in Tongi. In the future, small and large will be set up all over the country.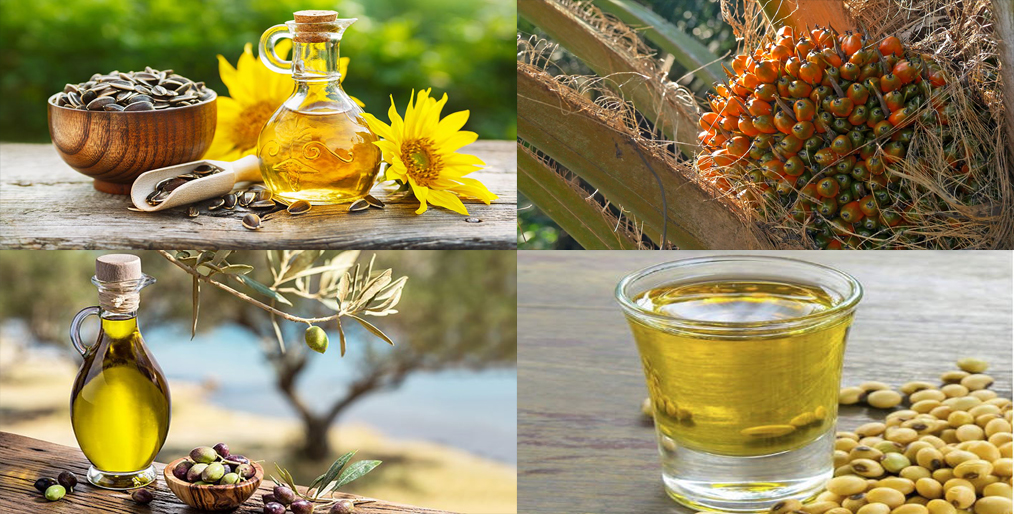 Linseed
Linseed is an old Bangladeshi oil seed. It contains protein, oil, carbohydrates, ash, fiber. It is used to make grease and soap for machinery. The Neela (Lin-1) variety has been selected through a selection process and was approved by the National Seed Board in 1986. The characteristic of the variety is that the seeds are small and flat. Fruit 1000 seeds weigh 3.0-3.5 grams. The color of the flower is blue. Seeds feel slippery when held in hand. Seed oil content is 38 percent. Yield per hectare is 850-950 kg.
Sunflower
Linoleic acid is present in sunflower seeds. Contains high quality oil. Sunflower oil is very beneficial for heart patients. Sunflower oil is used as an excellent food for cows and buffaloes. After the seeds are released, the heads of the plants can be used as cattle feed. Trees and wreaths are used as fuel. So far 2 varieties have been invented by BARI. Namely (1) Kirani (DS-1) and Bari Suryamukhi-2. Kirani, The variety was approved in 1992.
Sesame
It contains linoleic fatty acids and proteins. Cholesterol free. Acts as a source of essential fatty acids. In addition to being used as an edible oil, it is also used in making soaps and cosmetics. Its khail is a very delicate food for cows and buffaloes. The "Shov" variety is selected through a selection process. It was approved for cultivation by the National Seed Board in 1986.
Olives
Olives are not oilseeds, they are a tropical sour fruit. It is also known as Ceylon olive. Although known as olive fruit, its oil is very rich in nutrients. It is a good source of vitamin C. Studies have shown that these fruits are rich in minerals, vitamins, fiber and valuable antioxidants. Food energy per 100 grams of olives is 70 kcal, 9.7 sugars, 59 mg of calcium, 13 mg of vitamin-C. The use of olive oil can be seen all over the world. It contains natural ingredients that help keep the body healthy.
Extra Virgin Olive Oil: This oil is produced from olives through high pressure without any chemical combination. Which is called 'cold press' method. It is healthier and the most expensive olive oil on the market.
Virgin Olive Oil: It is less expensive than extra virgin olive oil but very good for cooking. It is a very ancient fruit of Bangladesh. It is cultivated more or less all over the country.