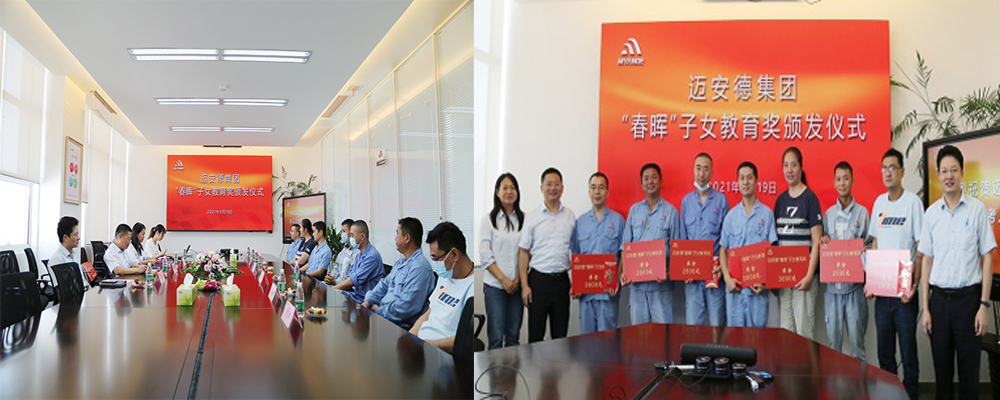 The awarding ceremony of Myande "Chunhui" Scholarship established for Myande Employees' children was held in September. Mr. Li Xudong, Group vice president, Ms. Sun Huarong, Head of Human Resources, and Ge Xingzhi, head of manufacturing, participated in this ceremony.
Firstly, Sun Hualong announced the 2021 Myande "Chunhui" Scholarship winners. This year, many employees' children entered colleges and universities such as Nanjing University and Sichuan University. Subsequently, Vice President Li Xudong distributed bonuses to the award winners. In a relaxed and happy atmosphere, the award winners talked about their educational experience one after another and thanked the company for its care and support.
Mr. Ge Xingzhi, head of manufacturing center, said that with the rapid growth of the company in recent years and the busy project delivery schedule, Myande encourages employees to strike a good balance between work, children's education, and family life.
On behalf of the group, Vice President Li Xudong expressed his congratulations to the award winners. We sincerely hope that all the children of the Myande staff will become great talents and create brilliant lives.
Adhering to the core values of "Passion, Precision, and Integrity", Myande Group attaches great importance to the well-being of its employees, cares about their lives, their family and the growth of their children. As early as 2010, Myande Group began to provide scholarships for the children of employees who were admitted to the university.
|Source: Online/KSU