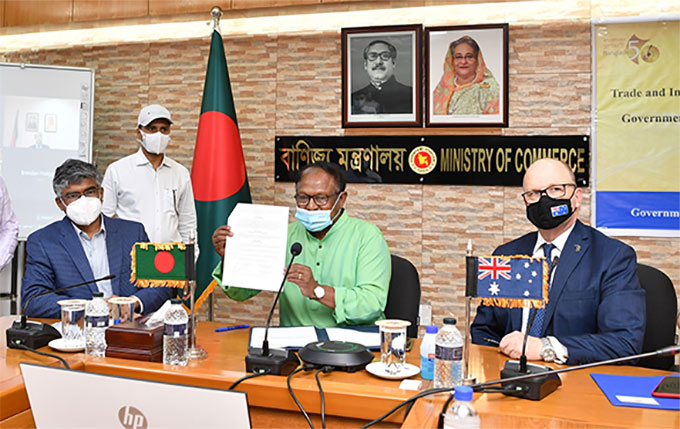 Bangladesh has signed a trade and investment agreement with Australia in the style of the United States. Commerce Minister Mr. Tipu Munshi on behalf of Dhaka and Australian Minister for Trade, Tourism and Investment Mr. Dan Tehan on behalf of Canberra signed the agreement in a virtual ceremony. According to the Canberra Mission, the first institutional economic structure of Australia-Bangladesh in the last five decades is the Trade and Investment Framework Arrangement or TIFA. It is expected to serve as a platform for opening up new opportunities for trade and investment between the two countries. A joint working group will be set up under TIFA to ensure proper representation of the respective sectors and sub-sectors of the two countries and play a key role in advancing the negotiations to achieve full potential for trade and investment.
At the signing ceremony, the Commerce Minister said, "I am very happy that Bangladesh signed TIFA with Australia at such a time. When Bangladesh is celebrating the golden jubilee of its independence and the birth centenary of Father of the Nation Bangabandhu Sheikh Mujibur Rahman. He further said that we hope that this framework will work on all relevant issues including maintaining duty free and quota free facilities, liberalizing trade and creating conducive environment for increasing trade and investment flow in the post-transition period of LDCs in Bangladesh. He invited Australian Minister Mr. Tehan to visit Bangladesh immediately.
Accepting the invitation, Australian Minister Mr. Tehan said he would visit Bangladesh next year at a convenient time with a suitable trade and investment delegation.
He said the current Australian government is working to expand trade and investment with Bangladesh and make it more dynamic. I firmly believe that through such an economic structure we can further contribute to the creation of employment and trade opportunities in both our countries. He added that there is an opportunity for Australia to co-operate in meeting Bangladesh's growing education, technical training and energy needs. He assured to maintain duty free and quota free entry of Bangladeshi products in the Australian market. Australia provides world-class expertise in agricultural and infrastructure development, from which Bangladesh can receive the necessary assistance.
It may be mentioned that Bangladesh-Australia bilateral trade has increased almost six times in the last decade and reached USD 2.6 billion last year. While there is no legal obligation, TIFA will help create new trade areas for both countries and facilitate bilateral trade and investment. Apart from garments, agricultural products, power and energy, information and technology, skills development and education services made through the TIFA structure, there will be opportunities to discuss all types of trade and investment on a mutually agreed basis. Under this tiff, Australia has proposed to hold the inaugural meeting of the Joint Working Group in early 2022.
Mr. Sufiur Rahman, High Commissioner of Bangladesh to Australia and Mr. Jeremy Bruea, High Commissioner of Australia to Bangladesh spoke on the occasion. At the time, the Bangladesh High Commissioner said that Australia could use Bangladesh as a gateway to the market of 300 million people in the landlocked region of Bangladesh and its adjoining South Asia. He added that just as Australia can invest in Bangladesh's economic zones, it can also consider Bangladesh as a supplier of Australian manufactured goods. Commerce Secretary Mr. Tapankanti Ghosh was also present at the signing ceremony. Officials from the Ministry of Commerce, the Ministry of Foreign Affairs and the High Commissions of the two countries were also present on the occasion.
Source: Online/KSU