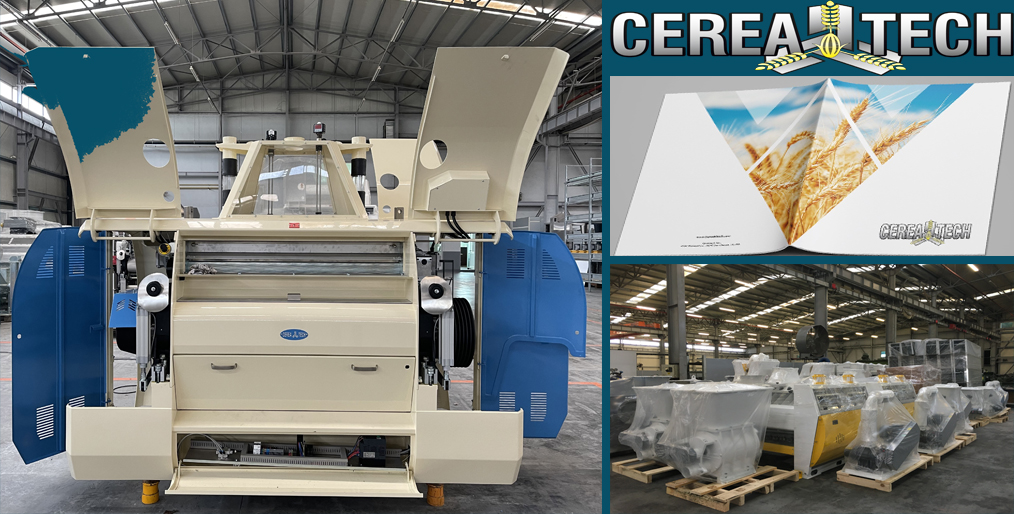 Cereatech Inc., is a Texas, US based company which serves to grain cleaning and grain processing industry (wheat, maize, rice and other grains, seeds etc.), pneumatic handling systems, mixing systems and project design, using 20+ years of experience behind. The top people in this Cereatech Inc. recently confronted Grain Feed & Milling Magazine(GFMM) in an interview. The magnetic part of that interview has been revealed for the readers of GFMM.
GFMM: How you to get involved yourself with this business?
Cereatech: Because of experience on grain milling and 20+ expertise plus graduation on food processing, we are in this field with passion.
GFMM: Will you say something about your business start-up?
Cereatech: The business has started up with designing and supplying of a turnkey maize mill in Africa and then mill gravity and pneumatic systems, mill spouting and accessories across USA. Currently we have expanded our business to response turn key project by adding roller mill into our manufacturing line.
GFMM: Tell us about the current status or range of your business and company.
Cereatech: We are now able to respond A to Z systems, project design and supply of individual equipment to our esteemed customers. Recently we have published our own roller mill thru linkedin. Regularly, we are sharing updates thru linkedin and instagram. They can reach out thru linked by searching and adding Cereatech Inc. and instagram adding cereatech
GFMM: What kind of product do you produce?
Cereatech: Even if a customer asks a single bolt, a piece of bolt is having the same value as an equipment, a system for us. We are manufacturing stainless and powder coated spouting and accessories in one workshop and handling, cleaning, milling and packaging equipment are manufactured in another workshop. This gives us flexibility, on time response and delivery.
GFMM: Tell us about the quality of your product. Why buyer will buy it from ten people's product?
Cereatech: Our motto is: Reliability – Expertise – Satisfaction
As you may see Expertise is in the middle and covered by other two important priorities which are Customer's expects. Our expertise strengths the linkage formed with Reliability (because everything starts: relying on somebody). If the customer is sure about your expertise, then this will give satisfaction to both of us. This philosophy is our motto in order to maintain the quality and expects at high levels. Because, we believe our customers are our friends.
GFMM: Compare your industry/company with respect or the top class to the world market.
Cereatech: The world is big and in the soon future the food will be the main concern of human being. Especially grain processing and flour production are key industries. We know this reality and trying to update solutions as much as we can.
We are getting more known in US, we have some projects in Africa South East Asia. But, we do not have any activity in Bangladesh and its neighbour countries, yet. We know Bangladesh is one of important country based on its population and food consumption.
We always are trying to provide high quality, high performance solutions.
GFMM: Tell me if you have any problems or challenges with this business.
Cereatech: 2020 and also 2021 are really challenging years because of pandemic. We have postponed gathering with customers, restricted travels, increasing raw material prices, damaged supply chains, etc. Of course this also effected us badly because many of projects were postponed for next year. We hope 2022 would be better.
GFMM: How did you deal or overcome these problems / challenges?
Cereatech: These problems are global problems and we are suffering in various stages of course. Even though those challenges, we are always ready to respond on time.
Our main office is in San Antonio, Texas. Sales office in Houston, Texas and Madison, Wisconsin. Production and distribution hub in Turkey. We have local dealers in South East Asia, Africa and Latin America, but not yet agents. So there is no restriction on sales, we welcome any inquiries across the world direct from end users, or from dealers.
GFMM: Will you say about your management style?
Cereatech: Management focuses on controlling and facilitating a group of employees to achieve a goal set by the boss or their superior. Managers minimize barriers and focus on handling resources, budgets, processes, and a defined objective.
By contrast, leadership is not necessarily focused on control and power; rather, it adds value and influence to motivate employees to contribute to business success. Because, leaders tend to motivate, inspire, and create a vision. Anyone in an organization can be a leader, regardless of title. As such, a team member may be the perfect leader for a project even if they are not managing people.
That above explanation is how our management style is. We are based on a leadership mentality, since everybody is a perfect leader for a project.
As Cereatech Inc., our mission is to continue to provide the high quality components, quality workmanship products to increase the process quality of our customers, and our vision is to grow our expertise and talented products across the USA, Canada and introduce our quality across the globe.
GFMM: Say on your service categories.
Cereatech: Grain processing systems, machines & equipment
Pneumatic systems
Spouting & Aspiration ducting
Silos / Hoppers / Conveyors / Elevators
Consumable parts for mills
Mixers
Project & Design
GFMM: Tell me about the education and experience of your staff or manpower.
Cereatech: The key point people are highly experienced, well educated, regular continuous in-company training.
GFMM: What was the main force or power behind it?
Cereatech: As we expressed before, the passion and filed of education besides experience.
GFMM: Will you say about your future plan?
Cereatech: In soon future, we expect travels bans will be lifted gradually and we are planning trips to South East Asia and Africa. We are open for any dealership. Because, even we are a US based company, we are able to quote appropriate price – quality equilibrium.
GFMM: What are the essential qualities of a good industrialist?
Cereatech: * Being an observer
* Being knowledgeable about teaching and learning
* Understanding the future of the work
* Honing your story
* Having a clear strategy
GFMM: Do you want to say something to your customers?
Cereatech: They should get to know us. They will see a warm friendship, satisfied technical support and willing to share it. Our priority is their sustainable happiness.
GFMM: How is Bangladesh market compared to the developed world in this sector?
Cereatech: We had some remote email communications for some inquiries but had so far no chance. But, we are willing to be present there.
GFMM: What will it take for such industries to be fully developed in Bangladesh?
Cereatech: We have many good friends from Bangladesh. They are smart, active and energetic and also reliable people. But, most of them are now cooperating with other suppliers. And we have not shown much attention to Bangladesh. We had decided to travel but because pandemic it was challenging.
GFMM: Say something about Bangladesh beyond your business.
Cereatech: Bangladesh is having a deep history, colorful and rich diversified cultures and on top is the hospitality is wonderful. You have smart and skillful and hardworking people. Those are our impressions while visited Bangladesh.
GFMM: Thank you on behalf of 'Grain Feed & Milling Magazine'.
Cereatech: We also very much thankful for this chance you gave us. This way we hope we introduced ourselves to this amazing market and people.