New technologies and methods have been invented in the country for making and wrapping 18 types of spice powder, slices or pastes, sauces, pickles etc.
The spices are onion, green chilli, garlic, ginger and allspice (Chinese spice) powder, raw chilli paste and pickle, dried chilli pickle and sauce, raw chilli food (in the process of osmosis), garlic pickle, ketchup and chutney, ginger pickle and Turmeric paste, Allspice paste and Anato powder.
The way to innovate
Scientist Mohammad Masud Alam has been conducting research on spice processing since 2004 at the Spice Research Center in Raynagar, Shibganj Upazila, Bogra, under the control of Bangladesh Agricultural Research Institute (BARI). He said in the first light, 'Once a relative of mine from America sent a few packets of onion and garlic powder. Seeing that, the idea of ​​research on onion powder comes to mind. I started working and became successful. Then I work with garlic, ginger, green chillies and other spices. It also catches success. Then I experimented with other scientists from time to time to make sure that the quality, taste and flavor of the powder and paste spices made with the newly invented technology and method are right. Later spice powder, paste, pickle etc. were wrapped and used experimentally.
New methods to prevent waste
Scientists at the Spice Research Center say onions are a perishable product. About 30 percent of the onion produced in the country is wasted. The wastage rate on imported onions is 5 to 7 percent. After picking the onion from the field, it can be processed and stored in powder or slices to prevent wastage. Because processed onions can be stored for two to three years. It is possible to prevent the shortage of the product and reduce the import dependence. Similarly, waste of garlic, green chillies, ginger and other spices can be prevented.
Shailendra Nath Majumder, director of the Spice Crop Research Strengthening Project, said if the product could be marketed in the form of onion powder and slices, the import dependence of the product would be greatly reduced. He said 53 types of spices are used in the country. Of these, 35 spices are produced in the country.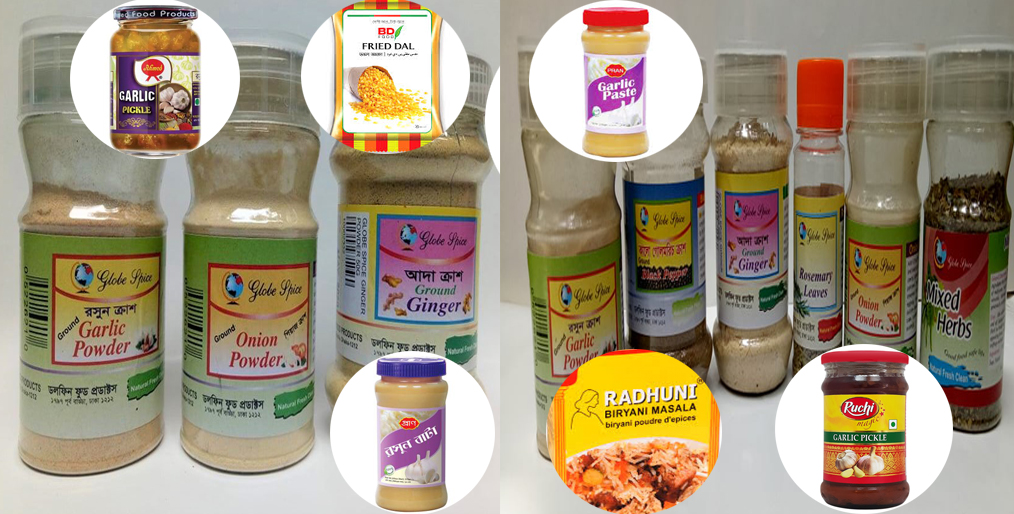 Powder spice technology
Scientist Masud Alam said farmers and entrepreneurs can easily store and market onion powder. After peeling, onion should be sliced ​​and steamed in boiling water. After half boiling, the half boiled onion should be dipped in water mixed with preservative, sodium metabisulfide for a while. After drying the slices in the sun or heat, it can be stored in powder or used for cooking. One kg of dried onion will match a maximum of 200 grams of onion powder. It can then be packaged in polybags and stored and marketed. It is possible to preserve and market ginger and garlic powder by processing it like onion.
Masud Alam said, Bengali women are accustomed to cooking by chopping and crushing/grinding onions. Onion crushing/grinding is the work of various sufferings. But if you have onion powder at hand, it is possible to cook it immediately. If a house needs five kg of onion, one kg of onion powder is enough.
Innovator Masud Alam said the country produces a record amount of raw chillies. Due to lack of storage facilities, farmers sell raw chillies at Tk 5 to 10 per kg during the production season. Raw chillies can be preserved and marketed by slicing, drying or powdering them. The taste and quality of raw chillies will remain intact.
When asked, Mobinul Zakir, assistant manager of Pran Group, a company that markets powder spices in the country, said, "I am thinking of marketing the onion, green chilli, garlic and ginger powder innovated by the spice research center." We have already tried to get an idea about this by meeting the concerned scientists. Now I am checking and sorting out the production and marketing of this product, the commercial demand. '
Abdul Haque Siddiqui, Manager, Dreams Biotech Limited, said, "Marketing with onion and green chilli powder seemed fancy to us. Talking to scientist Masud Alam, I got the idea about this product.
Hamim Reza, chief scientific officer of the Spice Research Center, said that technology and methods of spice powder like onion, garlic, green chilli and ginger have been developed to prevent 30 per cent of spices being wasted due to lack of conservation. Now if it is possible to market different spice powders, pastes, slices etc. through reputed companies, the waste of spices and dependence on imports will be reduced. It will also ensure that the farmer gets a fair price.
Source: Online/SZK