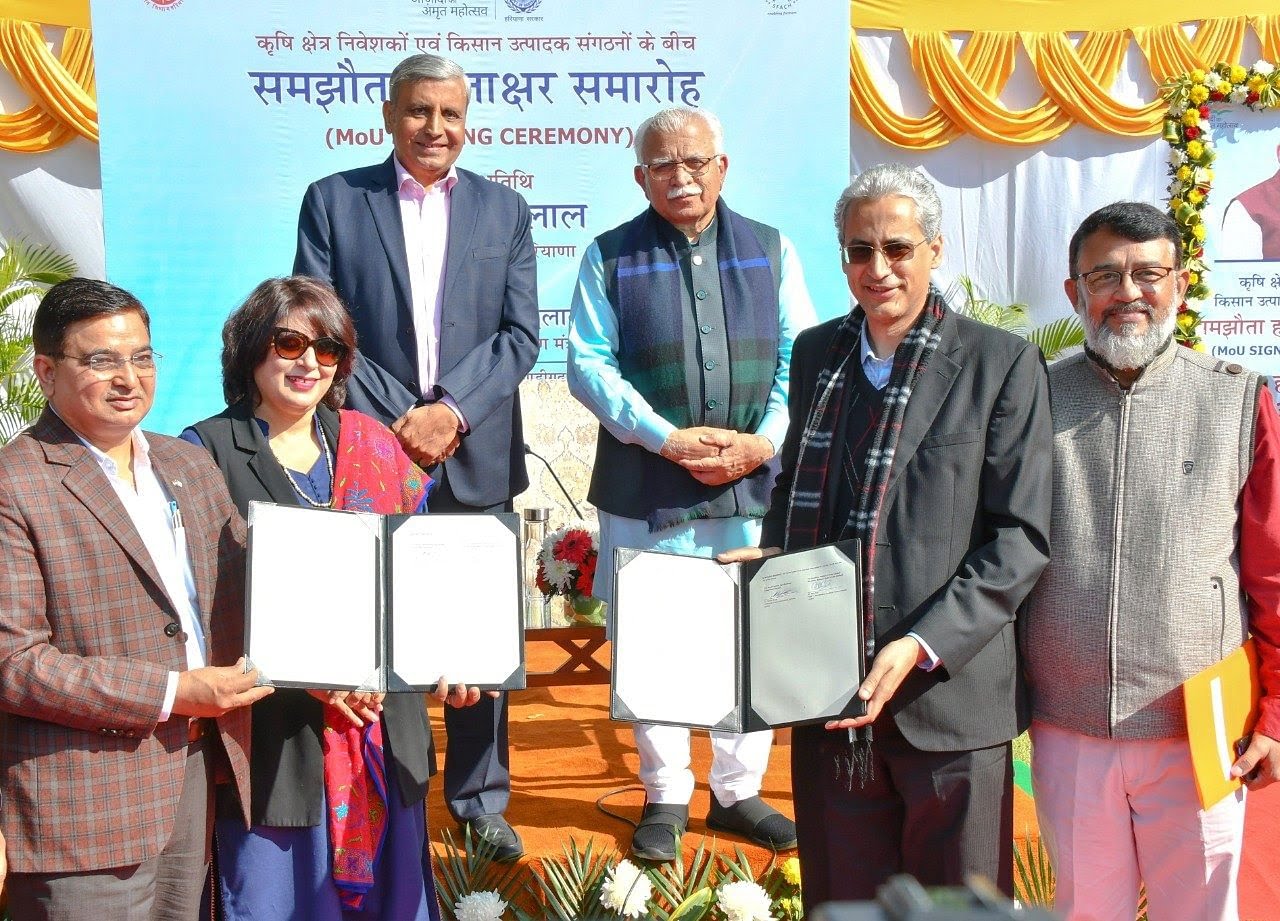 Taking another step further to strengthen its presence in the Indian agri-tech sector, Innoterra, a Swiss-Indian food, and tech platform company, signed a Memorandum of Understanding (MoU) with Small Farmers Agribusiness Consortium of the Department of Horticulture (DoH), Government of Haryana, and Kharisurenan Farmer Produce Company (KFPCL) to connect over 100,000 farmers in the state to its full-stack platform services including product grading, processing, branding and providing access to markets.
The MoU agreements were signed in the presence of Manohar Lal Khattar, the Chief Minister of Haryana in Chandigarh, between Dr Ranbir Singh, Haryana's Additional Director of Horticulture, and Nitin Puri, Innoterra's Head of B2B Marketplace. In the same ceremony, Nitin Puri also inked an agreement with Manoj Sihag, Director of KFPCL, one of the region's largest Farmer-Producer Organizations (FPOs).
The MoUs will provide farmers and farmer-producer organizations (FPOs) from the region access to Innoterra's micro-enterprise network and will facilitate market access for region-specific products such as Kinnow, a high-yield mandarin fruit hybrid widely grown in Punjab and Haryana.
Innoterra, erstwhile Pioneering Ventures, has recently brought together its incubated companies, including India's leading fruit producer-exporter Desai AgriFoods under its corporate umbrella. The company has already connected more than 80,000 farmers to its hi-tech and high-touch Platform Division. Innoterra platform provides 360-degree services encompassing farm inputs, data-driven advisory, traceability, and market access to smallholder farmers in India. So far, Innoterra has raised over US $ 125 million of investments cumulatively and has registered annual revenue of US $ 66 million in FY21. The company is on track to achieve US $ 100 million in FY22.
Speaking about the partnership, Dr Ranbir Singh said, "With this crucial collaboration, we aim to help farmers in Haryana transcend from agriculture to agribusiness and take giant strides towards integrating technology, distribution and branding expertise of the company through FPOs. Going forward, the Innoterra platform will enable our farmers to reap the real benefits of their hard work through access to the right advice, technology and services, which will eventually pave the path towards the long-term goal of better farm incomes."
Elaborating on the development, Nitin Puri added, "The farmer collectives are the bedrock of Indian agriculture. This partnership with Haryana Government aligns with our strategic goal of enabling strong growth for the small and mid-holder farmers in India, providing market access and skill development, adding value to their produce and thereby, doubling their net income."
|Source: Online/KSU