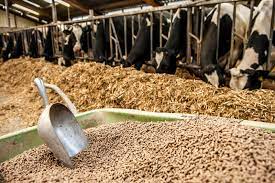 The Indian animal feed market reached a value of INR 942.4 Billion in 2020. Looking forward, IMARC Group expects the market to grow at a CAGR of 12.5% during 2021-2026. Keeping in mind the uncertainties of COVID-19, we are continuously tracking and evaluating the direct as well as the indirect influence of the pandemic. These insights are included in the report as a major market contributor.
India currently represents one of the largest feed producers in the world. Animal feed includes various raw, processed and semi-processed products that are fed to livestock. Some of the most common feeds include pasture grasses, cereal grains, hay and silage crops, and other by-products of food crops, such as brewers' grains, pineapple bran and sugar beet pulp. These products are carefully formulated with the help of nutritional additives, like vitamins and minerals, to maintain the overall health of animals and improve the quality of various end-products, including eggs, meat and milk. In this country, there has been a rise in public concern regarding the safety of animal-origin food products due to the prevalence of food-borne bacterial infections, bovine spongiform encephalopathy (BSE) and dioxin contamination. These concerns have prompted regulatory organizations to inspect and improve feeding practices in the country.
Market Trends:
Recently, it was noted that raw materials used in the production of animal feed, like soybean meal, sorghum and maize, are being diverted for the consumption of humans, leading to a shortage in the feed industry. Furthermore, the expensive nature, and price and supply volatility of these raw materials is encouraging industry players to switch to sustainable and lower-cost ingredients for livestock production. Some of these novel ingredients include insect meal and Distiller's dried grain with solubles (DDGS). Besides this, currently has a separate set of livestock policies that focus on increasing the overall productivity. Some of the schemes that are acting in favor of the animal feed market include E-Pashu Haat, Livestock Insurance Scheme, Rashtriya Gokul Mission, and National Livestock Mission.
Key Market Segmentation:
IMARC Group provides an analysis of the key trends in each sub-segment of the Indian animal feed market report, along with forecasts for growth at the country and regional level from 2021-2026. Our report has categorized the market based on product type. Find more.
Source: Online/KSU