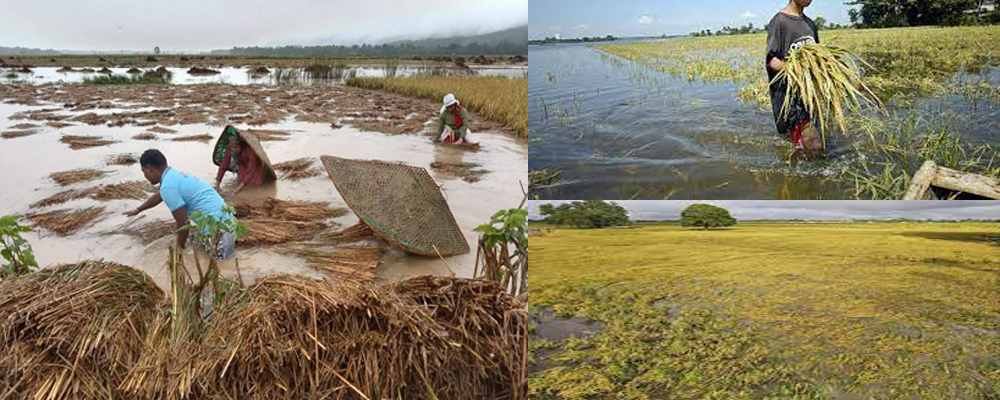 Paddy production in Nepal has shrunk significantly in the current financial year and the fall is the lowest in the last five years.
According to the data released by the Ministry of Agriculture and Livestock Development on Sunday (January 2, 2022), the production of paddy this year has decreased by 8.74 percent as compared to the production of the last financial year (2020-21).
The production was 5,130,000 metric tons this year while it was 5,621,000 last fiscal year.In the previous three years, the production was 5,550,000 metric tons (fiscal year 2019-20), 5,610,000 (fiscal year 2018-19) and 5,151,925 (2017-2018) fiscal year 2074-75 BS).Earlier, the rice production this year was estimated to increase, however, the offseason rain during the harvest season impacted negatively on the yield.
According to Ministry Spokesperson Prakash Sanjel, the offseason rains, wind and storm had damaged rice crop during the harvest season mainly in Kailali and Kanchanpur in Sudurpaschim Province and Bardiya, Banke and Kapilvastu districts in Lumbini Province, which led to the fall in the entire national figure of the rice production.
According to the Ministry, the unexpected rains had damaged 424,113 metric tons of paddy cultivated in 111,609 hectares of land.Meanwhile, production in Sudurpaschim Province has declined as compared from the last year's production.
The total production was 441,913 metric tons paddy, which is a 31.49 percent decline as opposed to the previous fiscal year. Similarly, Lumbini Province saw an 18.38 percent decline, Province 1, Province 2, Bagmati Province and Karnali Province 0.93, 5.24, 0.35 and 8.76 percent respectively.
In other hand, Gandaki Province has increased paddy production by 2.33 percent in the current fiscal, 2021/22.This season, over 1.4 million hectares of land was cultivated for paddy production.
|Source: Online/KSU