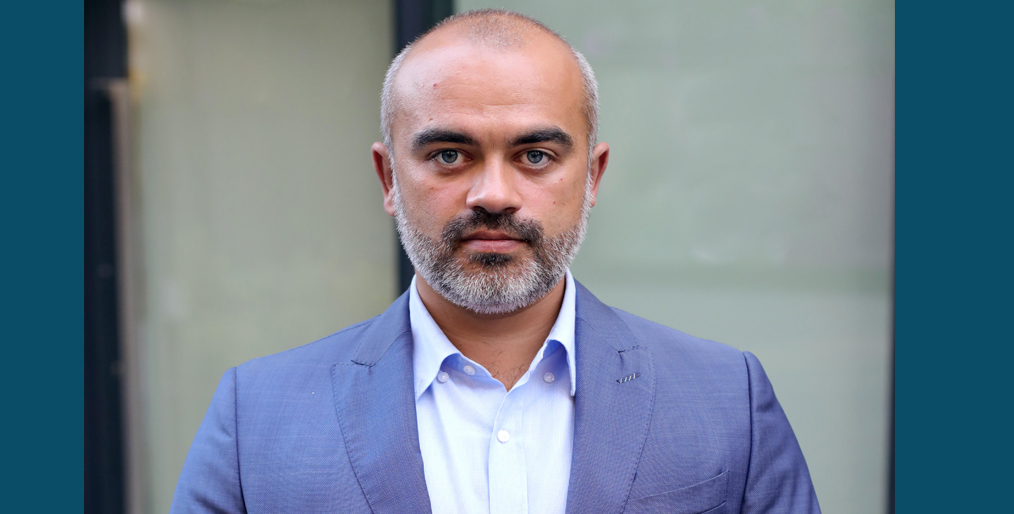 Mr. Adrian Badea, CEO & Founder of Silo App. Grain Feed & Milling Magazine (GFMM) recently interviewed him. The magnetic part of that interview was revealed to the readers of Grain Feed & Milling Magazine.
GFMM: How you to get involved yourself with this business?
Mr. Adrian Badea: Some things in life happen as an accident, others are logical choices. After graduating the University, I have experienced several industries ending up after a few years, completely due to an unrepeatable conjuncture, in Grain Handling and Storage Business, where I have felt I found my career path. It was like a love story at first sight. I loved to deal with industrial equipment, building innovative and efficient technology lines and making a difference by solving problems for customers in such a strategic industry, which feeds the world. It is a very intense and competitive niche, which is great for me, because I always loved challenges. During my many years in the business of industrial mechanical equipment and engineering, I have identified many problems in the design and sales cycle which were not addressed by anyone. So I thought "why not solve it myself?". It was really a "Eureka" moment, because I understood in minutes that it is possible to solve most of these problems with only one solution, a platform able to automate the whole cycle.The flow was quickly drafted and Silo App was born.
GFMM: Will you say something about your business start-up?
Mr. Adrian: I have started alone but I quickly understood that a TEAM is much better and can lead you to better outcomes. I am very lucky to have with me in Silo App story the best team of co-founders. Amazing people, on whom you can always count to be perfect friends and coworkers. They have great work ethics and business and technical skills that complement each other. We are enjoying our road together and we are really passionate about innovating in our industry and extend this knowledge also in other areas in order to help as many people as possible.
GFMM: Tell us about the current status or range of your business and company.
Mr. Adrian: Silo App is a SaaS platform and we are in the testing phase. If you do not mind, I would like to encourage people to contact us if they are interested to be part of this process, to test and bring their own input in building the best suitable product for their needs.
GFMM: What kind of product do you produce?
Mr. Adrian: Silo App is a web platform which automates the industrial design/engineering of Silo Plants, providing in less than an hour a complete 3D design, flow diagram, list of equipment and price quotation. Farmer and grain handling professionals are able now to design their own Silo Plants and to send quotation requests to Machinery Producers. At the same time, the Salesforce of the Machinery Producers can utilize Silo App as a Sales&Design Tool, in order to automate the technical process and reduce cost of the Sales Cycle.
GFMM: Tell us about the quality of your product. Why buyer will buy it from ten people's product?
Mr. Adrian: Silo App provides support in building projects which often require investments of millions of dollars each, therefore, high quality and accuracy are always our main targets. The Silo Plant is most of the time the most valuable asset a farmer owns, therefore it should be very well engineered to meet all the expectations.
Silo App addresses the needs of both stakeholders, farmers and suppliers of equipment.
By using Silo App, Suppliers are able to decrease the Cost of Sales with 90%, reduce the lengthy process of design and quotation to less than an hour, lower the carbon footprint with 80% and cut the general budget of the Sales Team with more than 50%. Moreover, they will have an open connection online with markets all over the world. Basically, a global presence without even leaving the office.
On the other hand, Silo App enables farmers to draft their own ideas and to contact the supplier of their choice, dealer or producer of equipment. This will save them a lot of time which is important in running highly efficient farms. Silo App will remain a useful platform for them even after commissioning the plant. They would be able to plan the maintenance, to monitor the grain, to learn from tutorials about grain handling, conditioning and storage best practices, to send enquiries for single machines and so forth.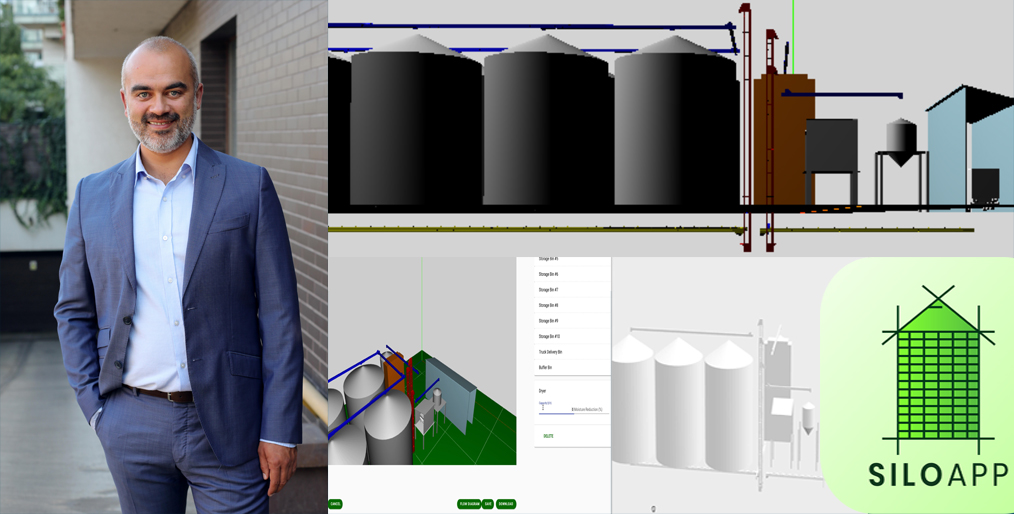 GFMM: Compare your company with respect or the top class to the world market.
Mr. Adrian: There are many important companies on the market offering software for industrial design/engineering, or quotation tools, or marketplaces, offering various degrees of integrations. But all of them are mainly manually operated and do not offer any possibility to integrate and automate cross processes. For example, there is no tool able to automatically extract a BoQ from a .dwg file.
With Silo App customers are able for the first time to automate most of the pre-engineering only with a few initial manual inputs. This is possible due to the fact the industry standards are embedded in our algorithms. But they are not completely restrictive, you are allowed to customize it until you achieve your goal. Silo App is a Design Engineer, a Quotation Engineer, a Project Manager, a Technologist and partly a Sales Person always available on your Smartphone and laptop.
For the first time you do not need an Engineering degree, our technology can guide you not to make mistakes and provide to you the best options for equipment.
GFMM: Will you say about your management style?
Mr. Adrian: I like setting general goals for the team, or departments and giving the colleagues the opportunity to make choices on the way. I strongly encourage self-development or progress. I love to see them grow as they overcome the challenges they encounter. I give my full support whenever needed and I always work hand in hand with them. I like to listen to them first, many times they have great ideas. I do not like micro managing people, pushing them each step of the way to do the jobs they suppose to do. That's why I prefer to work with motivated people, "intraprenours"with inner drive to succeed and good work ethics. It is very important for me to see progress over time in all the team members. It is great for business, of course, but it can make a difference in people's life as well and they will always remember it.
GFMM: Tell me about your staffs or manpower's education and experiences.
Mr. Adrian: The most important asset for a company is "the people". The people make the difference between success and failure, innovation or lagging behind, great or toxic culture and so on. Great companies always congregate the best talent. We still have plenty to do to really become a great company, but we already have the best talent in the team. We are very lucky for that. We have specialists in AI, Machine Learning and different programming languages, in Marketing, Recruiting, Business, Sales, Engineering and Mechanical Machineries, or Farming. All of them educated at reputable Universities from Romania and UK. Their experience and knowledge can make a difference and bring innovation to the next level.
GFMM: Will you say about your significant achievement so far?
Mr. Adrian: I would say my best achievement is being able to ensemble such a talented and motivated team. I am very proud of having found all these people.
GFMM: What was the main force or power behind it?
Mr. Adrian: The belief we can innovate, disrupt an make a difference together.
GFMM: Will you say about your future plan?
Mr. Adrian: Our plan is to extend our technology to other industries. We have to simplify the life of people and decrease costs for all the stakeholders.
GFMM: Do you want to say something to your customers?
Mr. Adrian: The reason for us to exist from the early beginning was to solve the needs of the customers. Therefore, I encourage all of you out there to reach out to us and inform us about your problems and expectations. We are very flexible and willing listen and find solutions. For example, we are able to offer our platform as White Label for the Machinery Producers, fully customized on their specific needs and requirements.
GFMM: How is Asian market compared to the developed world in this sector?
Mr. Adrian: The Asian Market is by far the one with the highest potential to grow and to enhance innovation. Using the state-of-the-art technology it's mandatory in order to be able to level the big differences within the societies. Using technology, people from remote or poor areas will be able to access better education, medical care, logistics solutions, building higher value chains locally.
GFMM: Say something about Asia beyond your business.
Mr. Adrian: I strongly believe Asia will become in the following decades the center of innovation and power. More and more human potential will be enhanced and utilized here. Not only because more than half of the world' population lives here, but also because the standard of living grows and more people will be able to pursue higher education and they will have access to information and technology. Many countries from Asia have clear visions about the future and they are proactively making steps to support the industries of the future in order to increase their own relevance and wealth. Human potential is limitless and still can grow exponentially given the high population of the area. The Governments should learn how to enhance the human potential.
GFMM: Thank you on behalf of Grain Feed & Milling Magazine.