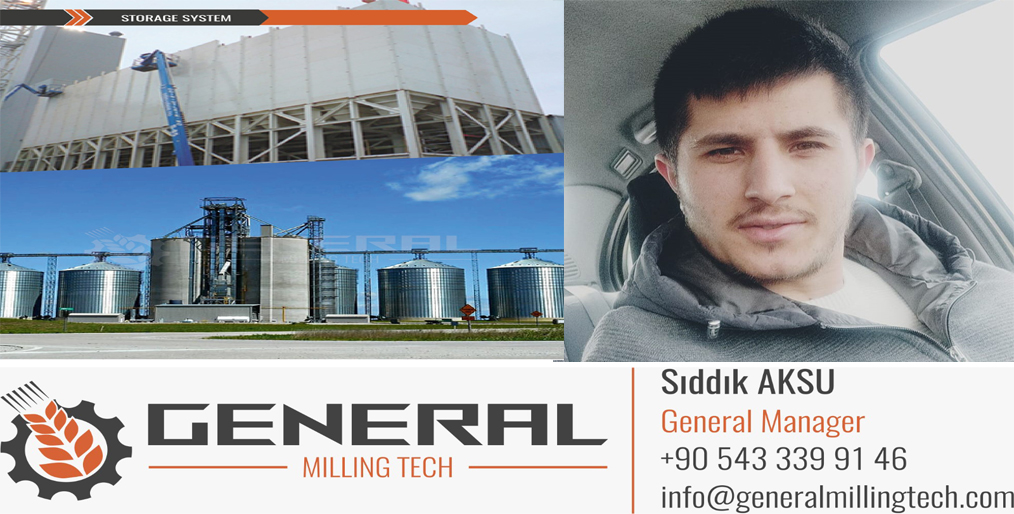 Grain Feed & Milling Magazine recently interviewed Mr. Sıddık AKSU, Founder of General Milling Machine of Turkey. The magnetic part of that interview was revealed to the readers of Grain Feed & Milling Magazine.
Grain Feed & Milling Magazine: How you to get involved yourself with this business?
Mr. Sıddık AKSU: Hello, I'm Sıddık AKSU, Founder of General Milling Machine. Thank you for giving me this interview opportunity. The Company I Manage Is A Company That I Found A Dream During My High School Years. I Got Involved In This Job By Following My Dreams.
GFMM: Will you say something about your business start-up?
Mr. Sıddık: My Story To Start The Year 2016 After I Finished High School, I Worked As A Machine Designer And Project In A Company That Produces And Establishes Turnkey Flour and Feed Factories. In 2020, I Founded My Own Company, Following My Own Dreams. As a Company, We Manufacture Our Machine Designs by Applying Innovative Design.
GFMM: Tell us about the current status or range of your business and company?
Mr. Sıddık: As a company, we manufacture Flour, Feed, Corn, Semolina Factory Machines. We Produce Grain Storage Systems. Our Company Policy To Have A Machine In Every Country Around The World. Quality of Our Machines with Innovative Innovation at World Standards.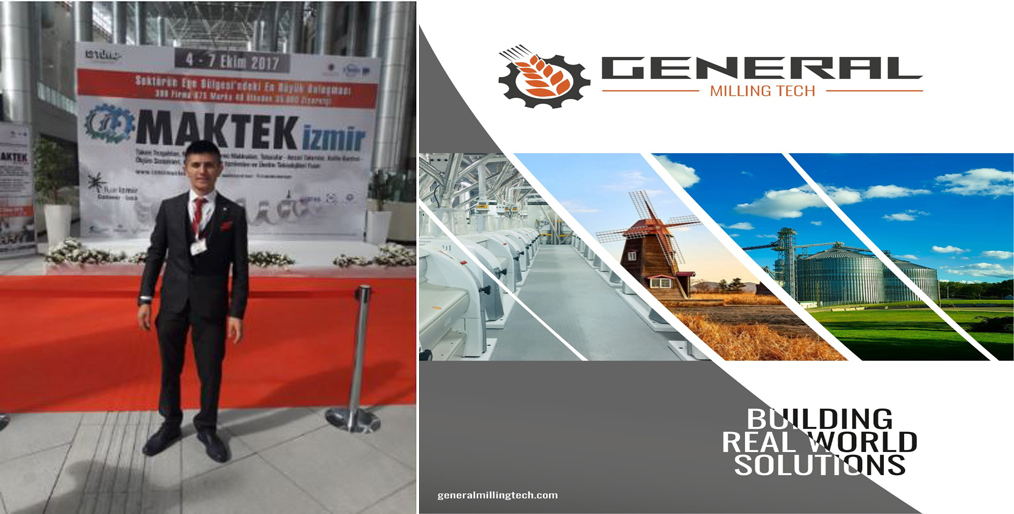 GFMM: What kind of product do you produce?
Mr. Sıddık: Our Machines As General Milling Company:
GRAIN CLEANING EQUIPMENTS
WHEAT PROCESSING EQUIPMENTS
Vibro Grain Separator,

Trieur (Intended Cylinder),

Radial Tarar,

Aspiration Channel,

Classifying Destoner,

Horizontal Scourer,

Wheat Washing Machine,

Intensive Dampener,

Inclined Screw Dampener,

Automatic Dampener,

Insect Larva Destruction Machine,

Gravity Separator,

Magnetic Separator,

Hammer Mill,

Roller Mill,

Plansifter,

Semolina Purifier,

Centrifugal Detacher,

Rotary Detacher,

Bran Finisher,

Vibro Sifter,

Redressing Control Sifter,

Control Plansifter,

Distributor,

Vibro Feeder,

Vibro Silo Discharge,
PNEUMATIC CONVEYING AND ASPIRATION/FILTRATION SYSTEMS
FEED MACHINES

 

Electronic Air Filter,

High Pressure Pneumatic Fan,

Aspiration Fan,

Dust Collector,

Blower,

Rotary Air Lock,

Blowthrough Air Lock,

Pneumatic Micro Cyclone,

Pneumatic Diverting Valve,

PELLET PRESS,

PELLET CRUSHER,

MIXER,

MOLASSES FEEDER,

CRUMBLER,

PELLET COOLER,

DRUM SIEVE,

PELLET SIFTER,

DOSING,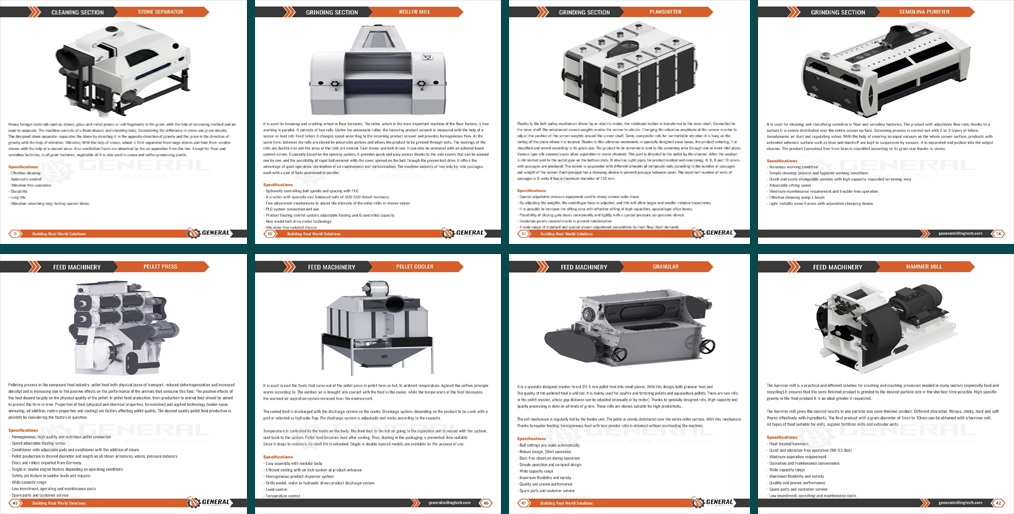 And as a company, there are more machines that we do not specify here.
GFMM: Tell us about the quality of your product.
Mr. Sıddık: The Quality of Our Product Is Short And Concise We As A Company We Are In Pursuit Of Quality To Include The Stamp Under The Bolt. We Turks Have A Word About Quality We Are Always By Your Side No matter where the machine or plant we build is.
GFMM: How many country you are exporting?
Mr. Sıddık: We Export To Every Point Of The World To Europe Asia Africa South America.
GFMM: Compare your industry/company with respect or the top class to the world market.
Mr. Sıddık: Our Industry Is Constituting The Most Basic Food Material Of Human Life We Are Developing Ourselves In Sales And Marketing In Our Developing And Changing New World Order.
GFMM: Tell me if you have any problems or challenges with this business.
Mr. Sıddık: In the Current Period, Unable to Find Raw Materials Due to Epidemics and Increasing Costs.
GFMM: How did you deal or overcome these problems / challenges?
Mr. Sıddık: I Can Solve This Problem By Stocking Raw Materials In My Company.
GFMM: Will you say about your management style?
Mr. Sıddık: My Management Style Building Bridges Between People The People Working in My Company And Our Customers The Ropes Of This Bridge And The Parts That Make Up A Whole.
GFMM: Say on your service categories.
Mr. Sıddık: Establishing Turnkey Flour, Feed Plants And Also Helping Our Friends In Other Sectors.
GFMM: Tell me about your staffs or manpower education and experiences?
Mr. Sıddık: Our Staff Are Professional Persons Who Have Received Necessary Trainings In Their Own Fields. And In Our Company, They See Themselves as Members of the Family.
GFMM: Will you say about your significant achievement so far?
Mr. Sıddık: My Biggest Success is To Announce Myself And My Company's Name To The World As Quality Representing My Country With The Quality Of Representation In Various Countries Of The World.
GFMM: What was the main force or power behind it?
Mr. Sıddık: Success Brought by Courage and Determination.
GFMM: Will you say about your future plan?
Mr. Sıddık: My Future Plan as a Company is to Build Very Different Facilities than My Competitors.
GFMM: Say something about yourself as a human, as a successful industrialist.
Mr. Sıddık: The Only Thing I Can Say About Me is I'm Just Starting Everything, Let Those Who Read My Interview Follow Me.
GFMM: What are the essential qualities of a good industrialist?
Mr. Sıddık: Being Disciplined, Determined, Attaching Importance to R & D Research, Trusting Her Friends in the Team.
GFMM: Do you want to say something to your targeted customers?
Mr. Sıddık: If You Want Innovation, You Should Work With Us.
GFMM: How is Bangladesh market compared to the developed world in this sector?
Mr. Sıddık: needs food and food facilities too much in Bangladesh population care. As a company, we are ready to do our best to contribute to the economies of the country by establishing facilities in Bangladesh.
GFMM: Say something about Bangladesh beyond your business.
Mr. Sıddık: Dear People of Bangladesh, Do Not Leave Your Country and Yourself Back in the Renewed World, We Are With You As A Fellow Country Turkey, Strength Arises From Unity Thank You All And I Invite You To Turkey.
GFMM: Thank you on behalf of Grain Feed & Milling Magazine.