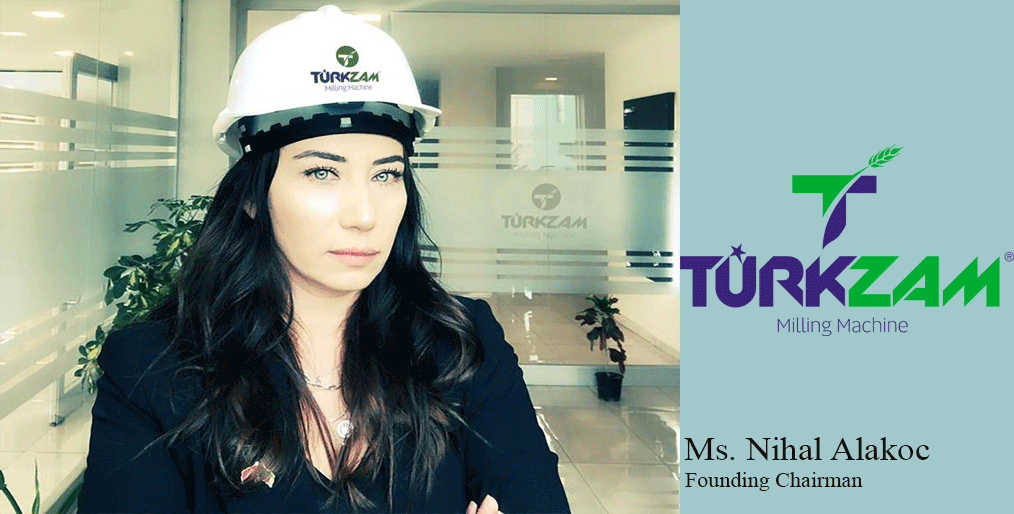 Grain Feed & Milling Magazine recently interviewed Ms. Nihal Alakoc, the Founding Chairman of  TURKZAM MILLING MACHINE. The magnetic part of that interview was revealed to the readers of Grain Feed & Milling Magazine.
Grain Feed & Milling Magazine: How did you involve yourself in this business?/ Bu işe kendinizi nasıl dahıl etiniz?
Ms. Nihal Alakoc: First and foremost, I would to like to specially thank the editor of Grain Feed and Milling Magazine for hosting us as Turkzam family in an immensely hospitable way and allowing us the opportunity to meet with you, our valuable stakeholders and colleagues. As Turkzam milling of which I am the founder, we aim to reduce the negative effects on the environment in order to ensure sustainable production, and to increase efficiency and profit, by using new technologies at the right time, in the right place and in the right way.
GFMM: Will you say something about your business start-up? /Yaptığınız işi nasıl başladığınızı bahsedermisiniz?
Ms. Alakoc: I started my career in 1999 as a graphic designer and marketing specialist in a large advertising agency. After working in various departments of the company in 2008, I worked as a commercial marketing director in a milling machine industry, mainly in foreign markets. I attained a formidable amount of knowledge in my 12 years of working in the industrial zone and I used the same knowledge in establishing my own company TURKZAM MILLING in 2020. Since the day I joined the sector, I have always paid much attention to listen to farmers and milling specialists owing to the fact that a producer who does not listen to requests of clients or customers cannot meet their needs. So considering all that, I may be right to say we developed our machines with industrialists who in this case are the farmers. Overtime we included all the other products they needed into our product range and are more than willing to work with everyone thereby meeting their demand.
GFMM: Tell us about the current status or range of your business and company/ Sizin yaptığınız işlerinizin şuanki durumunuz nasıl?
Ms. Alakoc: As Turkzam machinery we are successfully operating in Turkey's one of the most important sectors. We produce machineries that are used to turn grains such as wheat, corn, rice, oats and barley into flour and semolina, and do the production and establishment of turnkey facilities. We offer high-tech products and highly efficient facilities. With our after-sales services we continue to work in order to earn the trust of our customers and to fully meet the needs of our business partners. On the other hand, besides our products and facilities that can address the needs of the whole World from the Middle East to Central Asia, Africa, South America, we also offer efficiencyoriented consultancy services with our staff of experts. The work culture and strong capital structure we adopt also enables us to achieve our development and growth goals successfully. Sustainability, innovation, environmentalism, globalization, knowledge management and expertise constitute our basic principles. We continue to work with the aim of producing innovative products and services in the light of these principles and creating value added products for our customers with our Professional team. Turkzam Miling has its own technology, and its business partners are known World wide for their flamboyant work, and has high level of technology and knowledge in the field. There are a number of projects that I would like to implement now and due to this cause we find it somewhat challenging to prioritize between them so in the end we find ourselves realizing them all simultaneously. In addition to the milling machinery industry, we continue to manufacture agricultural machines within our own structure. Smart farming technogies are very important. We will owe the accelerated continuation of the Works on this subject to our cooperation with our partners. As Turkzam makine, we possess high competitive power in the sectors we operate with both our quality products and our team of experts.
GFMM: What kind of product do you produce?/ Sizin üretiğiniz ürünü neydi?
Ms. Alakoc: Our production line manufactures the finest equiment with the best technology the sector has ever seen. In addition to the products that will enable our customers to work with high efficiency in their business, we also offer turnkey facilities that require high engineering. As I mentioned, as Turkzam makine, we have established factories for wheat, corn, soyabeans, rice, oat, barley flour and semolina. Under the same roof of Turkzam, we have the milling section that is consisted of machines such as roller, sieve, semolina purifier; the cleaning section consisted of machines such as garbage purifier, destoner, etc. We can also count a formidable number of automation-oriented machines such as output scales, automatic anealing machines, and handling equipment such as elevators and spirals. Asides that, we produce agricultural machinery and tools used in our country in this sector. Our main production is at the point of system diagrams and machine layout for each client we work with. The prominet ones with our brand TURKZAM are pellet,crusher,mixer,cooler and stock tracking automation. Not only that, we also recieve different ideas from our customers, which we work on with the help of our research and development department. We are aware that we operate in a sector where the numerical amount of loss of one hour production is very high. For this reason, we can connect with our customer's facility online with our team, whose job is to follow spare parts and technical service wthin our company, and we can send our technical team to the customer'S factory in a very short time whenever necessary.
GFMM: Tell us about the quality of your product. Why buyer will buy it from ten people's product?/ Ürününüzü ne kadar kaliteli olduğunu bizimle paylaşirmisiniz. Diğer fırmaların ürünlerden ne farkı var, niye müşteri sizin ürününüzü seçsin?
Ms. Alakoc: To begin with, my life's philosophy is respect for labor. I see labor in every device and machine produced. If I happen to find myself in a positon of speaking my mind, I always want to choose my words correctly. When we were embarking on this journey, in the first meeting our main talk was on vision, mission and organisation chart and we also re-emphasized our motto "HUMAN FIRST, QUALITY SUSTAINABILITY and HONESTY which is part of our motives as a company. Together with our factory's own technology, we have high-level technology and technical knowhow with business partners who are known to be World giants in the sector due to their exemplary and quality work. We are confident that our machines will compete and we also know that our customers are honored to have them in Turkey.
GFMM: Compare your industry/company with respect or the top class to the world market./ Diğer firmaları saygı duyarak sizin firmanız ve sektördeki üst düzeyde bulunan fırmalarla kıyaslama yapın.
Ms. Alakoc: The rapid transformation in today's World pushes countries to a market environment where fierce competition is experienced. In this race, countries are obliged to form new competitive-based strategies with R and D activities, use of advanced technology and innovative approaches in order to maintain and increase their competitive power. The positon of countries in international competition depends on how well they adapt to new market conditions. It is possible to increase the country's prosperity with efficiency in investment, production, sales, marketing and distribution activities, and to increase the competitiveness by reaching new potentials. Competitiveness that can be evaluated at company, industry and country scale; it plays an important role for countries to achieve a sustainable growth. We in a highly dynamic market try to be in close dialogue with producers and understand them very well, without missing out on these changes, as the consumer needs are constantly increasing and diversifying. It might sound classical a sentence, but I would also like to mention that we are in competition with ourselves.
GFMM: Tell me if you have any problems or challenges with this business./ İşinizdeki karşılaştığınız problemleri bana söyleyin
Ms. Alakoc: Factory production capacities are gradually expanding in the milling sector. Therefore, companies have to develop some strategies to survive. Among them; companies should focus on technological innovation investments. To combat increasing costs; it should give priority to cooperation opportunities in the field of product marketing and logistics in raw material procurement. Small companies should specialize in special product varieties that will keep them afloat, or take advantage of the increasingly popular organic farming concept, and make an effort to get a share from the expanding export markets in recent years. As a result, all parties, especially policy makers, should appreciate the great sacrifice endured by industrialists in order to survive in the crisis environment of recent. In this framework, all miller industrialists, regional associations established to protect their interests and the federation should make a serious effort in the sector, especially on the quality of corn, rice and wheat. Common minds should again be used in the formulation of common policies and strategies.
GFMM: How did you deal or overcome these problems / challenges?/ O problemleri nasıl çözebildiniz?
Ms. Alakoc: Actually, I answered part of this question in our conversation earlier. First of all, in the countries we work in, we start by consulting with country managers, local admistrators, associations and opinion leaders. Considering the interets of the country where we will work, we share our projects and the constantly changing needs of consumers.
GFMM: Will you say about your management style?/ Sizin yönetim şekil nasıl?
Ms. Alakoc: I would to commence talking about the management by making mention that the number employees is not significant, what is rather of great importance is that everyone from the employee to the general manager in the company knows our mission and their role in this mission well and can contribute to this goal to the best of their ability. This is why I attach importance to in-house training in my business. Although we work with a focus on customer satisfaction, we remind ourselves and our staff that we are a big family without losing social life in this busy working environment.
GFMM: Say on your service categories./ Sizin hizmet kategörileri bahsedin.
Ms. Alakoc: As Turkzam Milling, we have specialized in international markets. By becoming more specialized and we attach importance to improving our production technology, we have become a company that is more knowledgeable in service production and brings high added value. We establish turnkey facilities for milling industries. We provide efficiency-oriented consultancy services, Spare parts and technical support service both onsite and Online. Our production of agricultural machinery and tools. As I mentioned earlier, we have projects that concern many sectors and add value to their production. In addition to these services, we also support new machines and projects from our customers.
GFMM: Tell me about your staffs or manpower education and experiences./Fırmadakı eleman yada personellerin eğitimi ve tercübeden bahsedin.
Ms. Alakoc: The purpose of development is to increase the welfare of society, increase the living standards of people, and establish fair, safe and peaceful living environment on the basis of fundemental rights and freedoms. I am of the opinion that industrailists have important roles in this regard, as well as states. As Turkazam milling, in the race of production and in desiring to increase the competitiveness, we adopt essential element of competition in human and advanced technology. We bear in mind that the most advanced and efficient form of technology is in human beings. So to ensure that we stay at the top of the competion we invest in our personnels by teaching them whatever they need to know when necessary.
GFMM: Will you say about your significant achievement so far?/ Şuandakı sizin en önemli başarıları bana söyleyin?
Ms. Alakoc: My colleagues and acquaintances know me to be courageous, determined and relentless type a person. In the road to success, I prefer to say we rather than me. There is a team leader and behind him is his family and colleagues. Of course, difficult times do come by and boredom sets in, but that's what adds more meaning to a life of success and all that collectively gives birth to something that not even money can buy "experience". In my 12 years of business life in the sector, I have established 4 factories on turnkey basis, manufactured and sold hundreds of machines. The experience I have attained over the years and  the work I have done has returned to me as value added and I am glad to be serving my customers in our own factory. Our sales of machines to various countries abroad and Turkey continues. We have 22 turnkey factory agreements that we will establish between 2021 and 2022. As I said at the beginning, success is not something that one can achieve by himself, so we continue to increase our strength with our employees and international partners.
GFMM: What was the main force or power behind it?/ o başarıların olma gücü neydi?(olma sebepleri neler?)
Ms. Alakoc: The compelling force behind my success is the unmatched admiration for machines and technology.
GFMM: Will you say about your future plan?/ Gelecek planlarınızın bana söylermisiniz?
Ms. Alakoc: I want to have hundreds of high-tech special manufacturing machines patented by us.
GFMM: Say something about yourself as a human, as a successful industrialist./ Kendinden bahset, yane bir insan olarak. Başarlı bir sanayici olarak.
Ms. Alakoc: The capital more accurately. Especially for the Agricultural field because it takes long to be able to complete the R&D process and develop products in this area. It is necessary to take careful steps. Although the perception of women entrepreneurs in general is still a problem, I think this has changed recently. People are beginning to trust women and realize that we can do amazing things. I love anecdotes and proverbs. I always learn a lesson from the words of the elderly and experiences. We have an ancestoral Word. " the work of a person is a ritual". Prejudices and stereotypes against women in business life are encountered almost everywhere depending on the culture. Women entrepreneurs need to be brave and believe in themselves. If you dont believe in what you're doing, you can't make anyone else believe it. It can always be met with difficulties and troubles. We should be able to continue without giving up. If you are a true entrepreneur, your desire to generate, create and learn new ideas will surpass your fears.
GFMM: What are the essential qualities of a good industrialist?/ İyi bir sanayicinin önemli nitelikleri nelerdir?
Ms. Alakoc: If we write about this subject, I think we can come up with a book.
All in all, I would like to answer one of the most important items.
By contributing to the large-scale enterprises that have gained international competitiveness towork more integrated with the small medium-sized enterprises in their region,
In order to reach the targeted level in R&D and innovation activities, I believe that it is necessary to support the main and sub-industry companies in joint R&D and innovation activities and in increasing their collective skills.
In addition, it should be ensured that the cooperation between the manufacturing industry sectors should be strengthened by making the most of the production capacities of the sectors and increasing the share of domestic production in the total value created. The development of technology production in the manufacturing industry, the rapid widespread use of modern technology, the supply of qualified workforce, the increase in production capability in high value-added products, investment in emerging sectors, improvement of small and medium size product and management structures are important.
GFMM: Do you want to say something to your customers?/ Sizin müşterilerize söylemek istediğiniz birşey var mı?
Ms. Alakoc: The biggest nightmare for the economy is uncertainty. As all industrialists, our goal is to protect macroeconomic stability with our partners, Industrialists in the face of slow global economic growth, expand and develop the business World, modernization of technology, development of resources which are the main basis of all kinds of cultural and economic development. We must find new alternatives that can accommodate, and overcome weak and fragile growth trends with the projects we will do together. The new advantages of the COVID-19 outbreak can be considered as a new turning point in economic relations between countries. In line with this direction, we business people have important responsibilities to bring the existing potential to life. Reaching a more competitive agricultural industry, we are honored to systematically determine the goals and objectives of our industrialists, who have a future-oriented perspective, together with the joint Works where the foundations of the strategic plan are laid.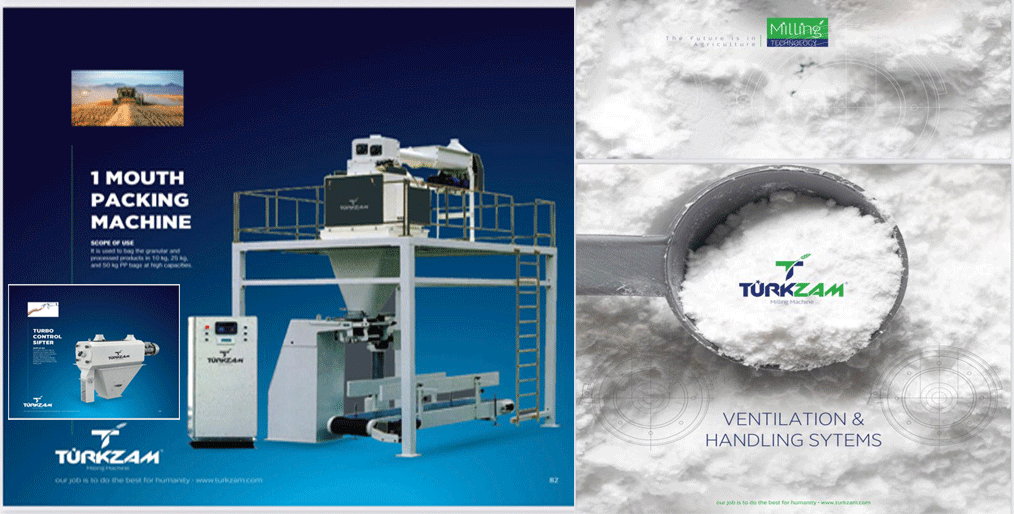 GFMM: How is Bangladesh market compared to the developed world in this sector?/ Bangladeş pazarı gelişmiş dunyaya göre nasıl?
Ms. Alakoc: Farmers affect the lives of millions of people, together with those who serve the industry. Today, it is observed that the milling industry in the world is increasingly consolidated and a less number of producers control the production in the market. The share of some multinational companies is gradually increasing in international market. Global competition conditions force companies to merge in order to survive. In the last 30 years, there has been a serious consolidation process in the mill industry in many industrialized countries. General trend: Factory production capacities are gradually expanding in the flour sector, while the number of producers is gradually decreasing.
THE IDLE CAPACITY PROBLEM OF BANGLADESH INDUSTRY
First of all, the fact that most of the companies in the sector are small and medium-sized enterprises and their work with low capacity prevents them from taking advantage of the economies of scale. Producer profit margins are gradually decreasing due to the increasing competition. Infrastructure, labor, energy prices and transportation and marketing costs are gradually increasing. Due to the difficulties in providing qualified personnel, companies cannot adequately comply with hygiene rules and quality standards. As a result, decreasing profit rates and increasing costs force industries to unfair competition with each other. As companies, they should think of common interest as a sector, not individual interests. Cooperation, information sharing and solidarity should be given importance. It is research export opportunities. In order to survive and save the day, producers have to compromise unfair competition against each other or compromise on quality by selling them to domestic and foreign markets below the cost or entering the markets of others. Opening foreign markets will also prevent unfair competition inside. New strategies should be developed to increase the share of Bangladesh industrialists in foreign markets by working with the government on this issue. The place of Bangladesh in the world Agricultural trade should be determined. It is possible to increase Bangladesh's share in trade with effective marketing tactics and government financial support for exports. in order to combat increasing costs, Small firms should specialize in a variety of special products that will keep them afloat or take advantage of the increasingly popular organic farming concept. Within this framework, all industrialists of milling have to make a serious effort about the future of the sector, especially the issue of quality production, in the new period, by the regional associations and the federation established to protect the interest of the millers. Common minds should again be used in the formulation of common policies and strategies. As TURKZAM, it is an honor to work with Bangladesh's sincere, honest bureaucrats and you, distinguished industrialists.
GFMM: What will it take for such industries to be fully developed in Bangladesh? BİZE DEGİL
Ms. Alakoc: Factory production capacities are gradually expanding in the agricultural sector. Therefore, companies have to develop some strategies to survive. Among these: Companies focusing on technological innovationcand modernization investments. Companies should prioritize cooperation opportunities in raw material procurement, product marketing and logistics
GFMM: Say something about Bangladesh beyond your business. BİZE DEĞİL
Ms. Alakoc: As the Turkish people, we have not forgotten and will never forget the support our country received from the Bangladesh brothers in our "war of Independence". When it declared its  independence in 1971. Turkey was one of the first countries to recognize Bangladesh. I know that the hearts of our people from both countries are beating for each other. I attended a seminar that was held by our sister country India, bureaucrats were also available there. The words stated by Yünüs Emre "come and meet each other" were very meaningful in terms of our relations with Bangladesh, "First of all, we should get to know each other. As we get to know each other, our relations will develop and I would want people from Bangladesh to come to our country in large numbers and discover the beauty of this place.
GFMM: Thank you on behalf of Grain Feed & Milling Magazine.