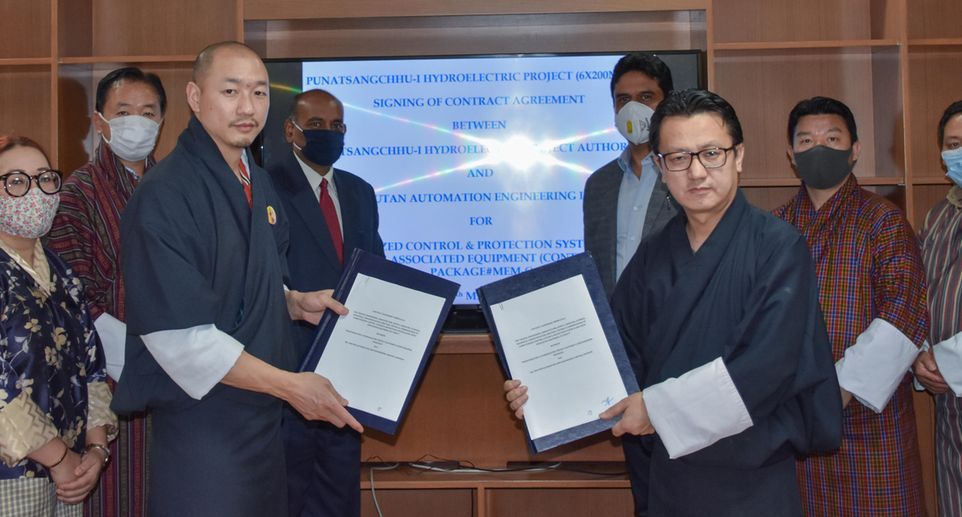 On May 30, 2021, Bhutan Automation & Engineering Limited (BHUTAN AUTOMATION) – a joint venture company of Druk Green Power Corporation, Bhutan and ANDRITZ HYDRO Private Limited, India – signed the contract agreement for design, engineering, manufacture, supply, erection, testing, and commissioning of the complete computerized control and protection system of the 1,200 MW Punatsangchhu-I Hydroelectric Project Authority (PHPA-I)
Located in the central part of Bhutan, PHPA-I is an intergovernmental project between the Governments of Bhutan and India. The hydropower project will consist of six Francis turbine generating units with a capacity of 200 MW each. After the completion of the project, the entire power plant comprised of various functional areas such as the powerhouse, dam, butterfly valves, etc. can be controlled remotely from one control room.
With a modern manufacturing facility in Chukha, BHUTAN AUTOMATION is also executing the contact package for the computerized control and protection system of the Punatsangchhu-II Hydroelectric Project Authority (PHPA-II), which was awarded to BHUTAN AUTOMATION by PHPA-II in December 2018. Further, BHUTAN AUTOMATION successfully completed the implementation of SCADA and control systems at the 60-MW Kurichu hydropower plant in 2020 with ANDRITZ state-of-the-art automation technology.
ANDRITZ HYDRO Pvt. Ltd. is a fully owned subsidiary of ANDRITZ HYDRO GmbH in Austria and therefore part of the international technology group ANDRITZ. ANDRITZ Hydro is one of the leading global suppliers of electro-mechanical equipment and services for hydropower plants. ANDRITZ HYDRO Pvt. Ltd has a leading position in the Indian subcontinent and is providing hydro-mechanical and electro-mechanical equipment for hydropower plants all over South East Asia, Australia and New Zealand.
Technical Details: Total output: 1,200 MW. Scope: 6 x 100 MW. Head: 338 m
|Source: Online/KSU