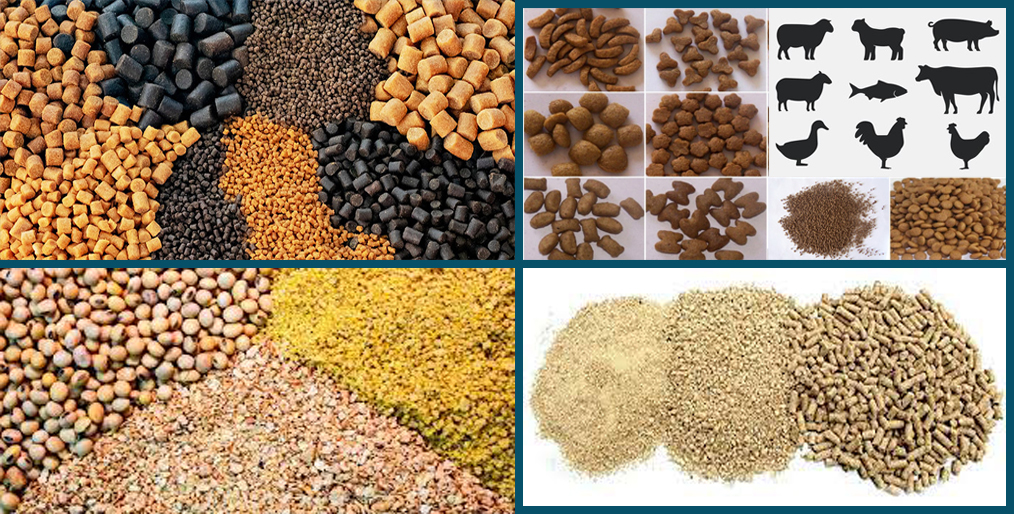 Initially, Feed manufacturing refers to the process of producing animal feed from raw agricultural products. Fodder produced by manufacturing is prepared to meet specific animal nutrition requirements for different species of animals at different life stages.
There are four basic steps in the production of animal feed:
Raw materials
Formulation
Mixing and cooking
Packing
There are many varieties of feeds such as:

Poultry feed
Broiler feed
Layer feed
Breeder feed
Fish feed:

Sinking fish feed or pelleted fish feed
Floating fish feed or extruded fish feed
Shrimp feed
Cattle feed:

TMR (total mixed ration) fermented or pelleted feed
Feed supplement for cattle
Pet food:

Dog food, extruded
Cat food, extruded
The history of feed milling in Bangladesh is over three decades. In 1979 Mr. Rana Chowdhury, a British Bangladeshi, installed the first feed mill at Baghabari, Pabna in his soybean extraction plant, to use the byproducts of soybean in animal feed. It was Bangladesh Solvent Oil Ltd. (BSOL).
Monnu Industries started Monnu Grimixpel to produce cattle feed in 1986 but abandoned it as there was no market for cattle feed.
Aftab Bahumukhi Farms (93), Paragon (95), Quality (95), Biman Poultry (95), Reneta (97), Phenix (97), National Feedmills (99) are the pioneers in Bangladesh. These companies started their feed milling in the '90s.
Skiold supplied some mash feed mills and pellet mills in Aftab and National. Almost the same time Paragon company installed their modern feed mill with Buhler. Afterward, Awila and Chiatung have some plants till 2000. From the year- 2000, ZCME (called Zhengchang) installed many feed mill plants in Bangladesh.
FCM started its activities in the year 2001. In 2002, they were looking for local partners in countries, HeemHorst B.V, a Netherlands-based feed milling company introduced us to FCM. Since then, we have been working as a strategic partner.
FCM's initial plants are Surjavita, National Feed Mills, etc. are still working smoothly. Then we installed a 20 tph (double lines)automatic feed mill for Nourish, Index (double lines), and many others poultry and fish feed plants in Bangladesh. 2010 is a turning point for FCM. From our starting we have been considering few issues while designing a feed mill:

Simple design
Higher capacity with lower power
Lower spares parts cost
State the Art customer care service
In 2010 Chicks & Feeds and FCM started a new relationship of branding FCM as a global company with high-quality components, better turnkey solution, online service, and support, turnkey consultation for new entrepreneurs (that ensure at least 5-7% cost savings from their local costs like foundation, local purchases, planning, operation management, etc.). Our turnkey consultation aims to help our customers to avoid the future headache and financial losses.
In 2010 FCM also introduced its new generation pellet mill with higher capacity using the same power. It is a common phenomenon that a 10 tph feed mill can not deliver 10 tons. People consider 80% or 85% or 90% maximum. We realized that customers are paying for 10-ton production capacity but, they are getting 8 tons or 9 tons. It is not fair and also not justified at all. Thus FCM's continuous R&D in pelleting production efficiency resulted in 20%-30% higher production with the same motors as it were or all other companies are using. Mr. John Chow and Mr. Robert Gan took this challenge and spent day and night adopting hundreds of factors for this improvement. Thanks to them for saving energy and reduce pollution of the world.
FCM's 420 Pelletmill is known as a 5 tph machine. This model was installed to 100 customers, and the production is 7-8 tph based on Ø2.5-3.0mm. Whereas other companies' standard of production is 4-5 tph based on Ø2.5-3.0mm.
Gradually all pellet mill models are updated with additional 20%-30% efficiency. It is now well known that FCM Pelletmill is Number One in the feed mill industry.
Extruded feed or floating fish feed in Bangladesh started by Idah in Rupshi Feedmill. In 2008, Chicks & Feeds Limited and FCM installed a second floating fish feed mill in Bangladesh for Afil Fish Feed Ltd. It was a 2 tph floating fish feed with a single screw extruder. FCM's first twin-screw extruder is installed in Nahar Agro Group feed mill in Chittagong.
Like Pelletmill, FCM's extruder is also outstanding for its production efficiency.
There are two kinds of extruders used for the floating fish feed:

Single screw extruder for big sized dia feed
Twin-screw extruder for both smaller and bigger dia feed
Usually, a single screw extruder is used for Ø1.5mm to any bigger sizes. But FCM's single screw can produce 1.0mm continuously and 0.8mm on condition. FCM twin-screw extruder can produce 0.6mm to any bigger sizes. Production of 0.5mm is on condition.

The modern concept of feed milling is also our concern. We are continuously working for the development of feed milling ideas and R&D since our inception. Feedmill is not just a process of grinding, mixing, and pelleting. Few notable aspects play crucial roles in manufacturing good quality feed, such as:
The grinding of ingredients improves feed digestibility and increases the bulk density of some ingredients. It is accomplished by many types of manual and mechanical operations involving impact, attrition, and cutting. A high-standard hammermill will deliver the raw materials with powder, granule, and fiber as per nutrition demand instead of just fine crushing and smooth grinding.
The accuracy of mixing is the key to maintaining the nutrient value. If the mixing accuracy is not correct, the feed will have a different nutrient value. There are several types of mixers- Ribbon mixer, Paddle mixer (refer to single paddle), double-paddle mixer, vertical mixer, horizontal mixer, liquid mixer, molasses mixer, etc.
Pelleting or extrusion is an essential part of the feed milling process. It is a transformation of soft and dusty raw materials into hardening through compression or extrusion. Conditioning is a part of pelleting or extrusion where the need to add moisture and heat for proper cooking (which varies from different feed or formulations). This process also makes gelatinization of the starch and increases digestibility and genuine nutrition value. The conditioning concept was simple during the last several decades. But now, depending on the feed types and standards, various conditioning methods are available to enhance the conditioning time, prolonged the conditioning time, slow conditioning, postconditioning, and many more. Later on, pelleting or extrusion shape and hardening the soft feed.
Drying and cooling are the major sections of the overall process. If not dried or cooled perfectly, the feed may have a fungal problem. A good dryer is where 100% feed is dried, and the best cooler is where you can get the final products with a temperature of ambient+4-5° C (not over ambient+10° C).
There are many more issues in feed milling technology. For example- enzyme coating, oil coating, post pellet coating, post pellet stabilizing, post-cooking, inline moisture monitoring, optimization of moisture in pelleting or extruding, etc.
We prefer people to be aware of all these aspects properly before taking any decision; Once you have a feed mill, it is not easy to update all options.
Here in Chicks & Feeds, FCM and our team are working jointly as Turnkey Operator for the last 20 years. Our turnkey consultation helps our customers to understand better; save time and money from the foundation to construction and during local purchases. Chicks & Feeds is a hub for FCM in Bangladesh, India, and Nepal for sales, service, and turnkey consultation.
We work as a strategic partner to provide solutions wherever our customers are stacked up.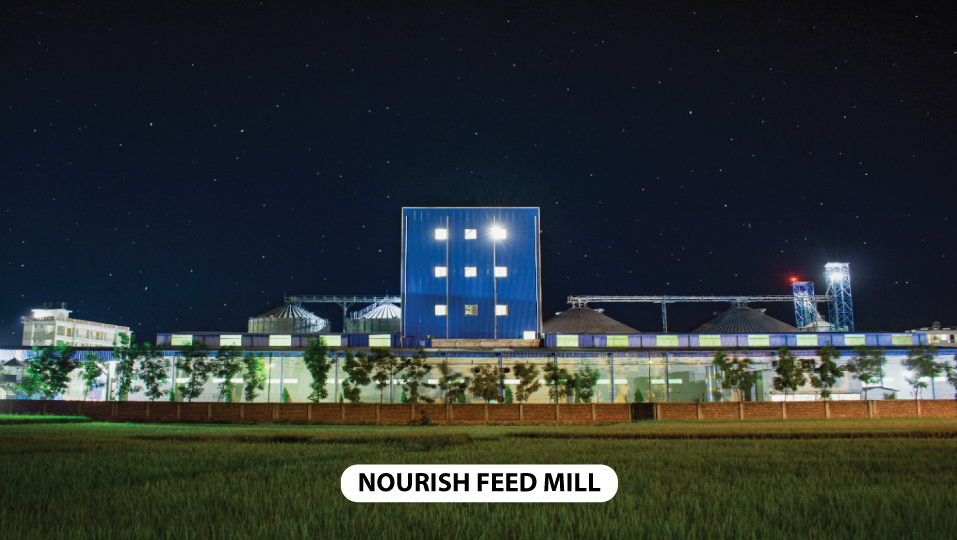 Few of our landmark installations:
Nourish Valuka Feedmill (2 lines)
Nourish Bogra Feedmill (2 lines)
Nourish Sripur Feedmill (with retention)
Nahar Poultry Feedmill (3 lines, broiler & layer)
Nahar Fish Feedmill (4 lines, sinking, floating, and shrimp)
RRP Agro Farm unit 1, unit 2, unit 3, and floating fish feed plant)
RRP Narshingdi Feedmill (2 lines, broiler)
Sugondha Feedmill, 2 lines (broiler & layer)
Sugondha Feedmill, 3 lines (sinking, floating & shrimp)
Paragon Gazipur Feedmill (Broiler)
Index Agro Industries, 2 lines (broiler)
Dolphin Feed Industries, Nepal, 2 lines (broiler & Soybean)
-By Ekhlasul Haque,
Managing Director,