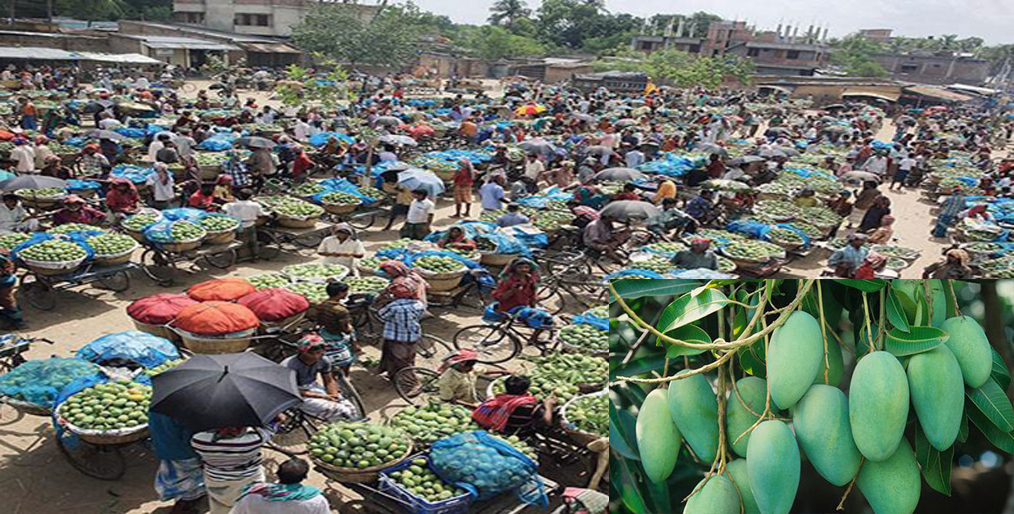 The Fazly mango business has gotten momentum in Rajshahi and Chapainawabganj districts, famous for mango production in the country.
Sources concerned said the Covid-19 pandemic has affected the previous one and half month-long mango business badly and this year's debacle is supposed to be more compared to the previous year.
Nasirul Islam, a farmer of Belpukur village under Puthiya Upazila, said price of Fazly mango has doubled in last one week because of its demand.
A few days ago, one maund of mango was sold in Baneshwar market for 900 to 1000 Tk.
He said all the branded varieties of mangoes were also sold at record-breaking lower prices in the last one month due to the pandemic frustrating growers and traders. But, at present, Fazly appeared as a variety of recouping losses to some extent, he added.
In this time of the previous year, Fazli mango was sold at Taka 2400 to Taka 2600 per maund according to size and quality at many of the markets.
Islam said the businessmen are now getting the consoling price of Fazli mango as all other mango varieties have almost disappeared from the market. The traders and growers are also satisfied with the outputs, despite the present pandemic.
"Now, we are selling Fazly mango after ending most of the conventional varieties like Gopalbhog and Khirsapat," said Shafiqul Islam, a retailer of Shaheb Bazar Mango Market. There is another variety, Amrupaly, in the market at present, he added.
Sirajul Islam, additional director of the Department of Agricultural Extension (DAE), said there are more than 2.60 lakh mango growers and orchard owners in the region comprising Rajshahi, Chapainawabgonj, Natore and Naogaon districts.
Around 1.30 lakh people are engaged in various activities related to mango harvesting, segregating, packaging, transporting and marketing.
Islam added that the DAE has set a target of harvesting around ten lakh tonnes of mangoes from 80,360 hectares of land in the region this season while last year's production was 8,31,940 tonnes from 72,909 hectares of land. See details.
Source: Online/SZK