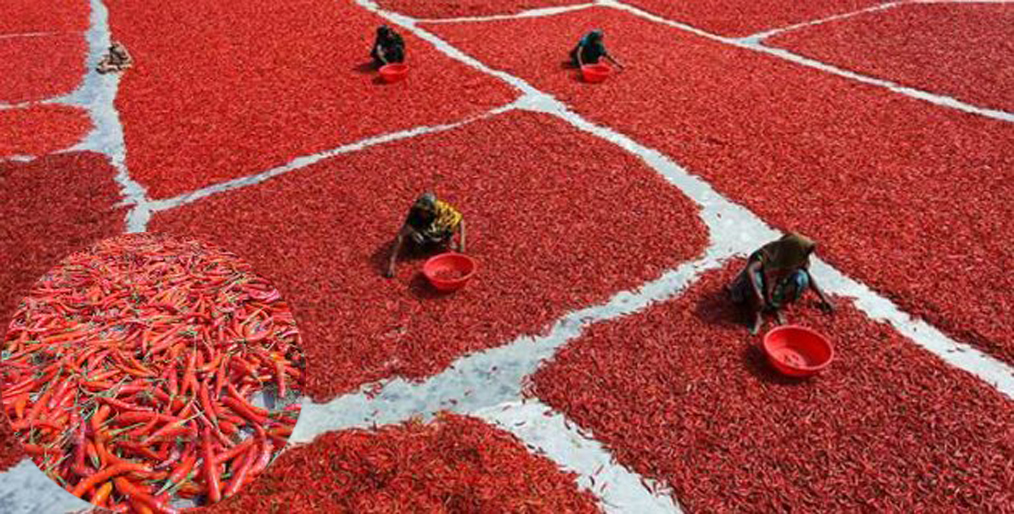 The char areas of the Jamuna in Sariakandi upazila of Bogra are now reddish in color with ripe chilies. Farmers are busy picking chilies. Somewhere in the green field a combination of red pepper, somewhere or ripe pepper is being dried in the sun. Some are walking on the sand of Char to the market to sell dried chilies, some are taking them in horse carts. As per the agriculture department, only Sariakandi has produced pepper worth hundreds of crores of Taka this time.
Pepper growers in Sariakandi upazila of Bogra said that although pepper is cultivated all year round in Bogra, the pepper that is cultivated from October to March is dried and sorted. Peppers produced in other months of the year are usually marketed as raw peppers. Therefore, the farmers of the char areas of the river Jamuna are dreaming of the possibility of the red pepper that has grown now. Meanwhile, farmers have started picking chilies.
According to the Bogra District Agriculture Extension Department, the target for chili cultivation in the 2020 season is set at about 7,000 hectares of land in Bogra. But the district has been planted in about 7 thousand hectares of land. This time the farmers planted pepper in more than the target acre land. On the other hand, even though the production target has been set at 17,515 tonnes, the production will also exceed the target this time.
The lion's share of the amount of pepper cultivated and produced in Bogra is on the banks of the river Jamuna. Pepper is mostly cultivated in the chars of Sariakandi, Sonatala and Dhunat upazilas on the banks of Jamuna. Pepper farmers are busy drying peppers in the char areas of Sariakandi and Sonatala Jamuna rivers in Bogra. Pepper has started selling in the market in some areas. Pepper is being dried at Pakulla, Acher Para, Sujaitpur, Chandanbaisha, Titparal, Bohail and Jamuna rivers of Sonatala upazila.
Upazila Agriculture Officer Abdul Hamid said that pepper production worth Tk 100 crore has been produced in Sariakandi this time. Char pepper quality is the best in the country. So the demand is high. Bogra District Agriculture Extension Department Deputy Director Mohammad Dulal Hossain said, Bogra has always had a good yield of chilies. The red pepper cultivated and marketed in Bogra is better than other districts. That is why the farmers get good price of Bogra pepper.
This year, the target of 17 thousand 160 tons of yield, but the yield will be higher. In Sariakandi Upazila alone, hybrids have been cultivated in 1,750 hectares of land and local weeds in a total of 3,720 hectares including 1,970 hectares. He said the district has a good reputation for its good quality pepper. Many big companies invest in buying pepper here. Due to this the farmers of the district are benefiting.
Source: Online/SZK