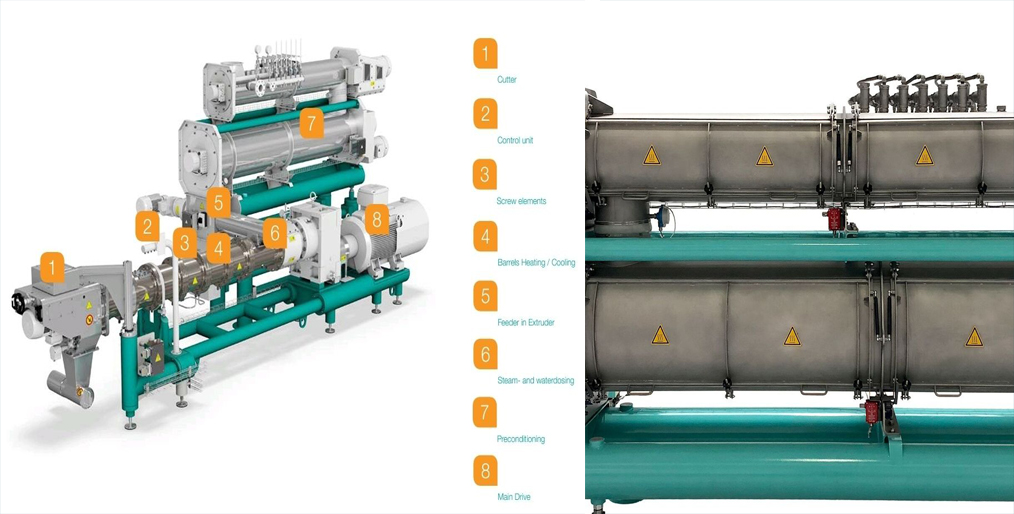 The PolyOne single-screw extruder perfectly meets the requirements of the Petfood and Aquafeed industries processes in terms of capacity, screw speed, torque and pressure. Thanks to its modular design, this machine is extremely flexible in its applications and can be adapted to specific needs.
Its high sanitary standards, excellent manufacturing quality and exceptional value for money make PolyOne the ideal solution in the field of Petfood and Aquafeed extrusion.
The innovative design of the frame according to the "envelope principle" offers specific advantages: the frame has excellent qualities of mechanical stability, wear resistance and tempering, with spiral or conical coatings.
The maintenance costs of the PolyOne are reduced: the interior compartment is extremely resistant to wear. Bühler offers a service for measuring the wear of the sheath to detect wear in a timely manner. Thus, parts can be replaced quickly to ensure products of stable quality.
The PolyOne is equipped with a user-friendly and intuitive touchscreen control system. Safety circuits prevent damage due to misuse. In case of emergency, the extruder stops completely automatically.
Approach your direct contact Bühler or send an email to buhler.casablanca@buhlergroup.com for more information or to visit one of our reference factories in the region. -By Mohamed SAADI, Project Execution & Key Account Manager at Bühler Group
Source: Online/SZK