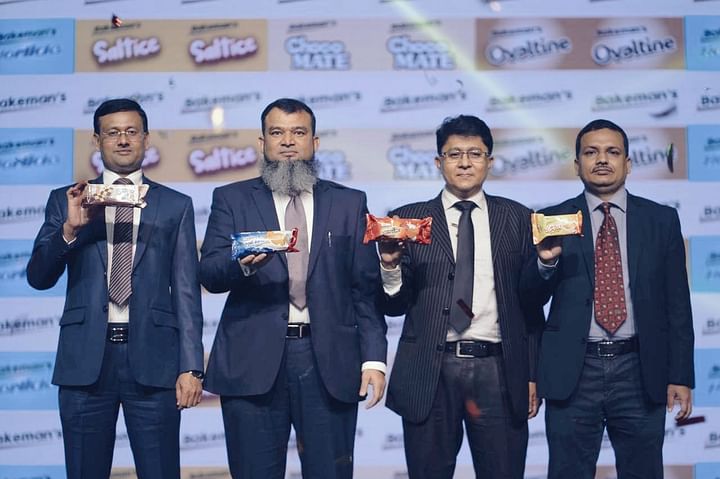 Akij Insaf Group, the country's leading industrial conglomerate, is bringing new companies to the market. Name, Akij Bakers Limited. This industrial group is investing Tk 1,200 crore here. Beckman's brand of biscuits from Akij Bakers Limited was inaugurated on Thursday (June 24, 2021) in a five-star hotel in the capital.
A video was shown at the beginning of the program. This video introduces four types of biscuits in four flavors. The biscuits are ovaltine cookies, choco mate cookies, saltis cookies and Horlicks cookies. Presenter Mr. Rafsan Sabab said, 'Akij always sees what is not in the market but people need it. This group is bringing the best biscuits to the market at low prices. Looking at the video, it seemed that these were not biscuits, but one of the heroes of Marvel and Avengers. These are Beckman's heroes. "
Mr. Sheikh Jamil Uddin, Director, Akij Bakers Limited, Mr. Sujoy Kumar Biswas, Chief Financial Officer, Mr. Shafiqul Islam, Chief Marketing Officer and Mr. Soumitra Kumar Mandal, GMO came on the stage. They introduced four packets of biscuits to everyone present.
Mr. Sheikh Jamil Uddin said, 'From 2005 to 2012, my team and I have established several brands in Bangladesh. They include Mojo, Frutica, Speed ​​and many more products. We are working on the same team with biscuits. My father started this journey in the 1950s, during which we brought cement, matches, textile mills, ceramics, flour mill's flour, flour, semolina and many more to the market. Each time we got more customers than we expected. We have worked on the most advanced machines. Still doing. The flour from our Flour Mills, other fresh raw materials and all the best biscuits are being made in Italian technology. We will bring 22 items of biscuits to meet the demand of low calorie, diabetes or diet biscuits. '
Akij has set up a new factory called Bakerman's in Tongi, not far from the capital, to produce bakery products. There is a video showing the environment in which biscuits are being produced. It is reported that the biscuit has already reached the market and millions of customers have been created.
Mr. Shafiqul Islam said, 'There are many types of biscuits in the market. But they fail to meet the needs of the buyer's mind. Foreign biscuits have occupied the market of domestic biscuits. We are committed to providing the best biscuits to the people of the country according to their needs. Our biscuits were first eaten by Chairman Sir's family members and children. Biscuit production started as soon as they gave their approval. The best technology in Europe and the best raw materials in the country have been used to make biscuits. I believe Beckman's will turn buyers into what they want. It will be the best biscuit brand in the country and will reach the pinnacle of success. '
Joining the video message, Italian Ambassador to Dhaka Mr. Enrico Nunziata said, "Italy's long-standing friendly relations with Bangladesh are very friendly. There is a Bangladeshi community in Italy. Bangladesh has previously used Italian technology in the garment industry. This time in the food industry also Akij Bakers Limited has imported machines from Italy. Biscuits were in demand from the beginning. The demand for biscuits has increased during the epidemic. I hope they will give the best biscuits to the customer as always. '
Mr. Shafiqul Islam, Chief Marketing Officer (CMO) of Bakers, said that although biscuits and cookies were introduced at the beginning, Akij Bakers will gradually bring a variety of bakery products including cakes, bread and chocolate. The reason behind coming into this business, he said, is that although there are many brands of biscuits in the market, there is a lack of quality biscuits. The middle and upper classes are buying foreign biscuits. Basically, Akij is entering the bakery product business to capture that market.
Mr. Shafiqul Islam also said, "Initially, our investment is Tk 1,200 crore. It will increase in the future. Besides the country's market, there are also plans to export bakery products.
Sheikh Akij Uddin, the founder of Akij Group, started his business with oranges for 2 rupees 30 paise. This successful businessman of the country promoted the business of two rupees to Tk. five thousand crore. Holding the hands of boys, it has now risen to Tk. 14,000 crore. Akij now has a wide range of businesses including cement, ceramics, food products, textiles, plastics, jute, printing and packaging, particle board, shipping, tea-gardening, agro-based industries. 35 thousand workers work.
Source: Online/TA
Cap: Akij officials are introducing four new types of biscuits