A-D Steel Silo and Delivery Equipment Grain and Feed Storage Systems Since the company's inception in 1999, our manufactury has been produce first steel silo in Turkey.
All types of agricultural steel silos including flat bottom steel silos (150 tonnes – 12 000 tonnes) and rectangular (20 tonnes – 1500 tonnes) silos transportation ladder system (interior, exterior and roof), temperature control systems, truck loading bunkers, airation systems, spiral tube dumping systems, bucket elevators, chain conveyors, complete electrical systems installation, construction works with trunkey projects. We have annual steel consumption of more than 700.000 tonnes, around 1500 staff and annual turnover of approaching 60 million $. A-D Silo have in house capability to planing, desing, manufacture, supply and install complete wheat, corn and other cereal storage 6 tonnes cereal in 300-350 m2 area.
A-D Silo products are manufactured to the highest standarts. UNI EN ISO 9001-2008 quality controls are applied throughout the manufacturing process of all A-D Silo equıpment. We supply on request all design guidance to the local contractors responsible for çivil and mechanical engineering and supervisors of each Project.
References for A-D Silo products can be found in many parts of the world, throughout Middle East, Central Asia and Europe.
Our company was manufactured of steel silo established in 1999. Turkey's first steel silo, the Pioneer of the Turkish company engaged in the production. Before yhe 2000s A-D Steel Silo name of the new company we have a steel silo factory. Since the 1980s, the production of steel silo technology, our company is developing in accordance with the freshness of first day and the cleaning of the grain in the silo has maintained for many years.
Nowadays, our company area of 25,000 m2 with advenced technology, manufacturing silo bodyuntouched.
Combining years of expencive in engineering calculations customer convenience and ease of usefor our steel silos are designed in accordance with the latest technology. Automatic fillingand emptying silos ranking, automatic operate ventilation systems. All of the property and the only one to run with the bolt-mounted parts manufacturing plant with the highest level of customer convenience in mind are produced.
We are continue with confidence that it provided after-sales service, with years of experience inmanufacturing and quality service with the latest technology…
The 'STEEL SİLO', which has become a major supporter of farmers and traders in the world in stock, is opening up to the whole of Turkey from Adana and then to the world with Ayhan Deniz.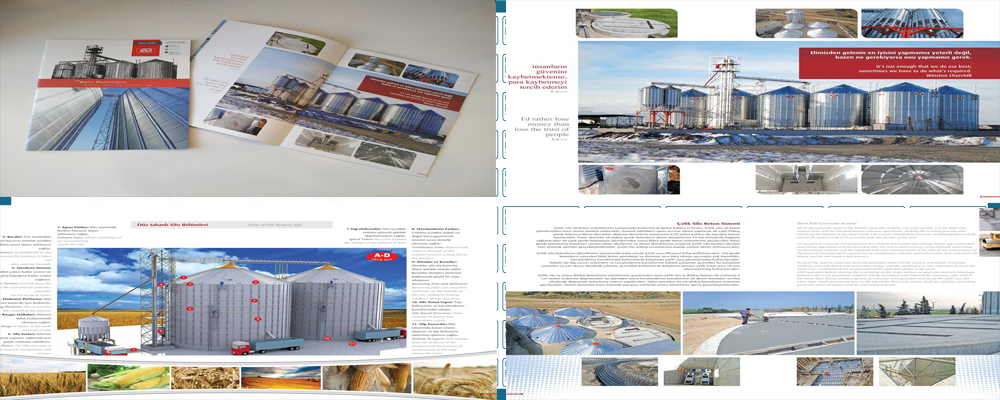 GOAL TO PLAY TO LEADERSHIP!
A-D, which produces steel silos and their contents in its facilities established in Adana, competes with its biggest rival American companies in the steel silo market. The goal of the company, which exports to nearly 15 countries today, is to become the leader in the sector.
It has been reported that Çelik Silo Manufacturing and Machinery Industry, which produces steel silo contents for the first time in Turkey and at the same time produces steel silo contents at world standards, is preparing for export.
Stating that the Steel Silo Production Facility, which is located on a closed area of 4500 square meters on the Adana Mersin road, started its operations in August 2021, General Manager Ayhan Deniz said, "The steel silo facilities, which we have built entirely with the contributions of Turkish engineers and technical staff, serve at world standards. We are very happy to break new ground in Turkey with the factory we established with an expenditure of 600 000 dollars at a time of economic crisis."
Stating that they are growing day by day in the Steel Silo sector, Ayhan Deniz said, "Our company has delivered its products to almost every point in Turkey. Our domestic business volume is constantly increasing. We have a large number of work completion certificates. We have done business with Turkey's largest companies. Our references include many institutions and organizations such as agricultural credit cooperatives in various provinces, TİGEM Ceyhun facilities, Trakya Birlik Karacabey Oil Factory, Ankara Flour Industry and Marmara Un. We believe that we have become completely professional in this field. If we had not done these, American, English and Spanish companies would have done it." he spoke
Noting that they also offer their products to the foreign market, Deniz said, "We export steel silos to about 15 countries. Iraq, Iran, Morocco, Algeria, Bulgaria, Kazakhstan, Indonesia and Russia are among the countries we export to. Our goal is to grow even more and increase our investments despite the difficulties experienced in the Turkish economy. Our main goal is to be among the top 3 companies producing steel silos in the world. Our biggest competitor right now is the USA. Another goal is to sell to the USA, which uses the silo for the first time in the world.
6000 tons of products can be stocked in a silo.
Noting that the use of steel silos in enterprises, especially in the agricultural sector, is insufficient, and that steel silos, which are of great importance in the storage of pulses such as wheat and corn, ensure that thousands of tons of products are protected in narrow spaces for a long time, Deniz said, "In steel silos, products can be preserved as if they were freshly harvested from the field for a year. In a 300-350 square meter silo, 6000 tons of product can be easily stocked. It also prevents it from becoming stale and containing carcinogenic substances. After months, the products can be presented to the consumer with the freshness of the first day. For example, the prices of corn, wheat and all pulses at the time of harvest and the prices after 3-4 months vary between 20 percent and 35 percent. Therefore, it is necessary for our farmers and traders to have an advanced storage system in order to benefit from this price difference."
-By Başak Yüksek, Porject Manager, AD STEEL SİLO, teslime.basak@gmail.com, Phone number: 0322 428 63 25
Source: Email/GFMM