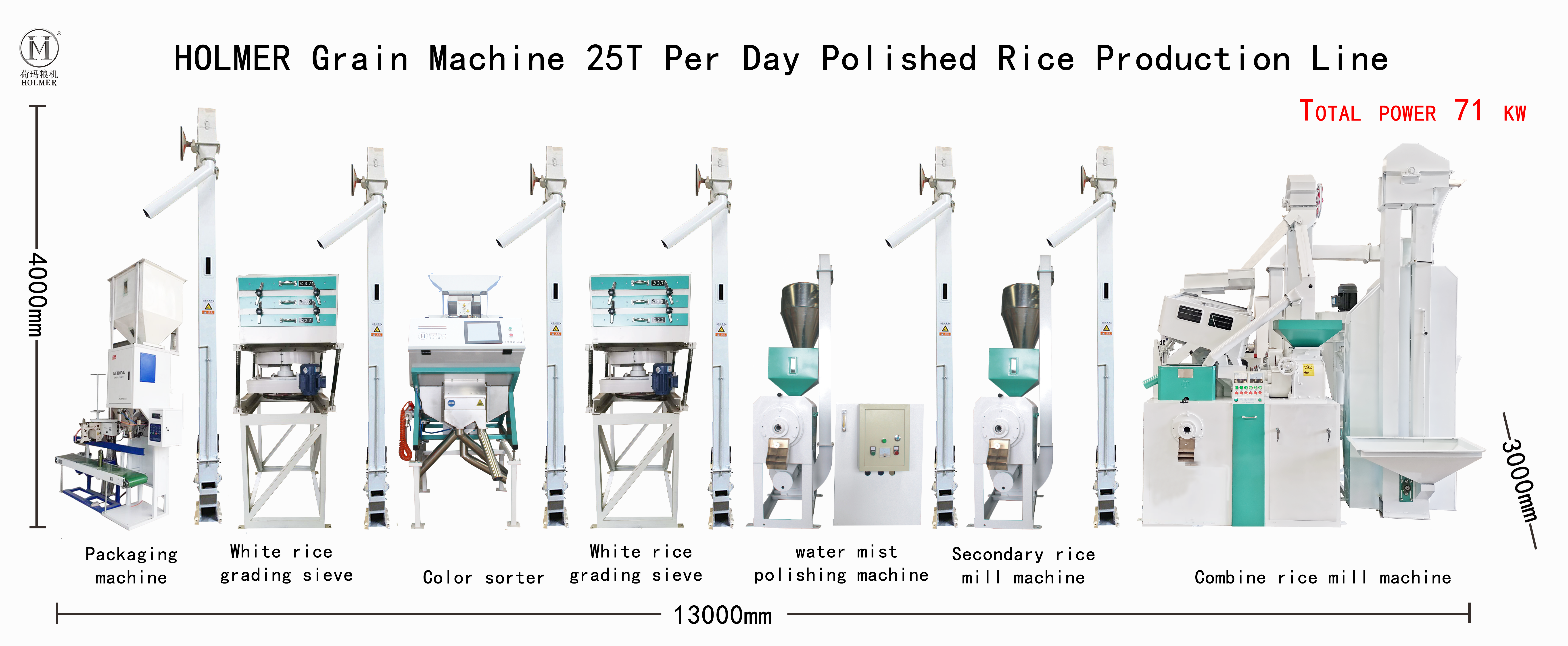 Company Profile
Holmer rice mill Machine started in 2008, formerly known as (Guanghan Hengfeng Trading Co., Ltd.). After years of transformation and upgrading, it is now renamed as Sichuan Doujin Technology Co.,Ltd.,with a registered capital of 12 million yuan. The company is a grain machine high-tech enterprise integrating R&D, design, production and sales, installation and maintenance. The company's innovative automatic unmanned combination rice polishing machine, rice polishing machine, computer color sorter and other advanced complete sets of equipment have been awarded the "Agricultural Machinery Promotion Certificate", "Rice Color Sorter Promotion Certificate", "ISO:9001 Quality System Certification", "EU CE Certification" and more than 20 patent certificates and soft documents. The products sell well in the country and enjoy the national special purchase subsidy policy. And exported to Southeast Asia, Africa, South America and other more than 40 countries and regions. The company always insists on the tenet of: quality first, customer first, integrity service, scientific and technological innovation, people-oriented purpose. Sincerely dedicated to win-win cooperation with domestic and foreign customers, common development, create brilliant!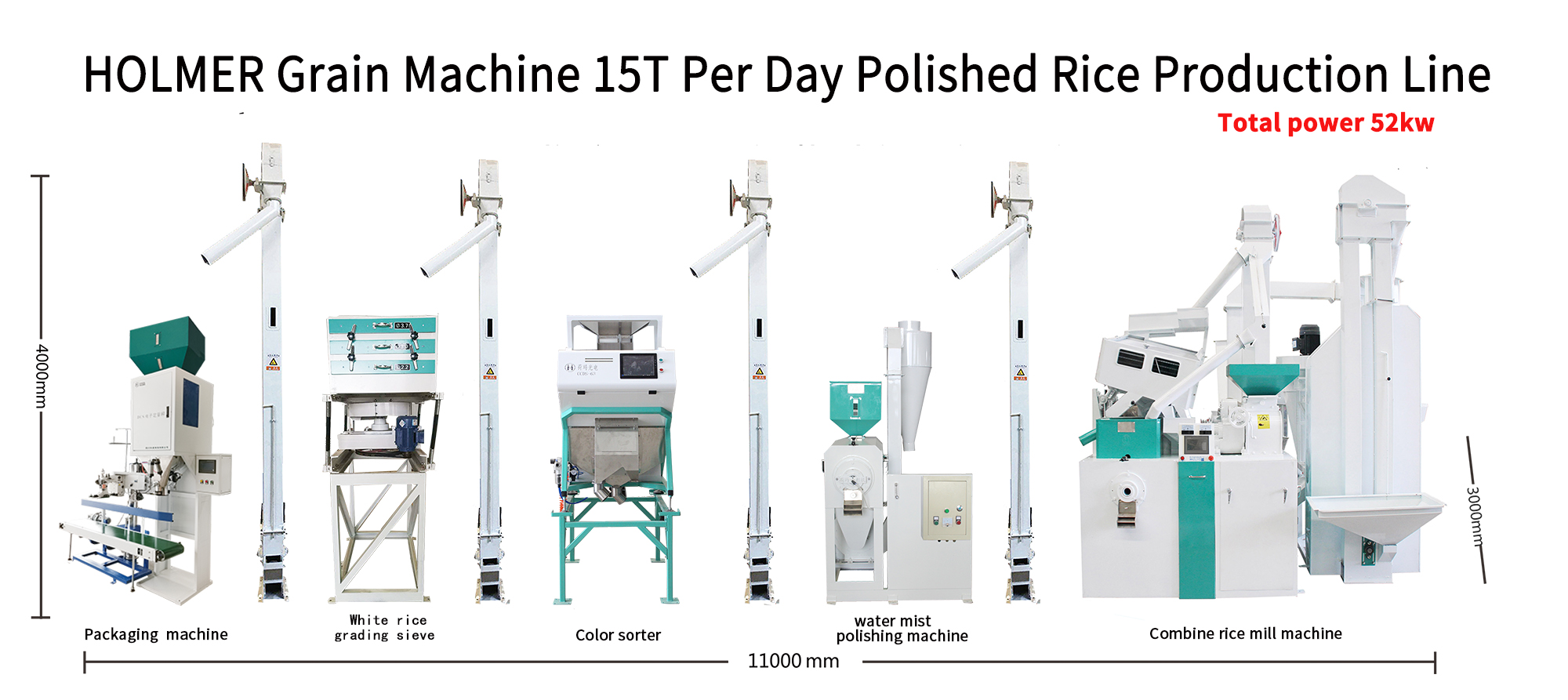 10 hard core indexes of Holmer hulling and milling combined rice machine
1.The speed of cleaning weeds and straw is fast, and the rate of impurity and stone removal is very high. It can effectively remove sundries such as mildew balls.Only stone, glass, iron and other debris come out from the stone export, not out of rice.
2.The husking system adopts the most advanced technology of husking without gears, which has no vibration, low noise, abrasion resistance and less maintenance.
3.Bran fan and bran separator adopt gravity suction structure, separating big bran fast and will not suck away brown rice, effectively improve rice yield.
4.The separation effect of separator is good, and the finishing speed of screen cleaning is fast.
5.Double air channel low temperature rice milling machine adopts high pressure air cooling and suction function, effectively improve the accuracy of rice milling, bran powder discharged thoroughly, no blocking of oil bran, beige crystal and less broken rice.
6.Full standard multi-functional crusher can easily crush ultrafine rice husk with 1.0 aperture. It takes less than 2 minutes to replace and disassemble sieve pieces. It has small vibration and low noise, and can start self-priming to crush corn, barley, wheat, soybean and other particles without processing rice husk, truly achieve one machine multi-purpose
7.The elevator adopts low line speed and big dustpan to lift material, which can effectively improve the yield and reduce the rice crushing when the material is returned, and obviously improve the whole rice rate.
8.Electric control system is equipped with motor thermal overload and leakage protection device, equipped with industry-leading unique digital current display, more convenient and intuitive monitoring of the working state of each motor, to avoid the danger of the traditional pointer display using tungsten wire is easy to burn off and lead to the loss of phase burning motor.
9.The body adopts laser cutting of steel plate with thickness of more than 5 mm and welding process of the whole skeleton, which effectively strengthens the stability of the whole machine. The total weight of the whole machine reaches 2 tons, which is the heavyweight equipment in the industry.
10.Large bran and fine bran are equipped with standard glass cyclone, effectively reduce late wear and maintenance, reduce the use of cost.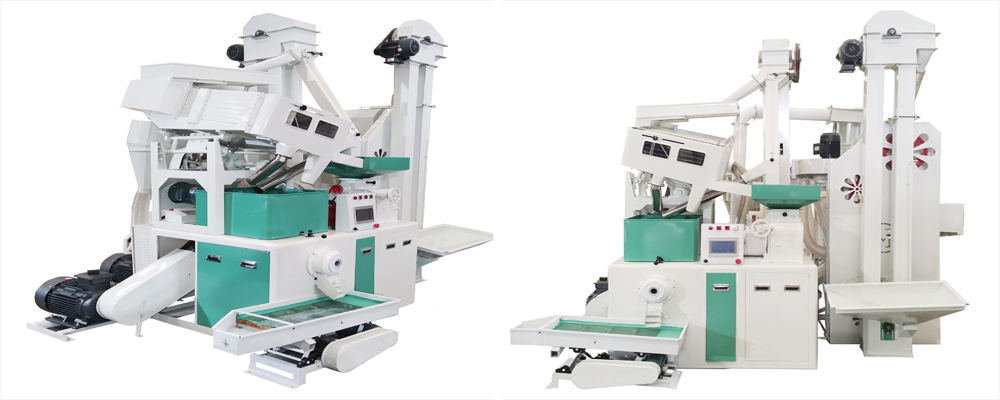 Compared with the national equivalent industry, Holmer occupies 7 leading advantages
The first enterprise using steel frame platform to design and install a complete set of 25T production lines
The first  invention of automatic unmanned combination rice milling machine
The first enterprise to use computer touch screen PLC to control 25 tons production line
The first leading export enterprise that exports more than 80% of the production and sales of rice mill machines.
The first rice mill machine enterprise with the smallest average age of employees
The first rice mill machine brand successfully started from scratch by outstanding ex-servicemen (CPC members).The founder won the second prize of the 2020 Chengdu Veterans Entrepreneurship and Innovation Competition.
The first enterprise in southwest China to obtain the double certification of agricultural machinery promotion and appraisal (hulling and milling combined rice machine/color sorter).
-By Lulu, Sichuan Doujin technology co.,Ltd.
|Source: Email/TA