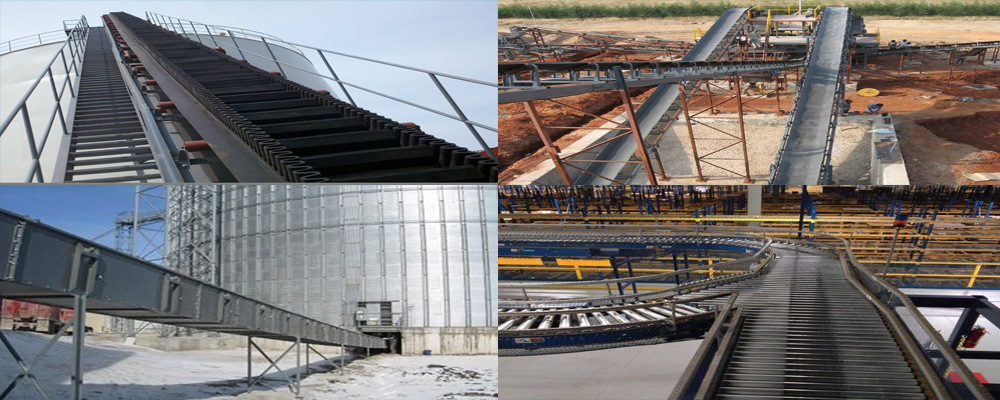 The belt conveyor is one of the best options for bulk materials handling equipment. It can continuously transport materials from one place to another place in industries or in some other sector. A conveyor belt is part of the conveyor system that plays an important role in carrying material to and fro. This system is made up of a conveyor belt rotating about the two or more pulleys. Belt conveyor consist of conveyor belt, pulley, idlers, frame, tension devices, driving unit, protection switches and other components etc. Belt conveyor is widely used in mining, metallurgy, port, cement, grain, chemical and other industries.
Types of a Conveyor system
There are various types of conveyor systems available in the world market which can be selected as per the requirement.
Gravity-roller conveyors:  They are using the concept of gravitational force while conveying any product or material. In this conveyor system, the frame installed is inclined slightly in order to move any product down in direction of gravity flow. It consists of a sequence of corresponding rollers that is attached to the metal frame supported at the end. The material or product has to roll manually on the system. The main benefit of using gravity roller conveyors is it is cost effective yet simple technology.
Belt conveyors system: They can be used for wide range of product handling varying from lightweight to heavy weight products like grain, sand, coal, etc. and for transferring them from one point to another point. It mainly consists of a belt that forms a loop like structure and it slides on roller or pulley depending upon the load behavior and is operated using an electric motor. The belt used can be made up rubber or plastic.
Slat conveyors: They are mainly formed of a chain which is driven by a motor and used for moving product or object.  They are widely used in food and pharmaceutical industry for carrying bottles and cans. The chains used can be made from steel or plastic depending upon the nature of the load. Large slat conveyor system is used for moving heavy weight product are used in big industries or storehouse whereas small slat conveyor is used for moving lightweight product and can be used in small or medium size industries. They are suitable for the production lines that comprises of any twist and loop. Their main benefit is them is that easy installation, low maintenance and cost-effective.
Bucket conveyors: They consist of a number of the bucket that is connected to the endless chain or belts used for carrying material in horizontally, vertically or sloppy path. The bucket remains in its holding position until the product discharge takes place.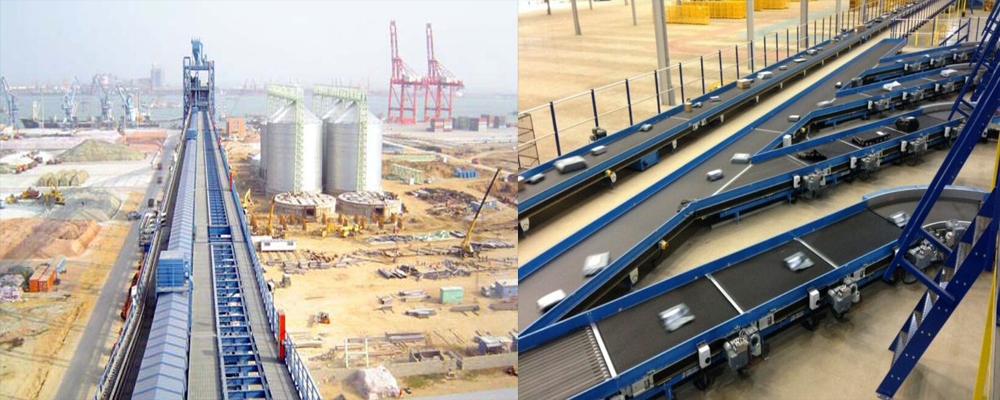 Key Factors While Selecting a Conveyor System
There are a number of factors that must be kept in mind while selecting a conveyor system. Let us see some of the key factors below-
The first thing is to consider is the product or object that is to be conveyed by the system. The size of the product, a weight of the product, a shape of the product is important for selection of conveyor system.
Anyone must understand the purpose of their use in a particular industry. Location of industry, its size, and work purpose must be considered while making selection of any conveyor system.
The capital investment in their installation, manual labour required, electrical energy consumption and maintenance cost must also be considered while selecting them.
Belt Conveyor Components
belt conveyor driver device, belt conveyor head pulley, belt conveyor tail pulley, Driver Device, Head Pulley, Tail Pulley, belt conveyor primary scraper,   belt conveyor second scraper,   belt conveyor take up device,  Primary Belt Scraper,            Secondary Belt Scraper, Take-up Device, belt conveyor guide chute, belt conveyor idler, belt conveyor cover, Conveyor Feeding Skirt, Conveyor Idler, Conveyor Cover.
Technical Specifications of Belt Conveyor
Belt Width           Up to 2.4m
Belt Length         3,000m +
Capacity             > 8,000 m³/h
Belt speed          Up to 6.0m/s
Max Incline         Maximum 25º
Drive Type          Motorized pulley | Geared motor unit | Motor+fluid coupling+gear box
Belt Options         Antistatic| Fire resistant | Oil resistant | Hard wearing | corrosion resistant
Tension Unit        Below 100m – screw type tail tension unit | Above 100m – gravity tension unit or car type tension unit
Protection Switches         Speed switch | Belt Sway Switches | Pull-cord switch | Blockage sensor
Construction Materials         Conveyor case and internals – stainless or coated mild steel | Conveyor support structure – galvanized mild steel.
Conveyed Materials         Wet or dry bulky materials in the form of crumbs, grains, pellets, shreds, dust, powder, flake, or crushed products of bio-matter, sludge and aggregate.
Benefits of Using a Conveyor system
Labour cost reduction.
Easy and fast movement of product.
Less damage to the product as their speed is controllable.
Easy operation.
Skirts fitted at the feeding point, fully sealed hood at the head section, improve the working environment.
All kinds of protection switches give early warning of possible accidents.
Easy movement of the heavy load.
Automatic control, reduce maintenance personnel, save labor costs.
Interchangeable standardized spare parts to reduce purchase cost.
Rapid replacement of spare parts, significantly reducing costly downtime.
Varieties of conveyor system are available in the world market proper selection of conveyor system must be done by considering the requirement and their benefits.
| SZK based on online information