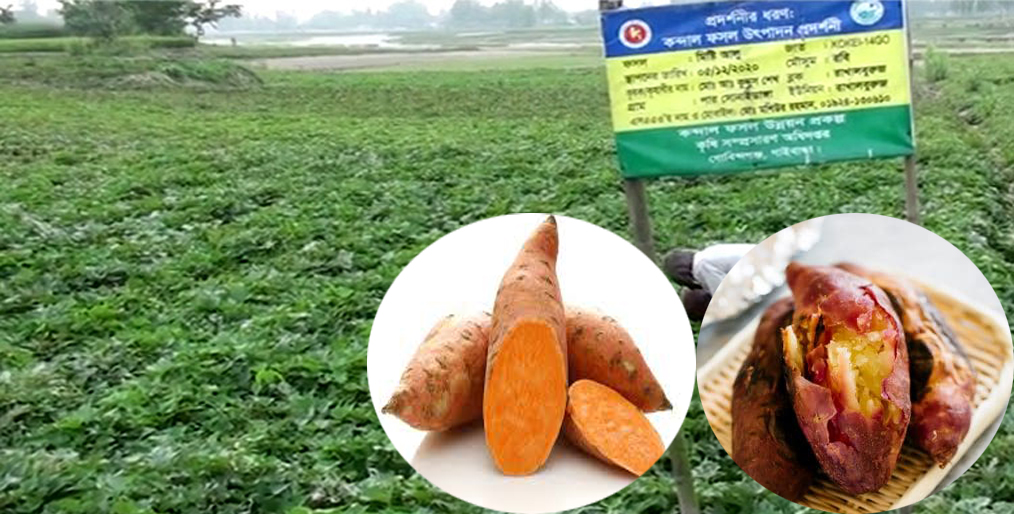 At one time that sweet potato was a crop to satisfy the hunger of poor people. Now over time that context has changed. Sweet potatoes, the food of the poor, are now exported to distant Japan and the door to foreign exchange is almost open. To this end, cultivation of new varieties of sweet potato has already started under the supervision of Gobindaganj Upazila Agriculture Extension Department, Gaibandha District.
The yield of this new variety of sweet potato is much higher than the local variety, it is big in size and also very tasty to eat. It is also very interesting to see because the color is red. Farmers have been cultivating sweet potatoes for a long time in the alluvial sandy soils of Char in different areas of Rakhalburuj, Harirampur and Talukkanupur Union on the banks of Bengali river in the upazila. However, this is the first time that a new Koki 14 GO variety of sweet potato has been cultivated for export.
Bipul Mia of Sonaidanga village on the outskirts of Rakhalburuj Union said cultivating Koki 14 GO variety of sweet potato takes the same time as the native variety. The yield of this potato is 80 to 85 mounds per bigha. The price is also good. Abdul Aziz of the same area said, "I have benefited financially without any harassment due to the supervision of the Upazila Agriculture Department from the cultivation of Koki 14 GO variety of potato to marketing." Besides, it feels good to think that the potatoes produced on my land are going to Japan.
Mezbaul Islam, Manager, Narito Japan Company Limited, said, "We are in constant touch with the farmers through the Upazila Agriculture Department to implement the right methods and techniques to make the sweet potatoes exportable abroad." These exportable potatoes are being bought from the farmers' land at a price of Tk. 400 to 500 per mound.
Source: Online/SZK