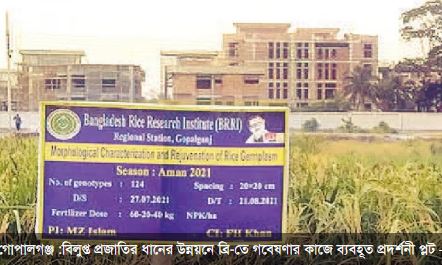 Bangladesh Rice Research Institute (BRRI) is conserving and researching the extinction of 100 endangered species of local varieties of paddy in the greater Faridpur region.
BRRI has collected these paddy directly from the farms of farmers in Faridpur, Madaripur, Shariatpur, Rajbari and remote areas of Gopalganj district and brought it to BRRI, Gopalganj regional office with the help of agricultural extension. The work of seed propagation and characterization of varieties is going on in this office. From here, potential pure breeds are being identified through pure line selection. Through research, the varieties will be converted into high yielding varieties and will be released in the future. In addition, arrangements will be made to evaluate the local rice varieties of the popular extinct species in the farmer's field. The farmer will cultivate more paddy by choosing the local variety of his choice from here. Thus the cultivation of local extinct varieties of paddy will return.
According to the Bangladesh Rice Research Institute Gopalganj Regional Office, the climate of the populous Bangladesh is suitable for rice cultivation. But the population of this country is growing rapidly. Construction of houses, mills, hat-bazaars and roads and cultivation of hybrid and high yielding varieties of paddy has led to the extinction of local varieties. The local species Bandarajata, Letpasha, Urichengra, Dhalakandi, Kalarmocha, Gaurkajal, Karchamuri, Kharadigha, Kapuradigha, Khayyamurgi, Marchal, Rajamoral, Baghraj, Kalahora are on the verge of extinction. Therefore, the BRRI, Gopalganj Regional Office has collected 100 varieties of endangered local varieties of paddy. Among these, Laxmidigha, Hijaldigha, Khaiyamtor, Shishumati, Dudhkalam, Devmani, Banshiraj, Manikdigha, Rayenda, Jabra, Laldigha are doing research on the development of varieties by planting paddy in the current aman season.
BRRI, Gopalganj regional office chief and senior scientist. Dr. Mohammad Zahidul Islam said that 12 and a half thousand varieties of local and indigenous rice were cultivated in Bangladesh earlier. Bangladesh Rice Research Institute has established a gene bank by collecting 8,000 varieties of local and indigenous rice. One of the major tasks of the Bangladesh Rice Research Institute is to save a species from extinction. To this end, we are collecting, evaluating and characterizing local and indigenous rice varieties. It will play a major role in enriching the rice bank of rice research. Besides, new extinct varieties will be returned to the farmers by developing local and indigenous varieties of paddy. In this way, farmers will cultivate local and local high yielding paddy and bring more paddy in the house during Aman season. This will improve the living standards of the farmers.
BRRI, Gopalganj Regional Office Scientific Officer Faruk Hossain Khan said, local varieties of rice have a lot of nutritional value. By introducing these nutritional properties into high yielding varieties, local varieties will be transformed into high yielding varieties. This will bring back the extinct species. It will be possible to meet the nutritional needs through rice.
Farmer Mohammad Dabir Uddin Sheikh (65) of Ghonapara village in Gopalganj Sadar upazila said, "After harvesting boro paddy, we sprinkle dighadhan on the land." I get 8/10 Mounds paddy per bigha without any care. BRRI, Gopalganj Regional Office is collecting and researching at least 15 varieties of Digha paddy from us. If we get high yielding varieties of this paddy, our paddy production will increase manifold. At the same time we can benefit by planting this paddy.
|Source: Online/TA