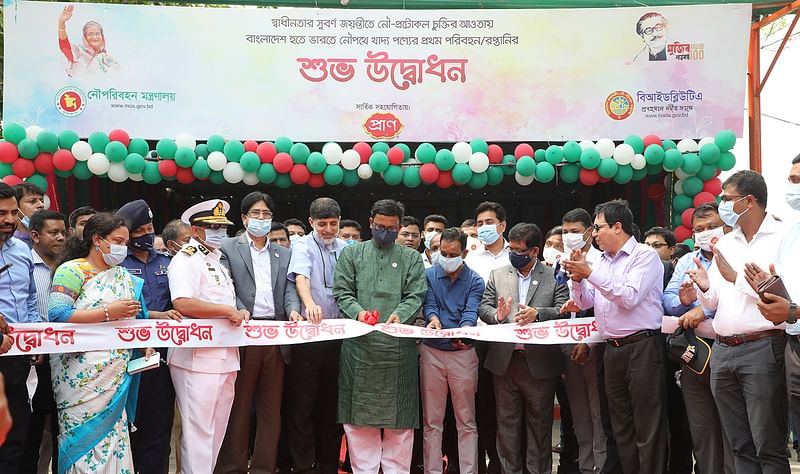 Pran sent food shipments to Kolkata, India for the first time under the Naval Protocol Agreement. On Tuesday (March 16, 2021) at noon, a cargo left Pran Industrial Park in Palash Upazila of Narsingdi for Kolkata, India.
The first consignment went to Pran Group with 25,000 cartons of lychee drink. 25,000 cartons of life lychee drink have been sent. It was inaugurated by State Minister for Shipping Khalid Mahmud Chowdhury. Local MP Anwarul Ashraf Khan, Commerce Secretary Zafaruddin, Naval Secretary Mesbah Uddin Chowdhury and Pran-RFL Group Chairman Ahsan Khan Chowdhury, among others, were present on the occasion.
Speaking on the occasion, the State Minister for Shipping said that the election manifesto of the Awami League had promised to make ten thousand kilometers suitable for navigation. So far it has become two and a half thousand kilometers. The rest of the work is going on. He said the Prime Minister had said that exports of goods to other countries, including India, should be increased by sea. As part of this, we are increasing the export of goods by sea. He called on the private sector to come forward to invest in the Sunil economy.
Speaking on the occasion, Ahsan Khan Chowdhury said Bangladesh's trade with India would be further expanded through the export of food items by sea. Transporting goods by water will reduce the cost by 35 percent.
The Commerce Secretary said Bangladesh's exports would fall by Dollar 500 to 700 crore if it transitioned from least developed countries. He urged Pran-RFL to increase the export of goods to make up for that loss.
Source: Online/SZK