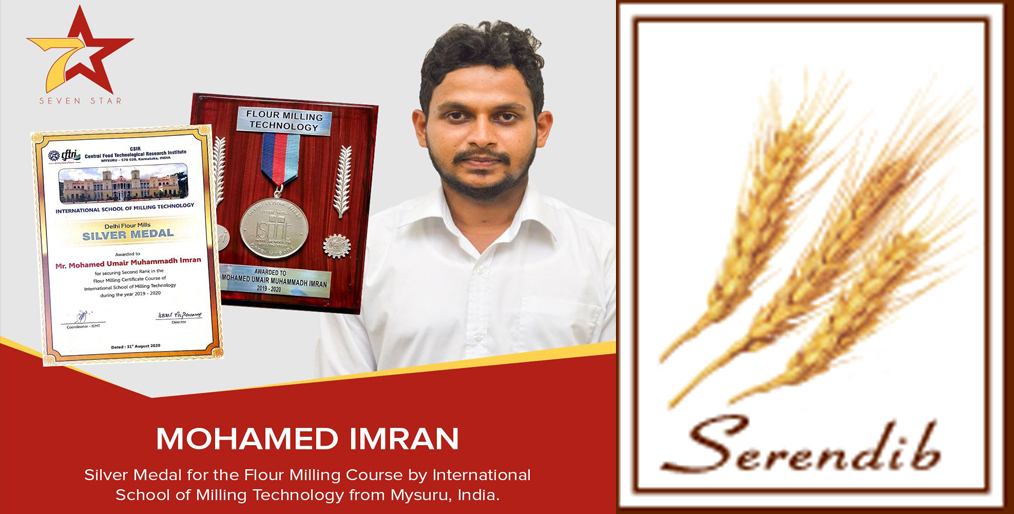 Mohamed Imran of Serendib Flour Mills was recently awarded the Silver Medal in the Flour Milling Course conducted by the International School of Milling Technology from Mysuru, India.
Mr. Imran a Science graduate from the Sabaragamuwa University, joined Serendib Flour Mills in 2017 and currently working as an Assistant Miller.
Serendib Flour Mills have been sending their Millers regularly to undergo specialized one-year training on all aspects of flour milling technology at this prestigious Milling School. Last year Sanjeewa Dharmaratne Assistant Miller was adjudged as the best student and grabbed the gold Medal. Previously too our Millers have fared exceptionally well at this Institute winning 2 Golds, 3 Silvers and 2 Bronze Medals.
International School of Milling Technology (ISMT) was established as a joint Indo-Swiss venture and Roller Flour Millers Federation of India, to serve the needs of flour milling industry in India and other Asian countries with regard to specialized training in flour milling technology.
The expert training received by our millers will contribute towards producing high quality wheat flour products to the Sri Lankan consumers thus keeping to the Serendib promise of Nourishing the Nation! –By Serendib Flour Mills (Pvt) Ltd
Source: Online/SZK