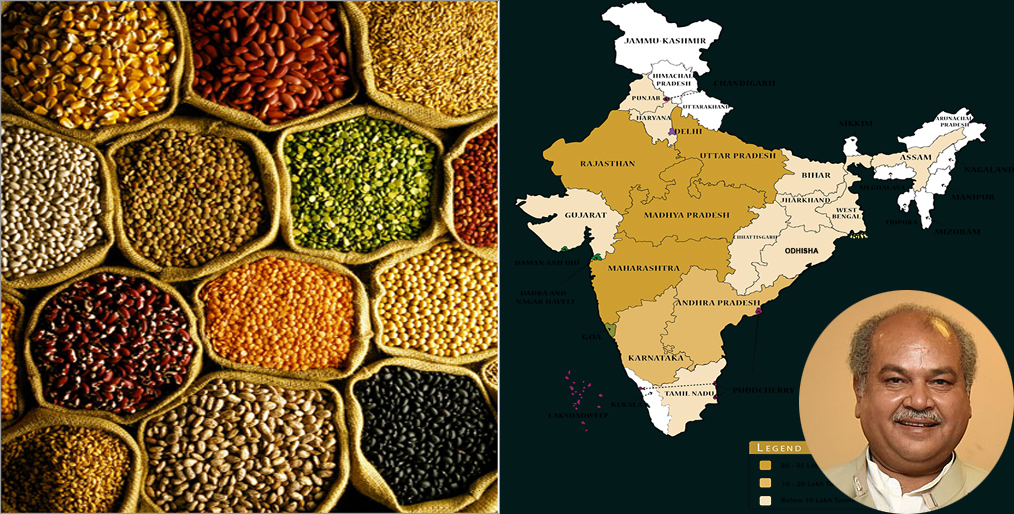 GFMM desk: Indian Agriculture Minister Narendra Singh Tomar said on Monday (10 Feb 2020) that India, the world's largest consumer and pulse importer, on its way to becoming self-sufficient in the production of protein-rich products and meeting global demand, will increase output. He noted that the government has taken several measures, including minimum support prices and pulses collection, to help farmers.
The country had produced 23.40 million tons of pulses during 2018-19 crop year (July-June), still short of annual domestic demand of 26-27 million tons. The gap is met through imports. For the current year, the government is setting a target of 25.5 million tons of pulses.
Speaking at an event on the occasion of World Pulses Day, Mr. Tomar said, "Pulses are becoming necessary not only in India but also in other countries. We faced huge shortage of pulses earlier but now the situation has improved."
Research and development (R&D) at the government's research body Indian Council of Agricultural Research (ICAR) and appropriate policy intervention has helped achieve substantial increase in pulses output in last few years, he said.
Mentioning that India is almost on the verge of becoming self-sufficient in the field of pulses, Mr. Tomar said, "By far the largest domestic demand is being met in India. We will increase pulses production and help meet global demand."
The Minister also launched organic range of pulses at the day-long event, organized by cooperative Nafed and Dubai-based non-profit body Global Pulses Confederation (GPC).
As more and more people are becoming vegetarians around the world, Ramesh Chand, a member of the Niti Aayog, says India's future needs to be met but the country needs to take action now to improve the yield levels of pulses, which is lower than the green revolution of 1965. Find more…
Source: Online/SZK