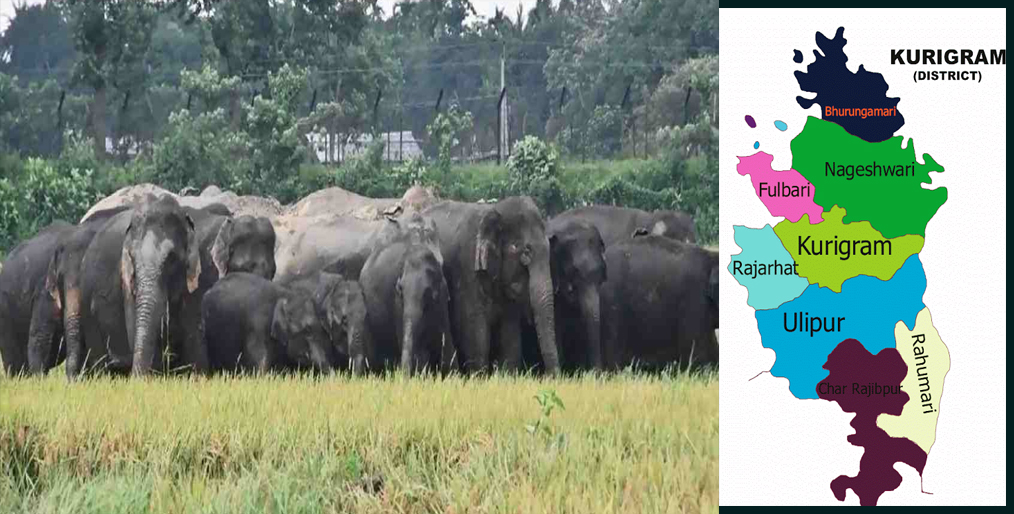 Farmers in the border area of Rahumari upazila in Kurigram have been living in a herd of wild elephants from India for the past one week worrying about the loss of their crops.
Herds of wild elephants enter the area every night and eat paddy and other crops, causing extensive damage to farmers.
Though the farmers try to drive the elephants away by torching fire and playing drums but to no avail.
Locals said the herd of 25-30 wild elephants have been entering the bordering area of the upazila through Garo hill for the last one week and destroying the crops in Algachar, Kheuarchar, Bakbanda, Jhaubari, Chuliarchar and Boraibari areas.
The affected famers said the elephants enter the area through the pillar no. 1057 and 1072 every night and then took position at the no man's land after damaging their crops. It also attacked the houses of the farmers, they said.
"The herd of elephants have destroyed paddy of one bigha of my land and other crops. I suffer a huge loss due to the elephants every year," said Abul Hossain, a resident of Baraibari char. Find more…
Source: Online/SZK