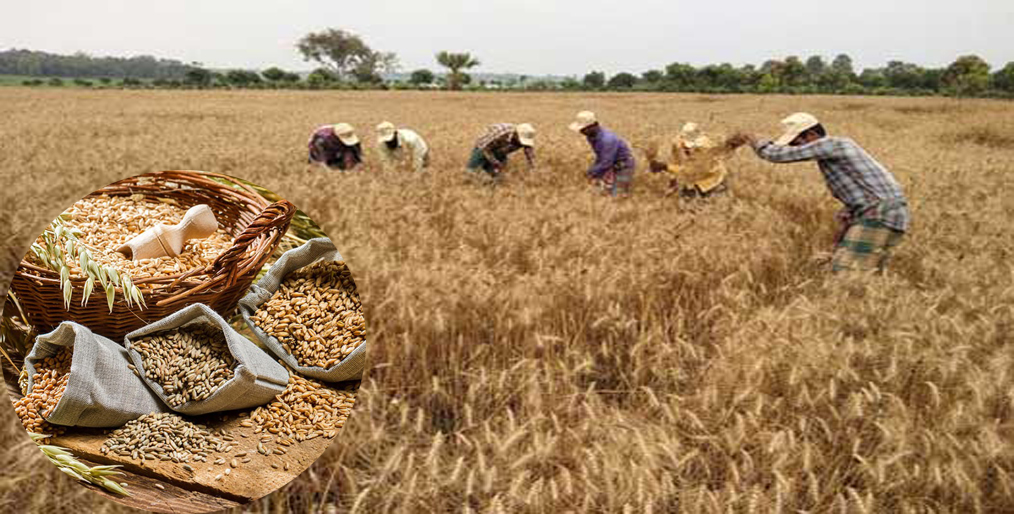 Farmers in this part of Rajshahi, including the vast Barind tract, are collecting wheat in full swing with satisfactory yields.
Farmers are happy to get good yield in the first phase of harvesting this year. Due to the favorable weather, the plants have grown well and the yield has been good. They are also hoping for a fair price for their produce this season.
Muktar Ali, 42, a farmer of Hatibandha village under Godagari upazila, has cultivated wheat on three bigha of land and got 14 mounds of yield from per bigha of land. He is happy over the obtained yield. He said many of his co-villagers have harvested 14 to 16 mounds of wheat and most of them are happy over this year's yield because they cultivated high-yielding varieties.
Ali continued that many farmers are getting three to four mounds more wheat from per bigha of land this season in comparison to the previous season.
"Acreage of wheat farming has been enhanced to a greater extent in the Barind area in the recent years as the farmers are getting profit from the food grain farming," said Atanu Sarker, Sub assistant agriculture officer.
He said timely sowing of seeds accompanied by the cold spell, has been considered as a positive sign for attaining a bumper production of the cash crop.
Meanwhile, more than 5.26 lakh tons of wheat are expected to be produced from around 1.44 lakh hectares of land during the current season in all eight districts under Rajshahi division.
Department of Agricultural Extension (DAE) has set the target of producing 3.76 lakh tons of wheat from 1.03 lakh hectares of land in four districts of Rajshahi Agricultural Zone while 1.50 lakh tons from 41,065 hectares in four districts of Bogra Agricultural Zone.
The DAE has disbursed seeds and fertilizers free of cost among 36,500 flood-affected farmers for wheat farming under the government's agricultural incentive program so that they can recoup their losses caused by the flood in the division, said Sirajul Islam, additional director of DAE. Find more.
Source: Online/SZK