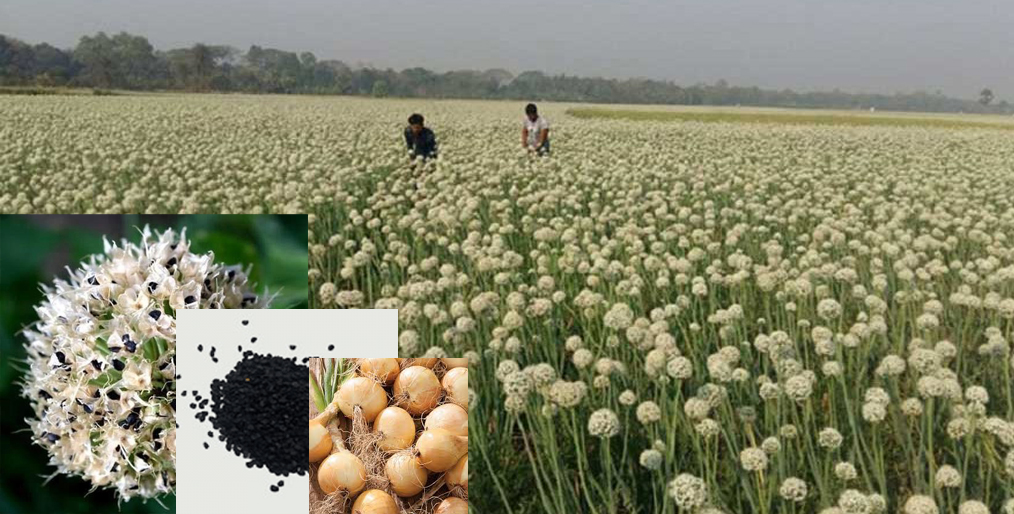 At present, the demand for onion spices is increasing day by day and the commercial cultivation of onion seeds is gradually increasing in Faridpur. The district is expected to produce around Tk. 200 crore worth of onion seeds this season.
The seeds are known to farmers as black gold. Agriculture officials said Faridpur is becoming a major source of onion seeds in the country. Currently, about 70% of the total onion seeds, procured through various government departments, are from Faridpur district.
Onion seeds are grown mainly in Sadar, Bhanga, Nagarkanda, Sadarpur and Alfadanga among the nine upazilas of Faridpur, according to Faridpur DAE sources.
Onions have been planted in these upazilas for the production of seeds on an area of 1100 hectares of land this season. Onion seeds of Faridpuri, Tahirpuri, BARI-1, and Red Arrow King varieties are mainly produced in the district.
With the increase in cultivation, yield and cultivators of onion seeds have increased in the district.
About 450kgs of onion seeds were produced per hectare in the district a decade ago. At present it has increased to 750kg.
At present, more than 6,000 farmers in the district are directly involved in the production of onion seeds. A decade ago there were about 3,000 farmers producing onion seeds in the district. This time, about 1,700 tonnes of onion seeds are expected to be produced from the upazilas.
A good number of farmers said soil and weather conditions in Faridpur are suitable for the production of good onion seeds.
Many farmers who have been affected by cultivating various crops at different times have had success by producing onion seeds. Following them, other farmers are also leaning towards producing these seeds.
Deputy Director of Department of Agricultural Extension (DAE) Hazrat Ali said the farmers would be benefited through the seed farming this season.
For now, he added that around 1100 hectares of land were brought under onion farming in the region.
Source: Online/SZK