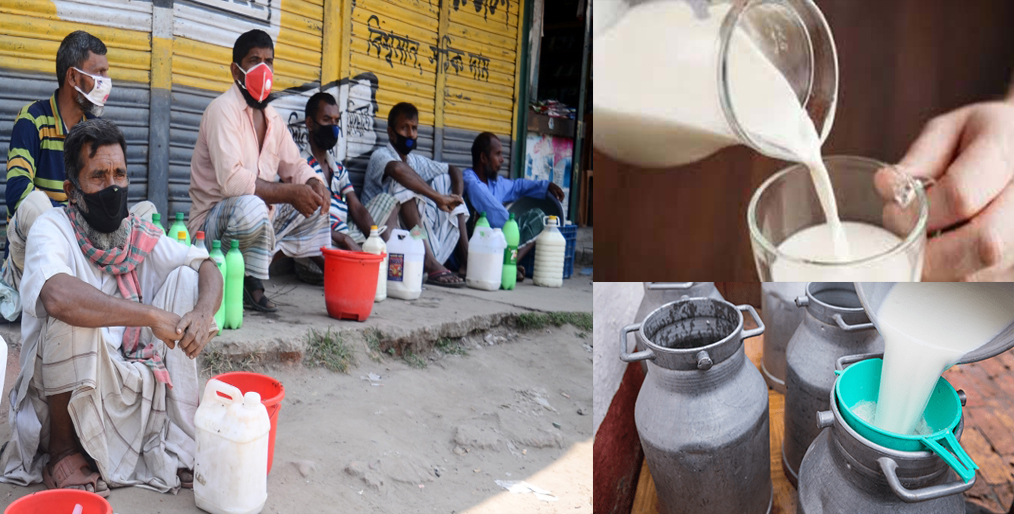 Milk production is one of the agricultural products of Bangladesh. Although the production is much less than the demand. Even then, the coronavirus has had a devastating effect on it. Since the outbreak of coronavirus in the country, the demand for milk dropped significantly.
Golam Maula, a dairy farmer from Godagari upazila of Rajshahi, owns 250 cows. Of these, 60 cows give milk. Before the COVID-19 pandemic, he would get about 300 kg of milk a day. Milk production of his farm decreased to 30 to 40 kg. The local retailers stopped buying milk from him. So, a large amount of milk remained unsold every day. Like Maula, the milk producers all around the country are affected by coronavirus.
The COVID-19 epidemic has had a serious negative impact not only on the health sector in the country, but also on every sphere of life. The dairy industry is also struggling due to the novel oronavirus. Following the outbreak of the novel virus on 8 March, the government imposed a general holiday restricting people's movement to contain the spread of the viral disease. The lockdown impacted the agricultural sector badly.
To make an assessment of the current situation of the livestock market, Shomoshti, a project run by Care Bangladesh, commissioned a phone-based survey on 72 entrepreneurs and 100 farmers from 7 districts in the livestock sector using a structured questionnaires between 16 and 20 April
The study found that as high as 90% retailers' sales reduced while 74% farmer's income decreased due to a result of the coronavirus outbreak.
"Around 50% milk remains unsold all over the country and 45% of the milk sold at a reduced price. The estimated loss would be around Tk. 189 million per day all over the country," it stated. Find more…
Source: Online/SZK