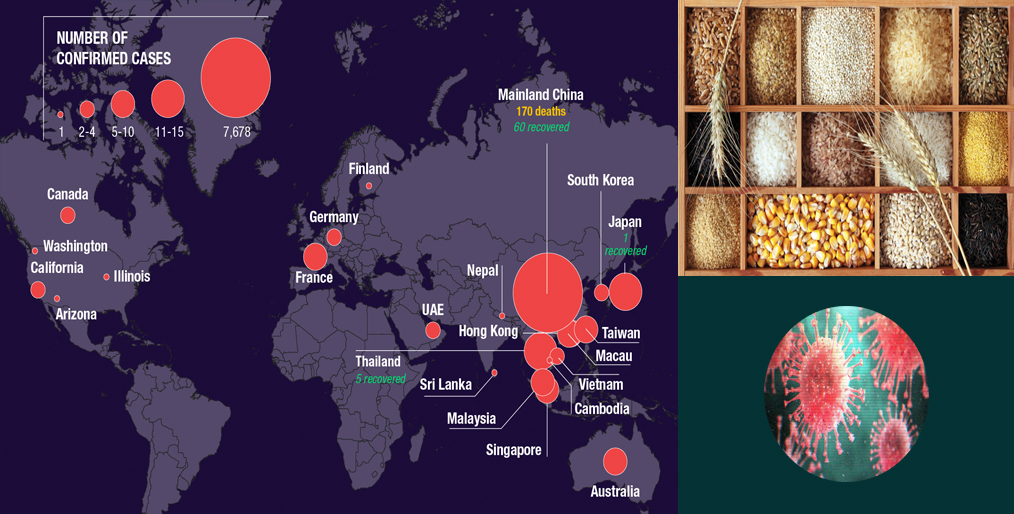 GFMM desk: Chicago wheat, corn, and soybean futures went down on February 26. Worryingly, the outbreak of the Novel Coronavirus will hamper economic growth. A day ago, a slight recovery in crop markets was prevented.
At present more than 81,000 infections and 2,744 deaths, mostly in China, have been linked to the virus.
The virus severely disrupted China's economic activities. When the virus first developed, the US hoped to increase US agricultural supply imports under the Face-One trade agreement between China and China.
But the virus has now been detected in nearly 40 countries. Outside China the death toll is rising day by day. The health officials say a global pandemic is likely. The risk of a wider impact on demand was adding to concern on grain markets, although steady short-term buying by importers was helping underpin prices.
While supply-side balance sheets are unlikely to be affected, it is demand that raises many questions, with an economic impact likely to be strong on global growth, Paris-based consultancy Agritel said.
After a sharp fall in prices the previous day, the US grain markets paused on February 25.
"The context remains very fragile, however, with an alert from the American health authorities who suggest likely cases of Coronavirus infections to come to the country," Agritel said
It noted that wheat appears to be the most fragile, as the funds in this product are in a long net position, which may turn out to be a profit motive or a sign of the trend.
By all means the established chain of import and export across the world is being torn apart by Coronavirus. If this situation does not improve rapidly, the world market is moving towards a very bad outcome
Source: Online/SZK