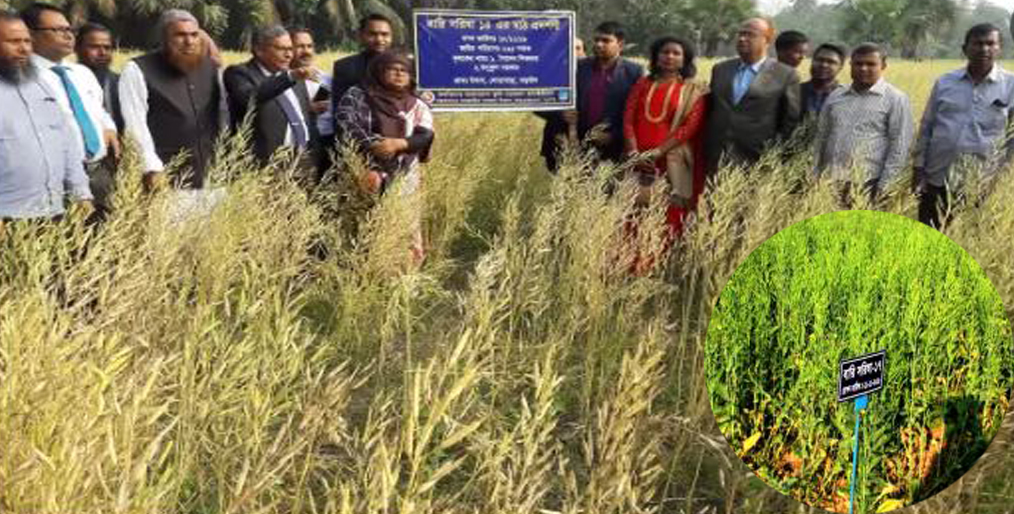 GFMM desk: Farming costs less than local varieties, but yields double. In addition, it is resistant to diseases and insects. The cultivation of such 'BARI mustard-14' varieties has started this year in Lohagara upazila of Narail. The harvesting season is now underway.
This crop has been cultivated on about 20 acres of land drawn in Longkarchar village of Itna Union of the upazila, funded by the Bangladesh Agricultural Research Institute (BARI) pulse and oilseed research extension strengthening project. In addition, 40 exhibition plots have been cultivated in revenue financing under the supervision of the Upazila Agriculture Department.
Last Thursday (February 20, 2020), the field day was held on this crop in Longkarchar village of Lohagara upazila of Narail. About 150 farmers attended the field day. Field Research Day organized by Jessore Regional Agricultural Research Center. The field day was organized at the initiative of Shikdar Imranur Rahman, Deputy Assistant Agriculture Officer local Itna union.
Govinda Chandra Biswas, Chief Scientific Officer of Jessore Regional Agricultural Research Center, presided over the meeting. The Chief Guest was Dil Afroz Khanam, director of BARI's Oil Seeds Research Center. The Special Guest was the Project Director of the Oilseeds Research Center Abdul Latif Akand, Chief Scientific Officer of Jessore Regional Agricultural Research Center Kawashar Uddin Ahmed.
Scientific Officer of the Jessore Regional Agricultural Research Center Mohammad Hafizur Rahman presented the program. Among others, Narail district agriculture department training officer Anuj Kumar Biswas, Upazila Agriculture Afficer Samaran Biswas, Upazila Vice Chairman Farhana Yasmin, Assistant Professor of Itna School and College Anindia Sarkar, Itna Union Awami League President Sheikh Imdadul Haque, farmer Anukul Sarkar, Shailendra and Shakib Lashkar.
Agriculture department officials said that local varieties of mustard seeds contain 8-10 grains. But the varieties are grown in 28-40. The yield of this crop is 20-25 Mounds per acre, when the local crop is 12-13 Mounds. The amount of oil is even higher. Saffron is made up of 46-48% of its weight. That is, about half of the weight of the mustard is in oil. The yellow mustard is 30-35 inches tall. It takes 80 to 85 days for yield. After the cultivation of Aman, it is cultivated in the Kartik-Agrahayan month, before the cultivation of Boro. Its seeds can be found at BADC or at the local agriculture department.
Source: Online/SZK