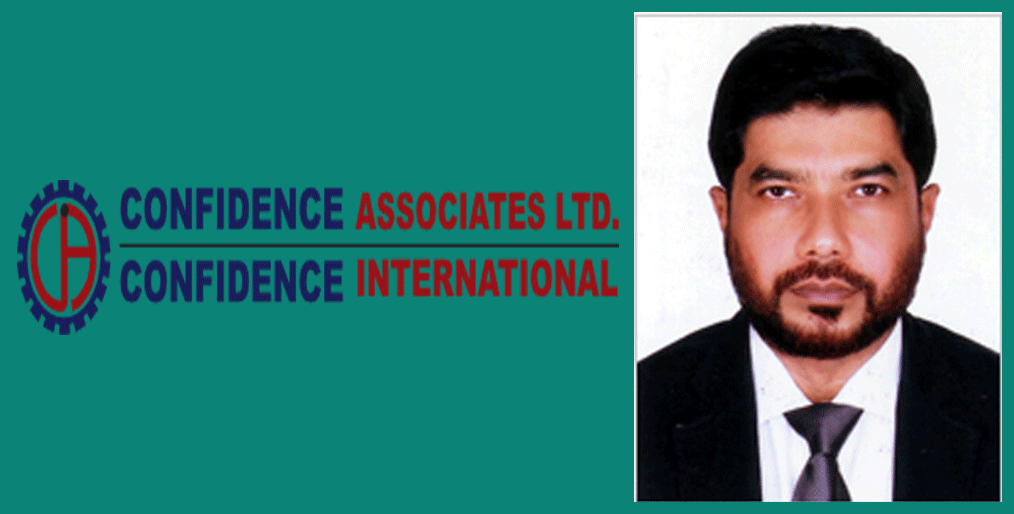 Sardar Zahidul Kabir: Technology is an important factor in the development of any industrial factory. Art is the product of artistic hand. Any industry has grown into a hands-on technical hand. No matter what you say in that industry, it is not possible to make it without the technical hand. So, 'Need for technical education in the industrial development of Bangladesh'. Mr. Abul Faiz Azad the Managing Director & CEO of CONFIDENCE ASSOCIATES LTD. & CONFIDENCE INTERNATIONAL, Dhaka, Bangladesh said this in an interview with Grain Feed & Milling Magazine on September 7, 2019. The magnetic part of his interview is mentioned below;
Grain Feed & Milling Magazine: Sir, tell me a little bit about your business organization and how you got involved with this business?
Mr. Abul Faiz Azad: We, Confidence Associates Ltd; is one of the reputed Trading, Indenting, & Import House from Bangladesh. We situates in a prime location in Dhaka. We are operating our Business successfully from a decade in Textile sector. Confidence Associates start partnership business in 2005. By the course of time it got another wing Confidence International. In 2011 Confidence Associates become Limited company named as Confidence Associates Ltd. Three years ago we participated in a food industry fair in Turkey. From there we became interested in the food industry. Food Industry's machinery supply became my main business. Especially we supply Flour Mill machinery. Confidence Associates Ltd. has established successful co-operations with Germany, Turkey, China, Taiwan, Korea and India.
GFMM: Tell me about your manpower & what kind of duty & responsibilities they have?
Mr. Azad: Through our operational activities and utmost responsibilities, Our Company becomes not only reputed in Bangladesh, but also well-known internationally. According to the present condition, we have 32 staff strength with 10 sales executive & 11 Service Engineers in our team whose are satisfying our customers with their responsibilities and hard work. As an innovative company in its every respective sector, our strong concentration is to capture the major market share in respective field with satisfaction of customer and establish our company as the role model company in Bangladesh.
GFMM: Tell me a little bit about your products?
Mr. Azad: Air compressor, Circular Knitting Machine, Raising M/C, Shearing, Printing & Finishing M/Cs, Dyeing Machine, Pneumatic Products, Sewing M/C, Flow Meters, Finishing & Washing M/C, Boiler & Cooling Water Treatment Chemicals, Food Industry Machine & Technology, Specially Flour Mill.
GFMM:  Can you tell me something about your service?
Mr. Azad: In our service; Plant and Maintenance of Textile Machinery Set up: Air Compressor Sales & service, Air Compressor Oil, Spare Parts Supply & Installation, Boiler & Cooling Tower Chemical Supply & Boiler Descaling, Mechanical Seal Supply & Installation, Raising Machine Spare Parts Supply, Fillet, Grinding & Fabric Inspection, Circular Knitting Machine Sales & services, Dyeing & Finishing Machine Sales & Service, Pneumatic Items Sales & Service, Sewing Machine Sales & Service,  Flow Meter Supply setting, Erection & Servicing. We are committed to providing services for a healthy and safe workplace we also have a that can cater for your needs, while maintaining the greatest possible concern for the environment.
GFMM: In which category is the industrial factory of Bangladesh compared to the developed world? 
Mr. Azad: Most of the industrial factories in Bangladesh are in the early stage when modern technology has reached the developed world. We need high standard technology with needed, skilled manpower with technical knowledge. We have millions of highly educated unemployed manpower in general education, which has become a huge burden day by day. If this manpower was educated in technical education, then they would become public resources, not burdens. Bangladesh would become an industry rich country. Bangladesh needs the technical education for its industrial development.
GFMM: What is the key strength behind your business success?
Mr. Azad: Truthfulness. Truth is beauty, Truth is Power.
GFMM: Thank you very much!