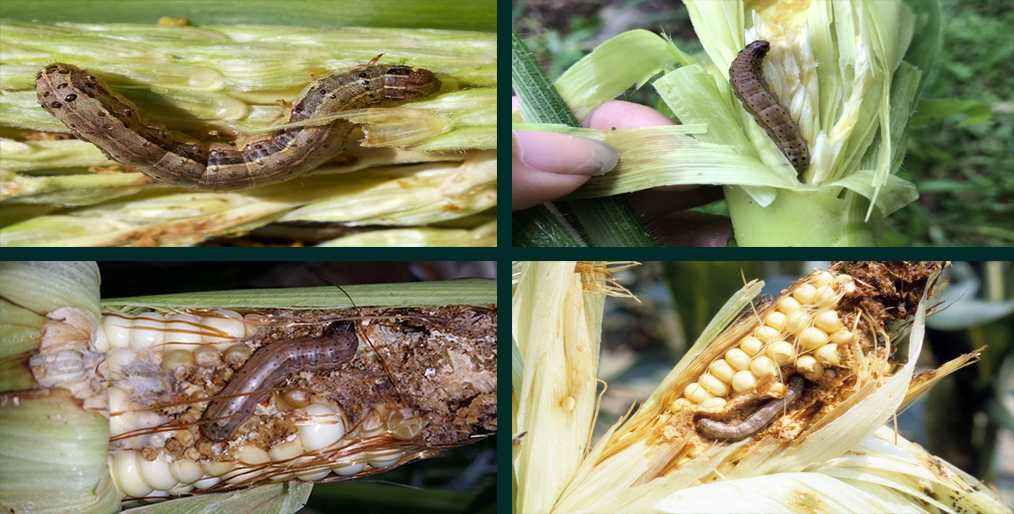 GFMM desk: About the evil of armyworm pests Bangladeshi farmers said they are not seeing any results even after using various pesticides of reliable brands.
After destroying cornfields in the sub-Saharan Africa region, the armyworm pest arriving in Bangladesh in 2018 is destroying the corn fields in Chuadanga district of Bangladesh, and spreading faster than last year, which has caused farmers concern.
Talking to a news media, Sufi Rafiquzzaman, additional deputy director of Department of Agricultural Extension in the district, said the existence of this pest was first detected in the field of Golam Mollik, a farmer in Gobindahuda village of Damurhuda last year.
"The sample of the pest was sent to Dhaka for tests. It was confirmed that it was fall armyworm," he added.
Rafiquzzaman explained that the pest could not do much damage last year due to cold weather but the fall armyworm has attacked the cornfields this season ahead of time.
According to Food and Agricultural Organization, fall armyworm (FAW), an insect that is native to tropical and subtropical regions of the Americas, prefers corn, but can feed on more than 80 additional species of crops, including rice, sorghum, millet, sugarcane, vegetable crops and cotton.
FAW was first detected in Central and Western Africa in early 2016 and has quickly spread across virtually all over the Sub-Saharan Africa. In July 2018, it was confirmed in India and Yemen. By December 2018, it had been reported in Bangladesh, Sri Lanka and Thailand.
Visiting various cornfields in Chuadanga sadar, Damurhuda and Alamdanga upazilas, the correspondent found the fields infested with this pest, and sadar upazila is the worst-affected one.
"This pest attacks the stalk and eats up its fruit-bearing portion, ruining the corn plant," Afsar Ali, a farmer at Kulchara village in Chuadanga sadar upazila, said.
He claimed that the intensity of this pest attack is several times higher than last year. The pest is spreading to other cornfields every day as the pesticides of renowned companies are not working, he added.
"I sowed corn this season on 3 bighas of land and for that I had to spend Tk 13,000-14,000 per bigha. But the pest has destroyed everything," Shahbul Islam, a farmer of Baradi village in Alamdanga upazila, lamented.
He is spending sleepless nights thinking about how to repay the loans he has taken.
Shafiqul Islam, a farmer of Ramnagar village in Damurhuda upazila, said that no official from the agriculture department visited the fields even after the cornfields were ravaged by fall armyworms. "During this time of calamity, hundreds of farmers like me have given up hope as they didn't get any support from the agriculture department," he said.
According to Ali Hasan, deputy director of Department of Agricultural Extension in Chuadanga, corn was sown in 40,000 hectares out of the target of 48,000 this season.
"The cultivation was hampered by the attack of fall armyworms in the beginning. However, it has come down to a tolerable level," he claimed.
He added that officials of the department have been working day and night to solve the problem and suggest using pesticides to eliminate the pest.
Source: Online/SZK