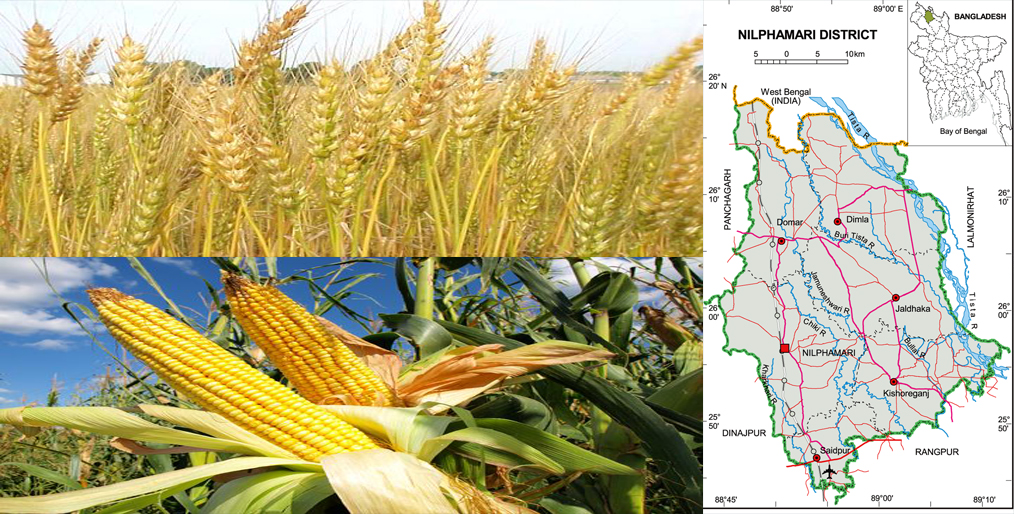 GFMM desk: The Bangladeshi government is offering various incentives to move the agriculture sector forward. Due to this, the farming of the Nilphamari is changing drastically.
District Agriculture Department sources said that farmers are being encouraged to do more farming. In addition, the government is also taking agricultural rehabilitation programs to help those affected by floods and other natural disasters.
On the other hand, to subsidize farmers' fertilizers and agricultural machinery, the government is distributing billions.
Agriculture department statistics state 17,800 farmers from the district have been brought under the agriculture incentive program from Nilphamari in the ongoing 2019-2020 fiscal year. The program covers cultivation of wheat, corn, onion, mustard and mung bean pulses.
Those who received 20 kilogram of wheat for one bigha(1600 Square yard) of land also received 20kg of diammonium phosphate (DAP) and 10kg Muriate of Potash (potassium chloride) fertilizers.
Md. Moksen Ali, a farmer from Sarkarpara village of Sadar upazila said, to recuperate for his losses faced in previous floods and other disasters, he has begun harvesting maize in advance.
Earlier, a paddy farmer cultivated maize, because very little capital was needed. Being part of the incentive program, he received free seedlings and fertilizer.
Md Rezaul Islam, a maize trader at Ramnagar union, said depending on the maize quality, a kg of the crop fetched Tk700-920 currently.
Sirajul Islam, another maize farmer of the same union, cultivated crops on two bighas of land. As part of the incentive program, he received free seeds and fertilizers for a bigha amount of land.
"This saved me a lot of money, which I used to cultivate wheat on an additional bigha of land nearby," he added.
Nilphamari Sadar Upazila Agriculture Officer Md. Kamrul Hasan said, "Apart from subsidies, government surveillance and agricultural research have made it possible to achieve success in agriculture."
"Particularly because farmers are able to buy small quantities of fertilizers and agricultural machinery, they are turning around," he added.
Sirajul Islam, deputy director of the Office of the Department of Agricultural Extension (DAE), Nilphamara, said the government's incentive program has attracted much interest to farmers, which has helped 17,800 farmers to be part of the program.  The program will help many farmers become self-sufficient.
Source: Online/SZK